Ata Golparvar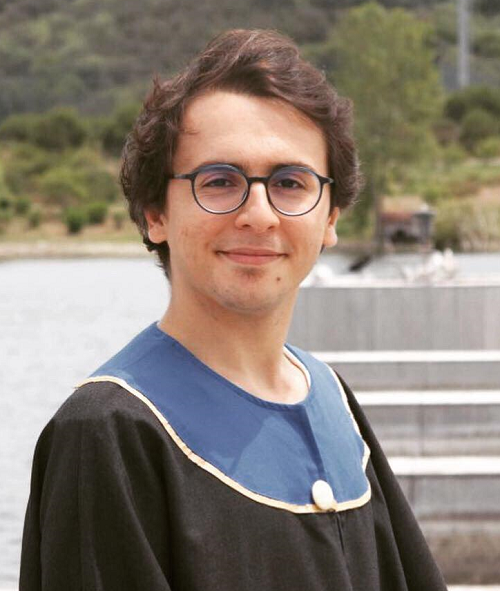 EPFL STI IEM ICLAB
Rue de la Maladière 71b
CH-2000 Neuchâtel
Fields of expertise
Biomedical circuits and systems, Biomedical optics, Biomedical spectroscopy, Raman spectroscopy, Optical sensors, Wearable electronics and their applications in point-of-care devices
Biography
Ata received B.Sc. in electronics from Azad University of Tabriz, Iran, in 2016 and M.Sc. from Sabanci University, Istanbul, Turkey, in 2019. During his master's reserch, he gathered key expertise in functionalizing ordinary fabrics with novel nanomaterials for advanced sensory interfaces in intelligent medical garments for multimode cardiac, neural, muscular, and ocular biopotential monitoring from unconventional body areas such as ears and forehead. He is currently a Ph.D. candidate in the microsystems and microelectronics program of the Swiss Federal Institute of Technology Lausanne (EPFL), Switzerland. In his Ph.D. research, he is focused on developing wearable optical systems for various renal and metabolic disease biomarkers monitoring from body fluids, namely blood, serum, and sweat, using the Raman effect (spontaneous Raman, SRS, and SERS).
Education
M.Sc. in Electronics
Wearable/flexible electronics, readout circuits, MEMS
Sabanci University (Istanbul, Turkey)
Class of 2019
B.Sc. in Electronics
Embedded systems, analog circuits
Azad University of Tabriz (Iran)
Class of 2016
Publications
Other publications
PhD Research
[1] Golparvar, A., et al. Very Selective Detection of Low Physiopathological Glucose Levels by Spontaneous Raman Spectroscopy with Univariate Data Analysis. BioNanoScience 2021. https://doi.org/10.1007/s12668-021-00867-w

[2] Golparvar, A., et al. Optimized Detection of Hypoglycemic Glucose Ranges in Human Serum by Raman Spectroscopy with 532 nm laser excitation. Photoptics 2022. https://www.scitepress.org/Papers/2022/109813/109813.pdf

[3] Golparvar, A., et al. Rapid, Sensitive, and Selective Optical Glucose Sensing with Stimulated Raman Scattering (SRS). Medical Measurements and Applications (MeMeA) 2022.

[4] Golparvar, A., et al. Toward Accurate Optical Sweat Urea Sensing with Non-enhanced Raman Spectroscopy. Submitted.
Others
Portable Breathalyzer for Exhaled Volatile Organic Compounds Monitoring in Lung Diseases
Ear Electrocardiography (ECG) with Soft Graphene Textiles for Hearable Applications
Gel-Free Wearable Electroencephalography (EEG) with Soft Graphene Textiles
Smart Armband with Graphene Textile Electrodes for EMG-based Muscle Fatigue Monitoring
An Arduino-based Remote Health Monitoring and Alert System with Fingertip Photoplethysmography Using PulseSensor
Towards in situ Monitoring and Feedback Control of Femtosecond Laser-induced Nanogratings Formation in Dielectrics
Toward Graphene Textiles in Wearable Eye Tracking Systems for Human-Machine Interaction
Analysis of Pitot tube Airflow Velocity Sensor Behavior in Blockage Situations
Graphene Smart Textile-Based Wearable Eye Movement Sensor for Electro-Ocular Control and Interaction with Objects
Wearable and Flexible Textile Electrodes for Biopotential Signal Monitoring: A review
Electrooculography by Wearable Graphene Textiles
Graphene-coated Wearable Textiles for EOG-based Human-Computer Interaction
Wearable Graphene Textile-Enabled EOG Sensing