Mariana Babo Rebelo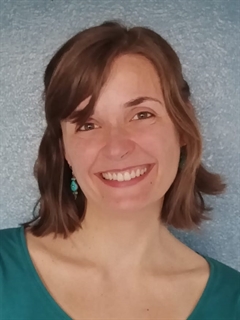 EPFL SV INX-SV LNCO
H4 3 134.092 (Campus Biotech Bâtiment H4)
Ch. des Mines 9
1202 Genève
Biographie
My research in cognitive neuroscience investigates different aspects of self-consciousness and subjective experience, using neuroimaging and behavioral methods.
During my PhD with Dr Catherine Tallon-Baudry (ENS, Paris), I studied the neural monitoring of cardiac signals, as a physiological mechanism underlying self-consciousness. Then, I looked at how subjective experience can entail egocentric spatial representations, in the context of a virtual museum visit, during my post-doc with Prof Patrick Haggard (UCL, London).
I also have experience with MEG and intracranial EEG, acquired during my PhD and during my post-doc with Dr Nathalie George (Paris Brain Institute) and Prof Aina Puce (Indiana University).
Currently, I am a post-doc with Prof Olaf Blanke at the LNCO, and I am working on action, memory and first/third person perspective.
Parcours professionnel
PhD in Cognitive Neuroscience
Anchoring the self in the neural monitoring of visceral signals: How heart-evoked responses encode the self
Laboratoire de Neuroscience Cognitives et Computationnelles, Ecole Normale Superieure (Paris)
2013-2017
Post-Doc
Dynamics of face perception: an intracranial EEG study
l'Institut du Cerveau et de la Moelle Épinière (ICM), Hôpital de la Pitié-Salpêtrière (Paris)
2018
Post-Doc
How does subjective experience shape spatial representations?
Institute of Cognitive Neuroscience, University College London
2019-2020
Publications
Sélection de publications
M Babo-Rebelo, CG Richter, C Tallon-Baudry
The Journal of Neuroscience
Neural responses to heartbeats in the default network encode the self in spontaneous thoughts
M Babo-Rebelo, M Chatel, S Tabacchi, A Namiq, E Travers, K James, P Haggard
PNAS
Aesthetic experience enhances first-person spatial representation
M Babo-Rebelo, N Wolpert, C Adam, D Hasboun, C Tallon-Baudry
Philosophical Transactions of the Royal Society B - Biological Sciences
Is the cardiac monitoring function related to the self in both the default network and right anterior insula?
M Babo-Rebelo, A Buot, C Tallon-Baudry
NeuroImage
Neural responses to heartbeats distinguish self from other during imagination
M Babo-Rebelo*, A Puce*, D Bullock, L Hugueville, F Pestilli, C Adam, K Lehongre, V Lambrecq, V Dinkelacker, N George
Cerebral Cortex
Visual information routes in the posterior dorsal and ventral face network studied with intracranial neurophysiology, and white matter tract endpoints