Pedro Manso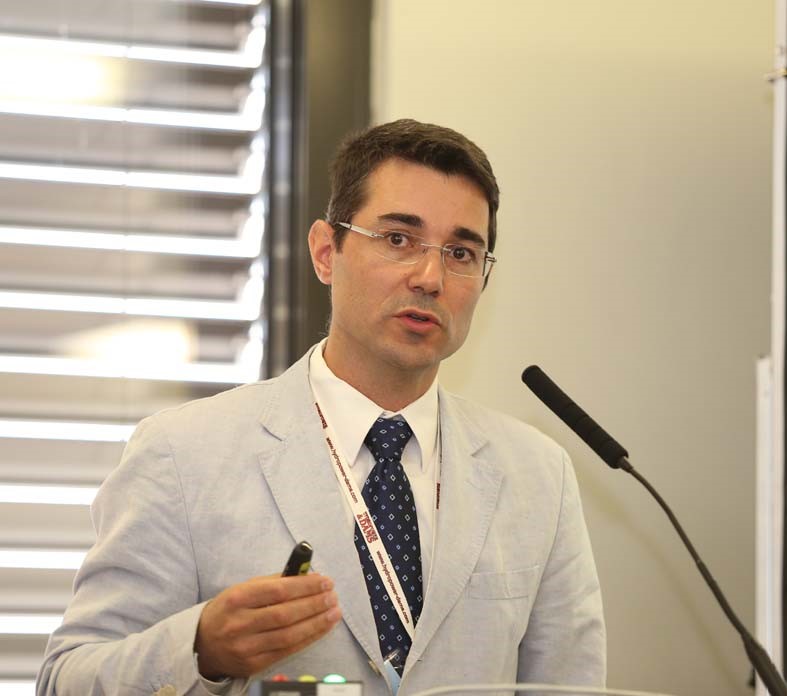 EPFL ENAC IIC PL-LCH
GC A3 485 (Bâtiment GC)
Station 18
CH-1015 Lausanne
Mission
1) Carry out research in hydraulics and water resources and infrastructure, focusing sustainability.
2) Engineer, proof and diffuse innovations on water infrastructure construction, rehabilitation and operation.
3) Foster sustainable hydropower as renewable energy source worldwide.
Current work
Swiss Competence Centre for Energy Research - Supply of Electricity (SCCER-SoE)
1) Lead researcher in Hydropower infrastructure adaptation (WP2 and WP5)
2) Coordinator of the Demonstrator on flexible operation of large hydropower schemes (Flexstor).
Biography
Dr. Pedro MANSO is a civil engineer with over 20 years of experience in the Water and Energy sectors, both in academia and in engineering practice.
His main research interests are on fluid-structure interaction, dam behaviour, hydraulic transients and multiphase flows in hydraulic structures and water infrastructure.
He graduated from IST Lisbon in 1998, started his career at DHV Portugal in the water & environment department. In 2001 he joined the Laboratory of Hydraulic Constructions (LCH) at the Ecole Polytechnique Fédérale de Lausanne (EPFL) where he conducted several engineering and research projects. In 2006 he obtained a PhD on the field of rock scour downstream dams. In 2003 he received ICOLD honor certificate for the Next Generation and in 2006 he was granted the ASCE J. C. Stevens Award. From 2006 to end 2014 he worked in Stucky Ltd in Lausanne as project engineer & manager for greenfield hydro projects and rehabilitation and upgrading of existing hydropower schemes and dams in Europe, Africa and Asia, from the study phase till commissioning. In 2010-2012 he was as well branch Director in Portugal.
He is an expert in hydraulic structures, dam safety, feasibility studies, design optimization and catchment hydrology. He joined the SCCER-SoE late 2014 as Senior Research Associate on "Hydropower Infrastructure Adaptation", seconded to LCH-EPFL. He is founder of several spin-off associations and companies from IST and EPFL.
Parcours professionnel
| | | | |
| --- | --- | --- | --- |
| Senior Associate | SCCER-SoE | EPFL | since 11.2014 |
| Engineer, Project Manager & KAM | Dams Department | STUCKY | 2006-2014 |
| Technical Director/CTO | branch office Portugal | STUCKY | 2010-2012 |
| Resident Project Manager | Enguri HEPP 1300 MW rehab., Georgia | STUCKY | 05.2007- 06.2008 |
| Research fellow | CEHIDRO | IST, Portugal (inc. 3-month stay at IPH-UFRGS Brazil) | 2006 |
| Research and Teaching Assistant | LCH | EPFL, Switzerland | 2000-2006 |
| Chartered Engineer (P.E.) | | Portuguese Chamber of Engineers | 1999 |
| Engineer | Water & Environment Department | DHV Royal Haskoning, Portugal | 1998-1999 |
Education
| | | | |
| --- | --- | --- | --- |
| Exec. Educ. Judge Business School | General Management Program | Cambridge University, UK | 2014 |
| Docteur es sciences (Dr Eng.) | Dam safety, water-rock-air interactions | EPFL, Switzerland | 2002-2006 |
| Advanced Master | Hydraulic Schemes | EPFL & ETHZ, Switzerland | 1999-2002 (part-time) |
| Master thesis (Erasmus) | Coastal Engineering | TU Delft, The Netherlands | 1998 |
| Master | Civil Engineering | IST Lisbon, Portugal | 1993-1998 |
Compétences
Dams & hydraulic structures, Hydropower (large/small/pumped-storage), Hydrology & Water Resources, Hydraulic modelling


Rock scour, Sediment management, Air-water-rock interaction, Fluid-structure/interface interaction


Feasibility studies, Project & Team Management
Publications
Infoscience
De Almeida Manso, Pedro
Les données en-ligne ne sont pas accessibles
P. De Almeida Manso
;
A. Schleiss
:
The influence of pool geometry and induced flow patterns in rock scour by high-velocity plunging jets
;
Lausanne
:
EPFL-LCH
.
P. F. d. Almeida Manso
/
A. Schleiss
(Dir.)
:
The influence of pool geometry and induced flow patterns in rock scour by high-velocity plunging jets
.
Lausanne
,
EPFL
,
2006
.
DOI : 10.5075/epfl-thesis-3430.
Autres publications
Pachoud A., Manso P., Schleiss A.
Engineering Fracture mechanics (accepted 18.04.2017)
Stress intensity factors for axial semi-elliptical surface cracks and embedded elliptical cracks at longitudinal butt welded joints of steel-lined pressure tunnels and shafts considering weld shape
Recherche
Ongoing
https://orcid.org/0000-0003-4022-5215

N2DT - capacity building in dam surveillance and research needs in dam engineering

SmallFLEX - introducing flexible operation on mountain run-of-the-river hydropower schemes. Academic partners: EAWAG, WSL, EPFL-LMH and HES-SO.
Industrial partners: Forces Motrices Valaisannes (FMV)
Research work on:
- Storage alternatives & multipurpose infrastructure
- Aeration and deaeration of pressurized hydraulic waterways
- Interplay between water & sediment nowcasting and HHP operation
- Operation of pelton turbines with variable head & jet instability
- Virtual HPP operation and monitoring
- Downstream impact of flexible operation in winter & transition months

FLEXSTOR - Innovative solutions for flexible hydropower storage
Academic partners: EAWAG, WSL, ETHZ-VAW, EPFL-LMH and HES-SO.
Industrial partners: Kraftwerke Oberhasli (KWO)
Research work on:
- Hydropeaking
- Impulse waves
- Storage management as function of variable demand patterns
- Cascade flushing
- Suspended sediment flushing and related turbine abrasion thresholds
- Pump-turbine instability

RenovHYDRO - renovation of hydropower plants considering new functionalities and services to the grid, in particular:
- adding intra-seasonal flexibility through storage
- hydropeaking mitigation
- combined asset portfolios
Previous
Chopin S2C - Caractérisation hydraulique des orifices des chambres d''équilibre d''aménagements à haute chute, paramétrage et influence sur la stabilité du système en charge

HydroNET2 - Methodologies for hydropower plants. Research work on:
- Robust design of hydropower plants under uncertainties
- Design of steel lined pressure tunnels and shafts

IST-EPFL Joint Doctoral Initiative - Environmental hydraulics. Research work on:
- Fluid-structure interaction during hydraulic transients (2015-2016)
- Inline micro-hydropower units in Water Supply networks (2014-2016)
- Uncertainties in water resources quantification in Alpine environments
development in a changing environment (2014-2015)

SEDITRANS: Sediment transport in fluvial, estuarine and coastal environment (Marie Curie Actions – Initial Training Networks FP7-PEOPLE-2013-ITN N. 607394 (2013-2014), http://www.seditrans.civil.upatras.gr/)

Dynamic loads generated by high-velocity diffusive jet layers in real-life plunge pools (04/2006 – 11/2006). IST Portugal, IPH/UFRGS Brazil and EPFL/LCH Switzerland. Funded by Fundação para a Ciência e Tecnologia (FCT), Portugal.

ESHA Thematic network on Small Hydro, European Small Hydro Association, Switzerland (2003-2004). Network of 11 institutions within the ESHA for promotion of mini-hydro. 4th European Framework program.