Stefanos Giannakis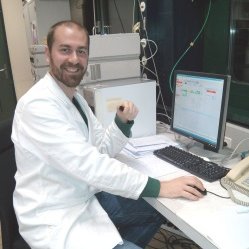 Social Media - Online Presence
Google Scholar Profile: https://scholar.google.ch/citations?user=6LF7al4AAAAJ&hl=en LinkedIn: https://ch.linkedin.com/in/stefanosgiannakis ResearchGate: https://www.researchgate.net/profile/Stefanos_Giannakis Scopus ID: http://www.scopus.com/authid/detail.url?authorId=55935026600 Academia: https://epfl.academia.edu/StefanosGiannakis
EPFL SB ISIC GR-PUL
CH J2 494 (Bâtiment CH)
Station 6
CH-1015 Lausanne
EPFL VPRHO DSPS COSEC-SB
CH J2 494 (Bâtiment CH)
Station 6
CH-1015 Lausanne
Current work
WATERSPOUTT
Water - Sustainable Point-Of-Use Treatment Technologies
Project Summary:
My work deals with the Fenton-driven enhancement of solar disinfection for drinking water in Africa, through the H2020 WATERSPOUTT Project: http://www.waterspoutt.eu
My post-doctoral work for the WaterSPOUTT EU H2020 Project began on 1/1/2017 for the next 3 years (2017-2020), and the overall aim is to transform people's access to safe drinking water in Africa through integrated social sciences, education and solar technologies. Along with 17 other partners, we will develop a range of large volume (≥20L) sustainable solar disinfection (SODIS) technologies that will provide affordable access to safe drinking water to remote and vulnerable communities throughout Sub-Saharan Africa and other resource-poor countries. My specific tasks, in more detail, will involve synthesis of an intrinsic kinetic model of microbial inactivation under simulated solar light, based on the present understanding of the state-of-art in the field will be formulated. The model will then integrate the impact of the various chemical components of natural drinking water, including dissolved iron, the iron oxides acting as semiconductors, as well as parts of heterogeneous inactivation process and an the influence of the natural organic matter. Emphasis will be given in the enhancement of SODIS by the photo-Fenton process and TiO2 photocatalysis, and how to easily achieve high efficacy of these processes in situ. The impact of the enhanced SODIS, will be evaluated through alternative evaluation (genomic) techniques. The evaluation of the toxicological risks of the treated water, by leachable or extractable compounds, will be tested, and finally application of the models developed to the WATERSPOUTT innovations proposed by the consortium will be performed.
Past Work
Treatment of Hospital Wastewaters in Ivory Coast and Colombia by Advanced Oxidation Processes
Supervisor: Prof. Dr. César Pulgarin
Co-Supervisor: Dr. Luiz Felippe De Alencastro
Project Summary:
The global objective of the project is to develop relevant, efficient and sustainable techniques based on advanced oxidation processes (AOPs) for the treatment of emergent organic and microbiological pollutants in the hospital wastewaters in Ivory Coast, the Pacific region of Colombia and Switzerland.
Thesis Abstract:
Hospital wastewaters have been long identified as carriers of chemical and microbiological pollutants. Their amounts and risk levels have initiated numerous works on changing the existing practices of co-treatment with municipal wastewaters and safe disposal in the environment. In this work, the issue of hospital wastewater treatment is studied in two different contexts, in Switzerland and in developing countries (Ivory Coast and Colombia). For this purpose, their treatment with municipal wastewater effluents is recreated, simulating the developed countries' context, while cheap and sustainable solutions are proposed for the developing countries, to form a barrier between hospitals and receiving water bodies. In both examples, the use of Advanced Oxidation Processes is implemented, focusing on UV-based and solar-supported ones, in the respective target areas. A list of emerging contaminants and bacteria are firstly studied to provide operational and engineering details on their removal by AOPs. Fundamental mechanistic insights are provided as well on the degradation of the effluent wastewater organic matter. The use of viruses and yeasts as potential model pathogens is also accounted for, treated by the photo-Fenton process. Emphasis is given on the influence of the wastewater matrix parameters (organic matter, pH, iron speciation etc.) and the exploration of the internal oxidative events, by the use of genomic and proteomic analyses, respectively. Finally, two pharmaceutically active compound (PhAC) models of hospital and/or industrial origin are studied in wastewater and urine, treated by all accounted AOPs, as a proposed method to effectively control concentrated point-source pollution from industrial and hospital wastewaters, respectively. Their elimination was modeled and the degradation pathway was elucidated by the use of state-of-the-art analytical techniques (TOF-MS, Orbitrap). The use of light-supported AOPs was proven to be effective in degrading the respective target and further insights were provided by each application, which could facilitate their divulgation and potential application in the field.
Education
| | | | |
| --- | --- | --- | --- |
| Diploma in Civil Engineering (MSc equivalent) | Civil Engineering, Hydraulics and Environmental Engineering | Aristotle University of Thessaloniki | 2003-2009 |
| Master of Science | Environmental Protection & Sustainable Development | Aristotle University of Thessaloniki | 2009-2010 |
| Ph.D. (Docteur ès Sciences) | School of Architecture, Civil and Environmental Engineering School of Basic Sciences, Chemistry and Chemical Engineering Group of Advanced Oxidation Processes | École polytechnique fédérale de Lausanne | 02.12.2016 |
Compétences
Advanced Oxidation Processes (AOPs)
Environmental Chemistry & Microbiology
Photochemistry & Photobiology
Wastewater Treatment: Disinfection & Decontamination
Antimicrobial Surfaces
Publications
Peer-reviewed Publications
2019
2018
2017
2016
2015
2014
2013
Conferences
i. Near-Neutral Photo-Fenton And The Differentiated Response Of Microbiological And Chemical Contaminants In Wastewater, César Pulgarin, Stefanos Giannakis, SPEA9, 13-17/6, Strasbourg, France (Oral Presentation) ii. Operational And Economical Optimization Of Venlafaxine Treatment By The Photo-Fenton Reaction Through Response Surface Methodology And Desirability Functions, Stefanos Giannakis, Idriss Hendaoui, Jean-Marie Furbringer, César Pulgarin, SPEA9, 13-17/6, Strasbourg, France (Poster Presentation) iii. New insight on the bacterial inactivation by Co-sputtered TiO2-Cu in aerobic and anaerobic media under low intensity actinic light, S. Rtimi, S. Giannakis, C. Pulgarin, J. Kiwi, COST MP1106 Symposium "Smart and Green Interfaces: Fundamentals and Diagnostics (SGI-FunD 2015)", Sofia, Bulgaria, 29 – 31 October 2015 iv. Comparative Evolution Between Oxidation Processes Used For Bacterial Inactivation After Three Different Secondary Treatment Methods, C. Pulgarin, M. Voumard, S. Giannakis – EAAOP4, Athens, October 2015 (Oral presentation) v. Optimization And Modeling Of Iohexol Treatment By Advanced Oxidation Processes In Environmentally Relevant Matrices, S. Giannakis, M. Pastor Gelabert, S. Schindelholz, J.M. Furbringer, C. Pulgarin – EAAOP4, Athens, October 2015 (Poster Presentation) vi. New Pathways In Heterogeneous And Homogeneous Near-Neutral Photo-Fenton Bacterial Inactivation By Iron Oxides And Iron Citrate Complexes, S. Giannakis, C. Ruales-Lonfat, C. Pulgarin – EAAOP4, Athens, October 2015 (Poster Presentation) vii. Degradación por UV254/H2O2 de contaminantes emergentes en efluentes de PTAR domesticas: desde el laboratorio hasta el piloto final. C. Pulgarin, S. Giannakis, Primer congreso Colombiano de Procesos avanzados de Oxidación, Manizales, Colombia, 21-24 September 2015 viii. Emergent chemical and microbiological pollutants related with hospital wastewater in Colombia, Ivory Coast and Switzerland, S. Giannakis, C. Pulgarin. Invited talk. Simposio ACIS 2015: ¿Hasta cuándo tendremos agua en Colombia? September 11th–12th, 2015, Geneva, Switzerland (Oral Presentation) ix. Internal photo-Fenton leads the solar inactivation of Saccharomyces cerevisiae in hv/H2O2/Fe systems at neutral pH, S. Giannakis, C. Ruales-Lonfat, C. Pulgarin, Swiss Chemical Society Photochemistry Section Annual Meeting 2015, September 8, 2015 - ETH Zurich, Switzerland (Oral Presentation) x. Environmental Considerations On Solar Disinfection Of Wastewater And The Subsequent Bacterial (Re)growth, S. Giannakis, E. Darakas, A. Escalas-Cañellas, C. Pulgarin, SPEA8, Thessaloniki, Greece, 25-28 June 2014 (Poster presentation) xi. Usage of solar radiation and artificially induced UV irradiation for water and wastewater disinfection, S. Giannakis and E. Darakas, 2012., International Conference on Protection and Restoration of the Environment, PRE XI, Thessaloniki, Greece, July 3-6. xii. Investigation of the environmental impact of Thessaloniki's main streams on the coastal pollution of Thermaikos Gulf, S. Giannakis and E. Darakas, 2011, 4th Environmental Conference of Macedonia, Thessaloniki, Greece, March 18-20. xiii. Statistical analysis of fecal indicator bacteria kinetics based on the initial concentration of the population and the dilution rate, S. Giannakis, E. Darakas and M. Vafeiadis, 2010, 2nd COST 929 Symposium: Future Challenges in food and environmental virology, Istanbul, Turkey, October 7-9. xiv. Effects of extreme weather conditions in natural wastewater systems, S. Giannakis and E. Darakas, 2010, 3rd Conference: Small and Decentralized Water and Wastewater Treatment Plants, Skiathos, Greece, May 14-16.