Timo Henry René Rey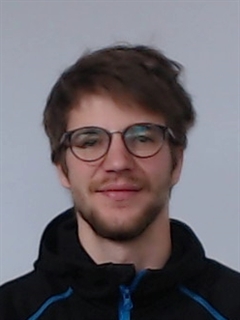 I am YOUR representative
In 2018 I took office by election as: Treasurer ADSV (1year term) Representative of the intermediary corps in the School Council (2year term) - I would like to thank you for your votes and am happy to hear from you! Outside of your input, I would like to improve: - more affordable food (as a reference: UZH prices are at 5.40.-) - improved communication across departments - clear and congruent but not outrageous work-regulations (YES to a new solution for PhD-teaching, NO to the first draft!) - better office & shop hours on campus (also outside the semester!) - better communication across hierarchy
Biography
I joined the LEB as a doctoral assistant in February 2017 where I am fascinated to learn microscopy and mitochondrial biology. Before, I studied Biology at ETHZ with a master's degree in 2016 and multiple internships from stem-cell research to NMR-spectroscopy. During my Bachelor's I spent 1 year at University of Cambridge where I discovered my love for actually doing rather than just reading about basic research.
Alongside my studies I worked at international Art Fairs (NY, Miami, Paris, Basel, Cologne) and a very local farmers market (Lucerne). I had also joined and later founded various student associations around food and beverage (mainly beverage, actually).
Here in Lausanne, my life circles around investigating the organisation of mitochondrial RNA and exploring the mountains in the surrounding - Tour d'Aï & tour de Mayen always in view from my desk.
Extracurricular Activities
2019-2020: Treasurer ADSV (EPFL, elect.)
2018-2020: School Assembly Representative Intermediary Corps (EPFL, by election)
2018-2019: Treasurer ADSV (EPFL, elect.)
2015-2017: Founder & President Student Wine Association Zurich (ETHZ & UZH)
2011-2014: Student Representative Faculty Meeting & Teaching Comission (UZH)
2013-2014: Student Representative Teaching Comission (Cambridge University)
Mission
As a representative of doctoral students and scientific staff, I devote my energy to further enhance our work-place's reputation - nationally and internationally.
For me the Swiss Federal Institutes of Technology stand for exceptional quality and innovation in both research and education. It is a pleasure to work and study here! And I firmly believe that involving democratic representatives from all instances is crucial for its merit. Therefore I am happy to stand for election into the school assembly. I will be looking forward to hearing from anyone and everyone about their concerns and plaudit that I may integrate into my representational role. One main focus would be to ensure the quality of future PhD-guidelines in the making.
Languages
German - mother tongue
English - fluent
French - good
Hobbies
mountains mountains mountains!
-> climbing, hiking, bouldering, ski-touring, snowboarding, etc.
urban gardening
organising feasts and fests aka concerts, tastings, and festivals
Research Experience
Projects in the laboratories of:
Dr. Carsten Schradin (CNRS, previous UZH) behaviour studies
Dr. Philip Zegerman (the Gurdon Institute, Cambridge) yeast
Prof. Anton Wutz (Inst. Molec. Health Sci., ETH) mESCs
Prof. Fréderic Allain (Inst. Mol. Bio. & Biophy., ETH) NMR
Prof. Julia Vorholt (Inst. Micro. Bio., ETH) MassSpec, AFM
Prof. Suliana Manley (Inst. Physics, EPFL) Microscopy
Work experience
2016-17 Transa Backpacking - outdoor retailer
2011-16 Rolf Beeler Maitre Fromager - local farmers market
2008-15 Galerie Römerapotheke - international art fairs and back-office
2010 Fantoche International Film Festival - Assistant Location Manager
2008-now: many others incl. gastronomy, telemarketing, bar, etc.
Education
| | | | |
| --- | --- | --- | --- |
| Master of Science | Structural Biology & Biophysics | ETH Zürich | 2014 - 2016 |
| Bachelor of Science | Biology | University of Zürich | 2011 - 2014 |
| Part II Zoology | | University of Cambridge (UK) | 2013 - 2014 |
Compétences
Biology
- Mitochondria, Molecular Cell Biology
Biophysics
- liquid phase separation
Microscopy
- Super Resolution, FRAP, Cell Imaging

Communication & Team-work
- from various jobs & associations