Jean-Marie Drezet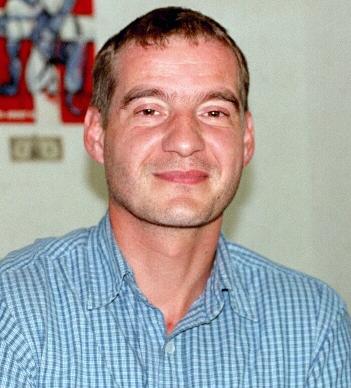 EPFL STI IMX-GE
MXG 330 (Bâtiment MXG)
Station 12
CH-1015 Lausanne
Fields of expertise
Residual stress measurements using neutron diffraction in metallic parts
Solidification and precipitation in aluminium alloys
Thermomechanical modelling using finite elements
Solidification cracking
Modelling machining using FEM


Miscellaneous
- member of the admission commission in Materials Science master programme
- member of the library commission of the Materials Science Institute
- member of the editorial board of Metallurgical research and technology
MAJOR PUBLICATIONS
J.-M. Drezet and A. Phillion. As-Cast Residual Stresses in an Aluminum Alloy AA6063 Billet: Neutron Diffraction Measurements and Finite Element Modeling. Mettalurgical transactions A, 41 A:3396-3404, 2010.

C. Acevedo, J. M. Drezet, J.-P. Lefebvre, L. D'Alvise, and A. Nussbaumer. Residual stresses in as-welded joints: finite element modeling and neutron diffraction stress measurements. In Z. Tonkovic and M. H. Aliabadi, editors, Advances in Fracture and Damage Mechanics X, Key Engineering Materials, pages 335-338, Zurich, 2012. Trans Tech Publications Ltd.

K. Shahim, J.-M. Drezet, J.-F. Molinari, R. Sinkus, and S. Momjian. Finite element analysis of normal pressure hydrocephalus: influence of CSF content and anisotropy in permeability. Applied Bionics and Biomechanics, 7(3):187-197, 2010.

J. Vannod, M. Bornert, J. E. Bidaux, L. Bataillard, A. Karimi, J. M. Drezet, M. Rappaz, and A. Hessler-Wyser. Mechanical and microstructural integrity of nickel-titanium and stainless steel laser joined wires. Acta Materialia, 59:6538-6546, 2011.

J.-M. Drezet, M.S.-F Lima, J.-D. Wagnière, M. Rappaz and W. Kurz: Crack-free aluminium alloy welds using a twin laser process, invited lecture at the 61st Inter. Conf. of the Inter. Institute of Welding, Graz, July 2008.

J.-M. Drezet, O. Ludwig, C. Jaquerod and E. Waz: Fracture prediction during sawing of DC cast high strength aluminium alloy rolling slabs, in Inter. Journal of Cast Metals, 2007, vol. 20, no. 3, p. 163-170.

O. Ludwig, C.-L. Martin, J.-M. Drezet and M. Suéry: Rheological behaviour of Al-Cu alloys during solidification: constitutive modelling, experimental identification and numerical study in Met. Mat. Trans, vol 36A, June 2005, p. 1525-1535.

M. Rappaz, J.-M. Drezet and M. Gremaud: "A New Hot Tearing Criterion", in Metallurgical and Materials Transactions, vol. 30A, February 1999, pp. 449-455.

J.-M. Drezet and M. Rappaz : "Modelling of Ingot Distortions during Direct Chill Casting of Aluminium Alloys ", in Metallurgical and Materials Transactions, vol. 27A, no. 10, October 1996, pp. 3214-3225.


Mission
Teaching:
- Continuum Mechanics for Materials Science section (MX3)
- Technology and practice of materials for Materials Science section (MX2)
- Metals for Genie Civil section (GC1)
- Metals and alloys (GM3 and MX3)
- Introduction to numerical methods (MX5)

Expertise area:
- thermomechanical effects (distortions, internal stresses, cracking) in as-cast parts (continuous casting of aluminium billets and rolling sheet ingots)
- residual stress measurements using neutron diffraction in metallic parts (PSI-Villigen and ILL-Grenoble)
- study of solidification cracking in continuous casting of Al. alloys and in welding
- study of the influence of precipitation on stress build-up during quenching of thick aluminium parts (plates and forgings)
Biography
1992-1996: PhD work at Laboratoire de Métallurgie Physique under the supervision of Prof. Michel Rappaz
(cf : http://library.epfl.ch/theses/?display=detail&nr=1509)
1997-2000: EMPACT project (European Modelling Programme for Aluminium Casting Technologies)
2001-2004: VIRCAST project (European Virtual Casting)
2005-2006: Study of the sawing process of rolling sheet al. ingots (Alcan Fonds)
2005-2006: WelAIR project (Welding of Airframes, EADS)
2005-2008: study of the electron beam welding of Cu-Cr-Zr alloys (CEA, France)
2006-2008: study of the laser beam welding of Al-Li alloys (EADS, France)
2008-2011: co-supervision with Prof. A. Nussbaumer of the PhD work of C. Acevedo on the influence of residual stresses on the fatigue design of tubular welded joints, http://library.epfl.ch/theses/?nr=5056
2007-2010: co-supervision with Prof. J.-F. Molinari of the PhD work of K. Shahim on the Normal Pressure Hydrocephalus (S. Momjian, HU-Genève et R. Sinkus, ESPCI-Paris), http://library.epfl.ch/theses/?nr=5191
2008-2012: co-supervision with Prof. M. Rappaz of the PhD work of M. Sistaninia on the simulation of solidification cracking using granular models (CCMX-MERU project)
2010-2014: supervision with Prof. M. Rappaz of the PhD work of N. Chobaut on the modelling of stresses during quenching of thick heat treatable aluminium parts (CCMX-MERU project)
2011-2015: supervision with Prof. H. Van Swygenhoven-Moens of the PhD work of P. Schloth on precipitation during quenching of thick heat treatable aluminium parts (CCMX-MERU project)



Teaching & PhD
Teaching
Materials Science and Engineering