Nikolaos Stergiopulos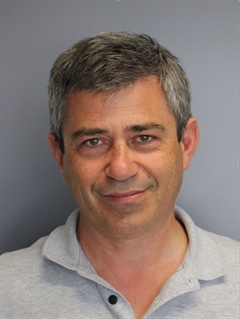 EPFL STI IBI-STI LHTC
MED 3 2326 (Bâtiment MED)
Station 9
1015 Lausanne
Fields of expertise
Arterial wall mechanics Vascular remodeling Atherogenesis and restenosis Arterial wave propagation Heart-arterial system interaction Cardiac mechanics Angioplasty & stenting Implantable devices
Mission
The goal of the Laboratory of Hemodynamics and Cardiovascular Technology (LHCT) is to become a leading laboratory in the study of blood flow in relation to cardiovascular disease and to contribute to the advancement of cardiovascular technology through active transfer of our know-how to the clinic and to the medical technology sector.
Biography
Education MTE, Managing the Technology Enterprise Program (2000), IMD, Lausanne Ph.D. in Biomedical Engineering & Engineering Mechanics (1990) Iowa State University, Ames, Iowa. MS in Biomedical Engineering (1987) Iowa State University, Ames, Iowa. Diploma in Mechanical Engineering (1985) National Technical University of Athens. Professional Activities 2002 - present: Professor and director of LHTC 2010 - present: Founder and director of Rheon Medical SA, Préverenges, Switzerland 2008 - present: Founder and director of Antlia S.A., PSE-C, EPFL campus, Switzerland 1998 - 2007: Founder and Scientific Director of EndoArt S.A., Lausanne, Switzerland 1996 - 2002: Assistant professor at the Biomedical Engineering Laboratory, Swiss Federal Institute of Technology, Lausanne, Switzerland. 1991 - 1996: Research Associate at Swiss Federal Institute of Technology - Lausanne 1990 - 1991: Lecturer, Iowa State University
Teaching & PhD
Teaching
Life Sciences Engineering
Mechanical Engineering
PhD Students
Anagnostopoulos Sokratis
,
Rafiei Soroush
,
Rovas Georgios
,
Çelikbudak Cemre
,
Past EPFL PhD Students
Agianniotis Aristotelis
,
Aslanidou Lydia
,
Augsburger Luca
,
Bikia Vasiliki
,
Bragina Maiia
,
Fonck Edouard
,
Giallourou Thiresia
,
Pagoulatou Stamatia Zoi
,
Reymond Philippe
,
Roy Sylvain
,
Saitta-Rezakhaniha Rana
,
Sturny Mikaël Nils
,
Thacher Tyler Nerton
,
Tsamis Alkiviadis
,
Vardoulis Orestis
,
Villamarin Adan
,
Courses
This introductory course on fluids mechanics presents the basics concepts in fluids statics, dynamics and kinematics.
---
This lecture will cover anatomy and physiology of the cardiovascular system, biophysics of the blood, cardiac mechanics, hemodynamics and biomechanics of the arterial system, microcirculation and biomechanics of the venous system.
---