Mohamed Bouri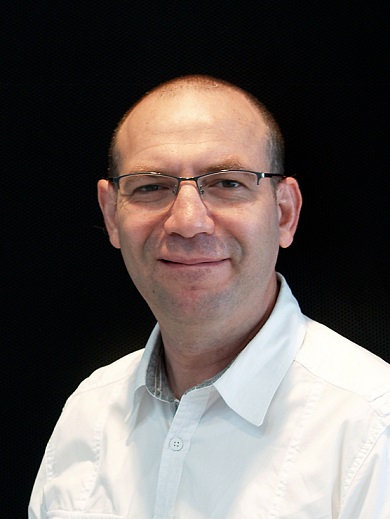 Main publications
• An Assistive Lower Limb Exoskeleton for People with Neurological Gait Disorders, A. Ortlieb, R. Baud, M. Bouri, H. Bleuler, Int. Conference Rehabilitation Robotics, London, 2017
• TWIICE -- a Lightweight Lower-Limb Exoskeleton for Complete Paraplegics, T. Vouga, R. Baud, J. Fasola, M. Bouri, H. Bleuler, Int. Conference Rehabilitation Robotics, London, 2017
• Brain-actuated gait trainer with visual and proprioceptive feedback. Liu D, Chen W, Lee K, Chavarriaga R, Bouri M, Pei Z, Millan JDR, J Neural Eng, doi: 10.1088/1741-2552/aa7df9, 2017
• In a demanding task, three-handed manipulation is preferred to two-handed manipulation, E Abdi, E Burdet, M Bouri, S Himidan, H Bleuler, Scientific reports of Nature, Vol 6, doi: 10.1038/srep21758, 2016.
• EXiO – A Brain-Controlled Lower Limb Exoskeleton for Rhesus Macaques , T. Vouga, J. Olivier, M. Bouri, K. Z. Zhuang, M. A. Lebedev, M. A. L. Nicolelis, H. Bleuler, IEEE Transactions on Neural Systems and Rehabilitation Engineering, (under press), 2016.
• From gait measurements to design of assistive orthoses for people with neuromuscular diseases, A. Ortlieb · J. Olivier · M. Bouri · H. Bleuler · T. Kuntzer, ICORR, Singapore, 2015.
• Which Perspectives of Using Exoskeletons in Activities for Daily Living, M. Bouri, International Conference on social robots in therapy and education New Friends, Nederland, October 2015.
• Control Strategies for Active Lower Extremity Prosthetics and Orthotics: A Review. M. R. Tucker, J. Olivier, A. Pagel, H. Bleuler, M. Bouri, O. Lambercy, J. Millán, R. Riener, H. Vallery, and R. Gassert, Journal of NeuroEngineering and Rehabilitation, (Version online), January 2015.
• Mechanisms for Actuated Assistive Hip Orthoses, J. Olivier, A. Ortlieb, M. Bouri, H. Bleuler. Elsevier Journal of Robotics and Autonomous Systems, Online October, 2014.
• The WalkTrainer—A New Generation of Walking Reeducation Device Combining orthosis and Muscle Stimulation, Y. Stauffer, Y. Allemand, M. Bouri, J. Fournier, R. Clavel, P. Métrailler, R. Brodard, and F. Reynard, IEEE Transactions on neural systems and rehabilitation engineering, Vol. 17, No. 1, February 2009



Main Achievements

1- Lower Limb Exoskeletons and Rehabilitation
Lower limb exoskeletons:
Since 2011, we are developing lower limb powered orthotic devices to assist gait for different categories of people. The first development of a flexion-extension hip orthosis HiBSO allowed us to evaluate different control strategies and start several collaborations. Then, two innovative concepts of fully actuated lower limb exoskeletons have been initiated: AUTONOMYO (2014-) and TWIICE (2015-).
TWIICE
[1] is weighting now about 16kg and is capable to make people with spinal cord injury (SCI) of more than 100 kg walking again. TWIICE is the worldwide lightest exoskeleton enabling people with SCI to walk, stand and climb stairs (ref patent WO 2018/047129 A1). TWIICE won the silver medal at the international Cybathlon exoskeleton race (2020). Human-inspired balance control strategies have been implemented, which makes our exoskeleton the lone capable to sagittally stabilize a complete SCI user without requiring crutches. A current project is ongoing to develop a gait-assistance rehabilitation strategy in people with stroke. |
Autonomyo
is
a crutch-less powered exoskeleton
to partially assist gait
and balance
for people with Neuro Muscular Dystrophy (NMD). This project is supported by 2 Swiss foundations active against Myopathy (ASRIMM[2] and FSRMM[3]). A new version has been released in 2019 and a clinical investigation is planned with CHUV, involving people with NMD and with multiple sclerosis (MS). A patent of variable impedance assistance strategy has also been filed. Currently, a new project is ongoing in collaboration with the group Faulhaber to develop crutch-less balance assisting strategies and implement clinical validations and evaluations in people with NMD and MS.

sFES:
My established expertise in surface functional electrical stimulation (
sFES
) comes from the developments of the sitting position device MotionMaker® (2001-2012) and the over-ground gait trainer WalkTrainer® (2005-2014). Both are hybrid devices that associate actuated orthoses and sFES [AI2] and are dedicated to subjects with spinal cord injury (SCI). The conducted clinical studies pointed out the potential of using sFES to strengthen muscles, to reduce spasms and train gait. | In collaboration with the neuro rehabilitation center AASDAP (Br) (2016-2019), we implemented a closed loop sFES gait control, combined with BCI and sensory vibrotactile substitution. Our expertise concerned sFES, sensory substitution and hardware. An 18-month clinical study have been conducted with 3 complete-SCI. These patients were able to improve their gait. We also observed cardiovascular improvements and less dependency on walking assistance, but also partial neurological recovery in both patients, with substantial rates of motor improvement for one of them.
2-
Surgical applications
In collaboration with Prof E. Burdet (Imperial college), we pioneered the investigation of
3-handed manipulation for surgical applications, to give surgeons the possibility to coordinate by foot control a robotic arm
as their third arm. A feasibility of such an approach has been validated in controlling a camera while having hands free for manipulating surgical tools. In 2017, with Prof A. Billard and the institute SFITS (HUGe - Geneva) in Geneva we started a new project supported by the foundation Hasler to go beyond 3-handed manipulation and
assess a real 4-handed surgery
. Two 5 degrees-of-freedom haptic interfaces are now developed and a shared control strategy (SCS) implemented. The results are promising and point out that haptic based SCS effectively assists foot to control a robotic arm. A 4-handed manipulation in a laparoscopic surgery scenario is in progress. Furthermore, we also developed several surgical robots for laparoscopy and currently collaborating with Dr P. Machi (Hospital of Geneva), in a framework of an SNF project, to implement a robotic surgical application with haptic feedback.

3-
Robotized Surveys for Astrophysics

Astrobot
is a multi-disciplinary research group that I co-founded with Prof. JP Kneib (LASTRO) and Dr D. Gillet (REACT). My research group is in charge of the
implementation of the micro robotic positioners, the control and calibration solutions to finally carry out the astrophysics observations of galaxies using existing telescopes
. The robots are massively deployed on the focal plate of a telescope, 500 to 5000 micro positioners depending on the telescope. Our relevant achievements in this field are recognized worldwide and are currently driving our collaborations with several international projects (DESI, MOONS, SDSS, PFS…). Particularly, we developed a world smallest robot, with 7.2 mm-diameter, reaching thus a density of
more than 10'000 positioners in less than 1-meter diameter focal plate
.
[1] TWIICE was also at the final in 2016 -the project benefitted of several national and international media coverages (RTS. NZZ, BBC, Fr2, Planète, Reuters, Bloomberg, 24h, Lematin,….).[2] Association Suisse Romande Intervenant contre les Maladies neuro Musculaire and [3] Fondation Suisse de Recherche sur les Maladies neuro Musculaire
Teaching & PhD
Teaching
Microengineering
PhD Students
Manzoori Ali Reza
,
Orhan Zeynep Ozge
,
Ramella Giulia
,
Roussinova Evgenia Vladimirova
,
Zorkot Mouhamed
,
Past EPFL PhD Students
Abdi Elahe
,
Baud Romain Pierre François
,
Cosandier Florent
,
Hernandez Sanchez Jacob
,
Kronig Luzius Gregor
,
Olivier Jeremy
,
Ortlieb Amalric Louis
,
Stauffer Yves
,
Vouga Tristan Hubert
,