Mihai Adrian Ionescu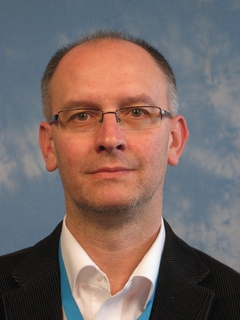 Fields of expertise
Nanoelectronic devices
Nanotechnology
Edge AI energy efficient technology
Phase change materials and devices
Quantum technology
Modeling and Simulation of Solid-State Electronic Devices
Mission
The Nanoelectronic Devices group (NANOLAB) is working on various subjects in the field of silicon micro/nano-electronics with special emphasis on the technology, design and modelling of nanoscale solid-state devices for energy efficient Edge AI applications.
The group is interested in exploring new materials, novel fabrication techniques, and novel device concepts for future nanoelectronic systems, including silcion quantum computing.
Biography
Adrian M. Ionescu is Full Professor at the Swiss Federal Institute of Technology, Lausanne, Switzerland. He received the B.S./M.S. and Ph.D. degrees from the Polytechnic Institute of Bucharest, Romania and the National Polytechnic Institute of Grenoble, France, in 1989 and 1997, respectively. He has held staff and/or visiting positions at LETI-CEA, Grenoble, France and INP Grenoble, France and Stanford University, USA, in 1998 and 1999.
Dr. Ionescu has published more than 600 articles in international journals and conferences. He received many Best Paper Awards in international conferences, the Annual Award of the Technical Section of the Romanian Academy of Sciences in 1994 and the Blondel Medal in 2009 for contributions to the progress in engineering sciences in the domain of electronics. He is the 2013 recipient of the IBM Faculty Award in Engineering. He served the IEDM and VLSI conference technical committees and was the Technical Program Committee (Co)Chair of ESSDERC in 2006 and 2013. He is a member of the SATW.
He is director of the Laboratory of Micro/Nanoelectronic Devices (NANOLAB).
Teaching & PhD
Teaching
Electrical and Electronics Engineering
PhD Programs
Doctoral Program in Microsystems and Microelectronics Doctoral Program in Electrical Engineering
PhD Students
Bersano Fabio
,
Capua Luca
,
Gastaldi Carlotta
,
Gilani Ali
,
Kamaei Bahmaei Sadegh
,
Li Hung-Wei
,
Qaderi Rahaqi Fatemeh
,
Rosca Teodor
,
Sprunger Yann Christophe
,
Past EPFL PhD Students
Abelé Nicolas
,
Acquaviva Donatello
,
Alper Cem
,
Anghel Costin
,
Arun Anupama
,
Bartsch Sebastian Thimotee
,
Bellando Francesco
,
Bhandari Jyotshna
,
Biswas Arnab
,
Bopp Matthieu
,
Boucart Katherine
,
Buitrago Godinez Elizabeth
,
Cao Ji
,
Casu Emanuele Andrea
,
Chauhan Yogesh Singh
,
Ciressan Nicoleta-Diana
,
Convertino Clarissa
,
Corti Elisabetta
,
Cutaia Davide
,
Cvetkovic Nenad
,
Dagtekin Nilay
,
De Michielis Luca
,
Ecoffey Serge
,
Fernandez-Bolanos Badia Montserrat
,
Fritschi Raphaël
,
Garcia Cordero Erick Antonio
,
Ghoneim Hesham
,
Grogg Daniel
,
Guérin Hoël Maxime
,
Hefiana Nasser
,
Hermersdorf Marion
,
Lattanzio Livio
,
Mahapatra Santanu
,
Maqueda López Mariazel de la Candelas
,
Mehdaoui Alexander
,
Moldovan Clara-Fausta
,
Moridi Negar
,
Moselund Kirsten Emilie
,
Najmzadeh Mohammad
,
Oliva Nicolò
,
Pisani Marcelo Bento
,
Pott Vincent
,
Rigante Sara
,
Rupakula Maneesha
,
Rusu Alexandru
,
Saeidi Ali
,
Salvatore Giovanni Antonio
,
Sharma Pankaj
,
Tamagnone Michele
,
Vitale Wolfgang Amadeus
,
Zhang Junrui
,
Courses
This lecture introduces the main principles, modeling and operation of semiconductor devices with main emphasis on major transistor concepts: bipolar, MOSFET (bulk, SOI, 3D) and new merging architectures (Tunnel FETs). Their main figuers of merit and the technological implementation are discussed.
---
This lecture overviews and discusses the last trends in the technology and principles of nanoelectronic devices for more aggressive scaling, better performances, added functionalities and lower energy per function. The opportunities of these advances compared to industrial roadmaps are analized.
---
Students will learn about understanding the fundamentals and applications of emerging nanoscale devices, materials and concepts. Remark: at least 5 students should be enrolled for the course to be given
---
This course provides the last trends in nanoelectronics for scaling, better performances and lower energy per function. It covers fundamental phenomena of nanoscale devices, beyond CMOS steep slope switches, emerging architectures, non-volatile memories and energy efficient smart sensing.
---
This multidisciplinary course presents, from both engineering and medical perspectives, the state-of-the-art, applications and impact of wearable and implantable technologies, with focus on cardiovascular healthcare shift from intervention-based to personalized and preventive medical strategies.
---