Kirsten Emilie Moselund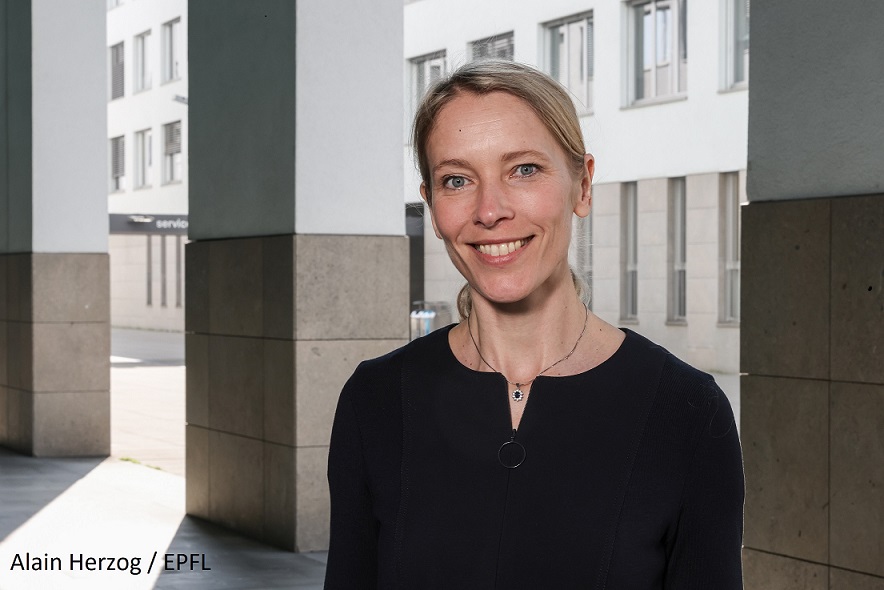 EPFL STI IEM INPHO
BM 5138 (Bâtiment BM)
Station 17
CH-1015 Lausanne
Biographie
Kirsten Moselund was appointed by EPFL as full professor of electrical and microengineering in the Faculty of Engineering and Technology. At the same time, she is head of the new Laboratory of Nano and Quantum Technologies (LNQ) at Paul Scherrer Institut from 2022. LNQ currently has six groups – two focusing on nanotechnology and advanced nanomanufacturing and four groups focusing on different technologies for quantum computing. The ETHZ-PSI Quantum Computing Hub is located at PSI and embedded within LNQ, and at the same time Kirsten Moselund is part of the EPFL Quantum Science and Engineering center (QSE). The purpose of this constellation is to promote synergies between the three large ETH institutions.

Kirsten Moselund received the M.Sc. Degree in Engineering from the Technical University of Denmark (DTU) in 2003 and the Ph.D. Degree in Microelectronics from the Swiss Federal Institute of Technology in Lausanne (EPFL), Lausanne, Switzerland, in 2008. In 2008, she joined the IBM Research Europe in Zurich, where she took on a number of different positions and lastly managed the Materials Integration and Nanoscale Devices group with around 20-25 engineers and scientists. The group worked on a broad range of topics from Neuromorphic computing, nanoscale thermometry, topological devices, nanophotonics to control electronics for quantum computing.

Throughout her career, she has worked on various topics related to semiconductor devices and technology development, such as low-power electronics, cryogenic electronics, integrated photonics and topological devices. She received an ERC starting grant on the development of hybrid photonic-plasmonic nanolasers.

Her current projects are focused on the development of III-V on silicon monolithic integration for novel electronic and photonic device concepts, interfacing the quantum and classical worlds. She is author/co-author of more than 100 papers and has 25 patents filed. She is a member of the Wissenschaftliche Beirat of IHP Microelectronics, and member of the Kuratorium IMS Chips, Stuttgart University.

She has served as Principal Investigator (PI) in several EU and Swiss research projects, and as part of technical program committees for a number of scientific conferneces. Most notably IEDM which takes place every year in San Francisco and where she is part of the executive committee.







Parcours professionnel
Manager MIND Group
Group manager and independent researcher
IBM Research Europe - Zurich
July 2016 - Dec. 2021
Research Staff Member
Permanent researcher in Science and Technology department
IBM Research Europe - Zurich
Sept. 2009 - June 2016
Post-Doc.
Low-power electronics devices
IBM Research Europe - Zurich
Aug. 2008 - Sept. 2009
Research Assistant
Laboratoire Electronique Generale 2
EPFL
Nov. 2003 - July 2008
Formation
M.Sc in Engineering
External cavity VECSELs
Technical University of Denmark, DTU
2003
Ph.D.
Three-dimensional electronic devices fabricated on a top-down silicon nanowire platform.
EPFL
2008
Publications
Sélection de publications
P. Wen, P. Tiwari, S. Mauthe, H. Schmid, M. Sousa, M. Scherrer, M. Baumann, B. Bitachon, J. Leuthold, B. Gotsmann and K. E. Moselund
Nature communications 13 (1), 1-11 (2022)
Waveguide coupled III-V photodiodes monolithically integrated on Si
P. Tiwari, A. Fischer, M. Scherrer, D. Caimi, H. Schmid and K. E. Moselund
ACS photonics 9 (4), 1218-1225 (2022)
Single-Mode Emission in InP Microdisks on Si Using Au Antenna
P. Wen, P. Tiwari, M. Scherrer, E. Lörtscher, B. Gotsmann and K. E. Moselund
ACS photonics 9 (4), 1338-1348 (2022)
Thermal Simulation and Experimental Analysis of Optically Pumped InP-on-Si Micro-and Nanocavity Lasers
C. Convertino, C. B. Zota, H. Schmid, D. Caimi, L. Czornomaz, A. M. Ionescu and K. E. Moselund
Nature Electronics, https://doi.org/10.1038/s41928-020-00531-3 (2021)
Hybrid III-V tunnel FET and MOSFET technology platform integrated on silicon
P. Tiwari, P. Wen, D. Caimi, S. Mauthe, N.Vico Triviño, M. Sousa, and K. E. Moselund,
Opt. Express 29, 3915-3927 (2021)
Scaling of metal-clad InP nanodisk lasers: optical performance and thermal effects,
M. Scherrer, N. Vico Triviño, S. Mauthe, P. Tiwari, H. Schmid, K.E. Moselund
Applied Sciences 11 (4), 1887 (2021)
In-Plane Monolithic Integration of Scaled III-V Photonic Devices
7. S. Mauthe, Y. Baumgartner, M. Sousa, Q. Ding, M. D. Rossell, A. Schenk, L. Czornomaz and K.E Moselund,
Nature Communications 11 (1), 1-7, (2020)
High-speed III-V nanowire photodetector monolithically integrated on Si
8. S. Mauthe, P. Tiwari, M. Scherrer, D. Caimi, M. Sousa, H. Schmid and K. E Moselund, Noelia Vico Triviño,
Nano Lett. Vol. 20, 12, 8768–8772 (2020)
Hybrid III-V Silicon Photonic Crystal Cavity Emitting at Telecom Wavelengths
Enseignement & Phd
Enseignement
Electrical and Electronics Engineering
Microengineering
Cours
(Fiche de cours pas encore validée par la section)
---