Olivier Canévet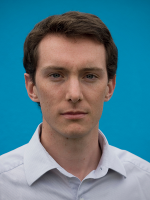 Biography
Research engineer at the Idiap Research Institute.
EPFL STI IEM LIDIAP
ELD 241 (Bâtiment ELD)
Station 11
1015 Lausanne
Fields of expertise
Computer Vision, Machine Learning, Deep Learning
Education
PhD in Electrical Engineering
EPFL
Oct. 2012-Sep.2016
Engineering diploma
TELECOM Bretagne
Sep. 2007-Sep. 2012
Teaching & PhD
Courses
This course provides in-depth understanding of the most fundamental algorithms in statistical pattern recognition or machine learning (including Deep Learning) as well as concrete tools (as Python source code) to PhD students for their work.
---
The objective of this course is to give an overview of machine learning techniques used for real-world applications, and to teach how to implement and use them in practice. Laboratories will be done in python using jupyter notebooks.
---