Riccardo Rattazzi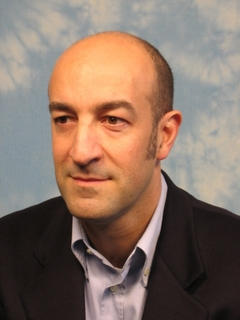 EPFL SB IPHYS LPTP
BSP 714 (Cubotron UNIL)
Rte de la Sorge
CH-1015 Lausanne
Mission

What is the dynamics underlying electroweak symmetry breaking? Does it entail new symmetry principles, such as supersymmetry or conformal invariance? Is there a common principle underlying all fundamental interactions and why is gravity much weaker than all other forces? How can one find a clue to those question in the forthcoming data from the Large Hadron Collider?

These are the basic questions driving the research of Riccardo Rattazzi.



Biography

Riccardo Rattazzi was born in Novara (Italy) in 1964. He studied physics at the University of Pisa, where he received the Laurea cum laude in 1987, and at the Scuola Normale Superiore where he received the Diploma in Scienze and carried out graduate research in theoretical physics. After having been a post-doctoral research associate at the Lawrence Berkeley Laboratory, at Rutgers University and at CERN, in 1998 Riccardo obtained a permanent research position at the Istituto Nazionale di Fisica Nucleare in Pisa. From 2001 to 2006 he was a staff member at the Theory Division of CERN. In 2006 he was appointed professor of physics at EPFL.