Bertrand Merminod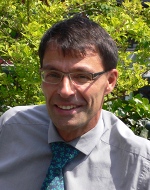 Publica
Candidature pour le poste de délégué-e à l'Organe paritaire de la caisse de prévoyance du domaine des EPF Cette tâche de milice concerne toutes les collaboratrices et tous les collaborateurs, à une époque où la tâche des caisses de pension n'est pas un long fleuve tranquille. Mon expérience professionnelle ne présente aucune affinité privilégiée avec la prévoyance, mais je m'intéresse aux affaires publiques, j'aime exercer mon esprit critique et ne crains pas d'exprimer une opinion originale. A la tête d'un laboratoire dont l'effectif varie entre 10 et 15 personnes, je peux consacrer à Publica quelques demi-journées pas an, ainsi que le temps nécessaire pour préparer les séances. Depuis mon arrivée à l'EPFL en tant que professeur en juin 1995, mon engagement pour l'intérêt général de notre communauté s'est exprimé au cours de divers mandats. Enseignement • membre (1995-1997) et président (1997- 2001) de la Commission d'Enseignement de la Section de Sciences et Ingénierie de l'Environnement (nommée alors Génie Rural und Kulturtechnik an der ETHZ). • membre du Comité de la Conférence du Corps Enseignant (2001-2006) Ethique • membre (1999-2001) et président (2001- 2006) de la Commission d'Ethique, qui traite des mandats confiés par la Direction de l'EPFL, et peut aussi en solliciter. Vie du campus • membre (1997-2004) et Président (2004-) du Conseil de la Fondation du Centre Universitaire Protestant, qui a construit et gère un foyer avec un accent sur la vie en commun et l'accueil d'étudiants d'ailleurs. • membre du Conseil de Faculté ENAC (2010-2012) • membre de l'Assemblée d'Ecole (2010-2014). Ayant vécu et travaillé en Suisse alémanique pendant 6 ans (Zizers GR 1983-86, Berneck SG (1993-95), la lecture de documents et la participation à des séances essentiellement en allemand m'est familière. Bientôt, je vais fêter mon 58e anniversaire et suis au bénéficie d'une excellente santé. Je suis marié depuis 34 ans et papa de trois enfants adultes et indépendants. Avec mes remerciements anticipés pour votre confiance. le 2 novembre 2016 Bertrand Merminod --- Einige Merkmale meiner Bewerbung • Motivation für Geopolitik • Interesse für den Rahmen unserer Lehr- und Forschungsaktivität • aktive und regelmässige Teilnahme an Vernehmlassungen • Mitglied und später Präsident der Unterrichtskommission der Sektion "Umwelt" (1995- 2001) • Mitglied des Vorstands der Konferenz des Lehrkörpers (2001-2006) • Mitglied und später Präsident der Ethikkommission der EPFL (1999-2006) • Mitglied und später Präsident einer Stiftung, die ein Studentenheim verwaltet (1997-) • Mitglied des Fakultätsrats ENAC (2010-2012) • Mitglied der Hochschulversammlung der EPFL (2010-2014) • Erfahrung in Ingenieurbüros, Entwicklungszusammenarbeit sowie Industrie • 6 Jahre in der Ostschweiz • 6 Jahre Übersee (Australien und Afrika) • Teilnahme an EPFL - ETHZ Austauschprogrammen • neue wichtige Aufgabe kompatibel mit der Aktivität meines Labors • wie auch für Gesundheit und Familie
EPFL ENAC IIE TOPO
GC D2 391 (Bâtiment GC)
Station 18
CH-1015 Lausanne
Fields of expertise
localisation par satellites
réseaux géodésiques, déformation d'ouvrages
appareils et algorithmes de navigation
estimation par moindres carrés
filtrage et lissage récurrents
Teaching & PhD
Teaching
Environmental Sciences and Engineering
Civil Engineering
PhD Programs
Doctoral program in computer and communication sciences Doctoral Program in Civil and Environmental Engineering
PhD Students
Mouzakidou Kyriaki
,
Past PhD Students
Azouzi Mounir
,
Barbieux Kevin Sylvain
,
Bayoud Fadi Atef
,
Constantin Dragos
, Forgues Isabelle ,
Gabaglio Vincent
,
Gontran Hervé
,
Ladetto Quentin
,
Renaudin-Schouler Valérie Jeanne Thérèse
,
Spassov Ivan
,
Wu Jing
,
Courses
The students treat observations affected by uncertainty in a rigorous manner. They master the main methods to adjust measurements and to estimate parameters. They apply specific models to real-world problems encountered in various experimental sciences.
---
Based on theoretical and practical knowledge, the student gets familiar with the photo-interpretation tools: maps, aerial photography, numerical models, specific software. The learning is reinforced via an application in the field.
---
The students learn several techniques for spatial mesurements, such as geodesy, aerial photogrammetry and laser scanning. They will be able to collaborate with geologists and civil engineers to master natural risks (landslides, avalanches) and to maintain...
---
The digital statement covers all three disciplines of the ENAC faculty. From the territorial scale to structural analysis and building measurement, this implies integrating methodologies specific to the different fields of activity of each Section.
---