Boi Faltings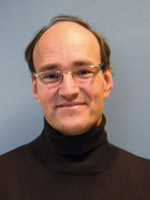 EPFL IC IINFCOM LIA
INR 230 (Bâtiment INR)
Station 14
1015 Lausanne
Fields of expertise
Artificial intelligence, Constraint programming, Multi-agent systems, Electronic commerce, Computational game theory
Current work
Some topics of current interest include:
Game-theoretic techniques for information elicitation
Adaptive software agents and multi-agent systems
Privacy-preserving Artificial Intelligence
Recommender systems
Continual machine learning
Biography
Boi Faltings is a full professor of computer science and heads the Artificial Intelligence Laboratory,. He has held visiting positions at NEC Research Institute, Stanford University and the HongKong University of Science and Technology. He has co-founded 6 companies using AI for e-commerce and computer security and acted as advisor to several other companies. Prof. Faltings has published over 300 refereed papers and graduated over 40 Ph.D. students, several of which have won national and international awards. He is a fellow of the European Coordinating Committee for Artificial Intelligence and a fellow of the Association for Advancement of Artificial Intelligence (AAAI). He holds a Diploma from ETH Zurich and a Ph.D. from the University of Illinois at Urbana-Champaign.
CONTACT
Secretariat Karin Gétaz Building INR 231 Station 14 CH-1015 Lausanne Tel. 41 21 693 42 11 karin.getaz@epfl.ch
Teaching & PhD
Teaching
Computer Science
Communication Systems
PhD Students
Cui Shaobo
,
Erden Zeki Doruk
,
Richardson Adam Julian
,
Rokvic Ljubomir
,
Past EPFL PhD Students
Antognini Diego Matteo
,
Boia Marina
,
Cigler Ludek
,
Danassis Panayiotis
,
Dreyfus Paul Arthur Adrien Pierre
,
Dütting Paul David
,
Garcin Florent Frédéric
,
Goel Naman
,
Kulev Igor
,
Léauté Thomas
,
Mi Fei
,
Nguyen Quang Huy
,
Ottens Brammert
,
Pu Li
,
Radanovic Goran
,
Schickel Vincent Jean Fabrice
,
Sintsova Valentina
,
Triastcyn Aleksei
,
Courses
Introduction to the basic techniques of Artificial Intelligence, complemented by paper and programming exercises that show how to implement the the techniques and apply them to practical problems.
---
Software agents are widely used to control physical, economic and financial processes. The course presents practical methods for implementing software agents and multi-agent systems, supported by programming exercises, and the theoretical underpinnings including computational game theory.
---
Students learn about advanced topics in machine learning, artificial intelligence, optimization, and data science. Students also learn to interact with scientific work, analyze and understand strengths and weaknesses of scientific arguments of both theoretical and experimental results.
---