Denis Gillet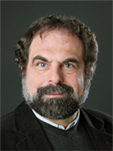 EPFL SCI STI DG
ELG 141 (Bâtiment ELG)
Station 11
1015 Lausanne
Fields of expertise
Web-based Interaction Systems
Human-Computer Interaction
Human-Device Interaction
Cyber Physical Systems
Explainable AI


Mission
The Interaction Systems Group (REACT) deals with the design, the implementation, and the adoption of innovative information systems (algorithms, services, platforms, and apps). Interdisciplinary domains of deployment are cyber physical systems, social media for digital education and knowledge management, capacity building for development and social action, as well as explainable artificial intelligence.
Biography
Denis Gillet received the Diploma in Electrical Engineering from the Swiss Federal Institute of Technology in Lausanne (EPFL) in 1988, and the Ph.D. degree in Information Systems also from the EPFL in 1995. During 1992 he was appointed as Research Fellow at the Information Systems Laboratory of Stanford University in the United States. He is currently
Maître d'enseignement et de recherche
at the
EPFL School of Engineering
, where he
leads the React research group
. His current research interests include Technologies Enhanced Learning (TEL), Human Computer Interaction (HCI), Human Devices Interaction (HDI) and Optimal Coordination of Complex and Distributed Systems. Denis Gillet is affiliated at EPFL with the
Center for Intelligent Systems
and the
Center for Digital Education
.
Research
Research Group
See the Web site of my
React Research Group
.
Recent Outside Contracts Awarded (PI @ EPFL)
Swiss Digital Skills Academy
, swissuniversities P8, 2021-2024
CLOC DEAR MENA
, Swissuniversities
SUDAC
, 2021-2024
iHub4Schools
, H2020, 2021-2023
GraphNEx
, Graph Neural Networks for Explainable Artificial Intelligence, SNF, 2021-2023
ASPIRE
, Open Evidence-Based Research in Digital Education, swissuniversities P5, 2020-2021
Smart eTrolley
, innosuisse, 2020-2021
DIARY
Digital Affordance for Protection, EPFLinnovators, 2018-2022.
MOOLs
Massive Open Online Labs, swissuniversities, 2018-2020.
Go-Ga,
Go-Lab Going to Africa, H2020 IST, 2018-2020.
Next-Lab,
Next Generation Stakeholders and Next Level Ecosystem for ColLaborative Science Education with Online Labs, H2020 IST, 2017-2019.
DriveForAll,
Autonomous and connected vehicles at roundabouts, PSA, 2016-2020.
CROSS,
Making digital status physically perceptible, EPFL-UNIL, 01-12.2016.
Maxon,
High Density Fiber Positioner Robotic Systems for Massive Astrophysical Spectroscopic Surveys, CTI, 03.2016-10.2017.
SCOPES,
Enabling Web-based Remote Laboratory Community and Infrastucture, SNSF, 08.2015-07.2018.
Paddoc,
Cloudless Communication Middleware for NGOs, Hasler Foundation, 04.2015-10.2015.
Graspeo,
EPFL Innogrant, 01.2015-12.2015.
MSF-Graasp
,
Innovative Agile Social Media Platform for Knowledge Management in the Field, Médecins sans Frontières, 06.2014-03.2016.
DESI
,
Developing a high accuracy, cost effective robot-positioners system for cosmology spectroscopic surveys, SNSF, 07.2014-06.2016.
Go-Lab
,
Global Online Science Labs for Inquiry Learning at School, EU, FP7, 11.2012-10.2016.
UAV,
Collision Avoidance, Unmanned Aerial Vehicles, Honeywell, 12.2011-11.2015.
PLE
, Personal Learning Environment, SWITCH Foundation, 09.2011-04.2013.

Jumpers
, Jobzippers User-driven Multi-relational and Personalized Recommender System, Commission for Technology and Innovation CTI, 03.2011-08.2012.

STELLAR
Network of Excellence in Technology Enhanced Learning, EU, FP7, 02.2009-05.2012.

ROLE
, Integrated Project on Responsive Open Learning Environments, EU, FP7, 02.2009-01.2013.

6th Sense
, End-to-End Adaptive Wearable Augmented Reality, Hasler Foundation, 10.2005-07.2010.

Autonomy 2.0
, Introduction of Social Learning Approaches in Engineering Education, EPFL FIFO Innovation Funds, 09.2007-08.2009.

PALETTE
, Integrated Project on the Exploitation of Tacit and Explicit Knowledge in Communities of Practice, EU, FP6, 02.2006-01.2009.

PRIMA
, Optical Differential Delay Line for the European Southern Observatory, SNSF&EPFL, 01.2004-08.2008.
Teaching & PhD
Teaching
Electrical and Electronics Engineering
Mechanical Engineering
PhD Programs
PhD Students
Abassi Nour Ghalia
,
Alarcon Lopez Claudia
,
Islambouli Rania
,
La Scala-Jayet Jérémy Alain
,
Past EPFL PhD Students
Bock Alain
,
Bogdanov Evgeny
,
Farah Juan Carlos
,
González Debada Ezequiel
,
Halimi Wissam
,
Ingram Sandy
,
Li Na
,
Macktoobian Matin
,
Makarem Laleh
,
Michellod Yvan
,
Nguyen Ngoc Anh Vu
,
Perritaz Damien
,
Roelofsen Steven Adriaan
,
Vozniuk Andrii
,
Courses
This course presents the current global issues in live communication and in social medias. The interdisciplinary approach integrates SHS with engineering sciences and introduces students to working in teams and to scientific methodologies.
---