Dimitrios Noukakis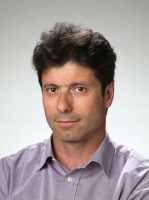 EPFL ENT-R EXAF EXAF-GE
CM 2 302 (Centre Midi)
Station 10
CH-1015 Lausanne
Current work
Dimitrios Noukakis is currently heading the programme "MOOCs for Development", an initiative aiming to promote innovative methods in higher education in Africa and in emerging countries through novel e-learning platforms, such as the MOOCs.

Dimitrios joined the International Relations of EPFL in November 2005. He was instrumental in the development of marketing strategies and activities to promote EPFL's Master programs internationally. Since Mai 2017 he is affiliated to the Center Cooperation and Development.
Biography
Dimitrios holds a Diploma in Chemistry (1986) and a PhD (1991) from the University of Fribourg. Between 1991 and 1995 he was a researcher at "Kodak Corporate Research Laboratories" (Rochester, USA), at the "Katholieke Universiteit Leuven (Belgium), and at the EPFL.
In 2002, he received an MBA from the Business School of Lausanne. Previously, he worked as a publisher for Elsevier (1995-2000) and co-founded FontisMedia and N!light, two companies providing marketing and communication services (2000-2005).