Dimitrios Noukakis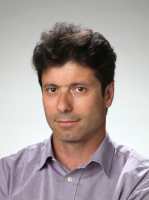 EPFL EXAF
CM 2 300 (Centre Midi)
Station 10
CH-1015 Lausanne
Mission
To design and implement training and transfer of techno-pedagogical skills programmes to accompany the digital transition of African universities. In parallel, to develop and produce MOOCs (Massive Open Online Courses) and online continuing education programmes, in collaboration with African universities, for the needs of higher education in Africa.
Current work
Dimitrios Noukakis is currently leading the Digital Education component of the Centre of Excellence in Africa, an initiative that aims, among others, to promote innovative and effective teaching in African universities, notably through the use of digital content and tools.

Dimitrios joined EPFL's International Relations in November 2005. His work has been instrumental in developing strategies and marketing activities for the international promotion of EPFL Master programmes. Between 2013 and 2019 he directed "MOOCs Africa", a North-South cooperation programme aiming at strengthening higher education capacities in sub-Saharan Africa. He set up a network of French-speaking partner universities and mobilised a large number of stakeholders for the transformation of higher education in Africa using digital technologies.
Biography
Dimitrios holds a Diploma in Chemistry (1986) and a PhD (1991) from the University of Fribourg. Between 1991 and 1995 he was a researcher at "Kodak Corporate Research Laboratories" (Rochester, USA), at the "Katholieke Universiteit Leuven (Belgium), and at the EPFL.
In 2002, he received an MBA from the Business School of Lausanne. Previously, he worked as a publisher for Elsevier (1995-2000) and co-founded FontisMedia and N!light, two companies providing marketing and communication services (2000-2005).
Publications
Selected publications
Dimitrios Noukakis, Gérard Escher et Patrick Aebischer
Les Annales des Minnes: Réalités industrielles
De Lausanne à Yaoundé : l'aventure des MOOCs
Gérard Escher, Dimitrios Noukakis, and Patrick Aebischer
Education, Learning, Training : Critical Issues for Development, International Development Policy series No.5, Geneva: Graduate Institute Publications, Boston: Brill-Nijhoff
Boosting Higher Education in Africa through Shared Massive Open Online Courses (MOOCs)
Dimitrios Noukakis, Jean-François Ricci and Martin Vetterli
Paths to a World-Class University: Lessons from Practices and Experiences, Sense Publishers
Riding The Globalization Wave: EPFL's Strategy and Achievements