Dominique Foray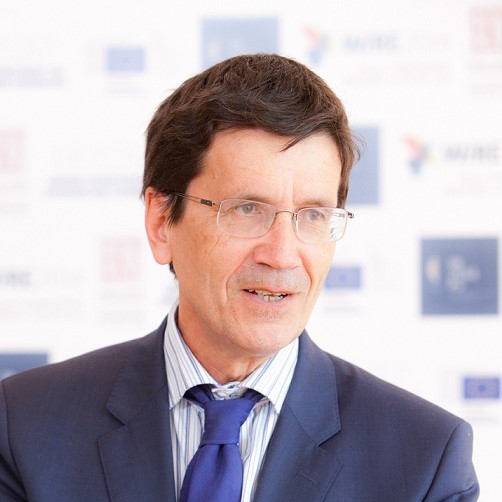 Fields of expertise
- Economics of innovation
- Science and technology indicators
- Technology policy
- Knowledge-based economy
- Innovation & development
- Smart specialization
Current work
In this section, I describe my main current research topics and my main recent publications as well as some works in progress related to each of these topics
*SMART SPECIALISATION AND INNOVATION POLICIES IN THE EU AND BEYOND
-"Smart specialisation strategies and industrial modernisation in European regions", Cambridge Journal of Economics, 2018
-"Smart specialisation strategies as a case of mission oriented policy - a case study on the emergence of new policy practices, Industry and Corporate Change, 2018
-"The policy space of smart specialisation", European Planning Studies, 2016
-Smart specialisation : opportunities and challenges for regional innovation policy, London: Routledge, 2015
-"From smart specialisation to smart specialisation policy", European Journal of Innovation Management, vol.17, 4, 2014 http://dx.doi.org/10.1108/EJIM-09-20140096
-"Smart specialisation: the concept", Knowledge for growth, prospects for science, technology and innovation, ERA, EUR 24047, Brussels, with P.A.David and B.Hall, 2009
An important aspect of my work on this topic involves the preparation and development of a 12 weeks EPFL MOOC for executive education on "designing smart specialisation strategies" - in collaboration with BAKeconomics (Basel, CH).
*THE ROLE OF INNOVATION TO MEET GRAND CHALLENGES (CLIMATE, HEALTH, EDUCATION)
-"Public R&D and social challenges: what lessons from mission R&D programs?", Research Policy, vol.41/10, with D.C.Mowery and R.R.Nelson, 2012
http://dx.doi.org/10.1016/J;respol.2012.07.011
-"Can medical products be developed on a not-for-profit basis? Exploring product development partnerships for neglected diseases", Science and Public Policy, with V.Munoz, F.Visentin and P.Gaulé, 2014
-"The emergence of educational tool industry : opportunities and challenges for innovation education", Research Policy, with J.Raffo, 2014
-"Structuring a policy response to a 'Grand Challenge'", Knowledge for Growth, prospects for science, technology and innovation, ERA, EUR 24047, Brussels, 2009
-Building the capacity to experiment in schools: a case study of the Institute of Educational Sciences in the US Department of Education", Economics of Innovation and New Technology, vol.16, 5, with T.Coock, 2007
-Randomized trials of education and medical practices: strengths and limitations, Economics of Innovation and New Technology, vol.16, 5, with R.Murnane and R.Nelson, 2007
*INNOVATION@SWITZERLAND
"The formation of Coasean institutions to provide complementary capabilities for innovation - a case study and a statistical analysis about current trends in Switzerland, draft, with Martin Woerter, 2017
-"Die Schweiz - ein innovationsstarkes Land", "La Suisse : pays de l'innovation", Volkswirtschaft, La Vie Economique, special issue, April 2016
-"An assessment of the Innovation Union Scoreboard as a tool to analyse national innovation capacities: the case of Switzerland", Research Evaluation, with H.Hollanders, 2015
*NEW INDUSTRIAL POLICY
-"On sector-non-neutral innovation policy : towards new design principles", Journal of Evolutionary Economics, 2018
-"Why is it so difficult to translate innovation economics into useful and applicable policy prescriptions?", in The rate and direction of inventive activity revisited, Lerner and Stern eds., National Bureau of Economic Research, The University of Chicago Press, 2012
-The new economics of technology policy, Cheltenham: Edward Elgar, 2009
-"Science, technology and innovation for economic growth: linking policy research and practice in 'STIG' systems", Research Policy, vol.38, issue 4, with P.Aghion and P.A.David, 2009
*INNOVATION FOR DEVELOPMENT
-"Platform for economic discovery", in Technology and Innovation Report, UNCTAD, United Nations, 2018
-"From transfer of technology to innovation : the centrality of the discovery process and economic knowledge", chapter 7, in Transfer of Technology and Knowledge Sharing for Development, UNCTAD, Geneva: United Nations, 2014
-"Knowledge policy for development", in Innovation and the development agenda, OECD Innovation Strategy, Paris, 2010
*ECONOMICS OF KNOWLEDGE AND THE KNOWLEDGE ECONOMY
- "Economie de la Connaissance" - 3ème édition, La Découverte, Paris, 2018
- "The challenge of innovation in turbulent time", World Economic Forum paper, with E.Phelps, 2014
- "Patent-free innovation: a review of economic works including the analysis of a recent work in the field of experimental economics", Revue Economique, vol.64, 1, 2013
-"The fragility of experiential knowledge", in R.Arena, A.Festré and N.Lazaric (eds.), Handbook of Knowledge and Economics, Edward Elgar, 2012
-"The university research and public-private interactions", in B.Hall and N.Rosenberg (eds.), Handbook of Economics of Innovation, North Holland, with F.Lissoni, 2010
-"Structural changes in industrial R&D in Europe and the US", Science and Public Policy, 37(6), with S.Lhuillery, 2010
-"The economics of open technology: collective organization and individual claims in the 'fabrique lyonnaise' during the old regime", Frontiers in the economics of innovation: essays in honour of P.A.David, Cheltenham: Edward Elgar, with L.Hilaire Perez, 2006
-Advancing knowledge and the knowledge economy, Cambridge: MIT Press, with B.Kahin (eds), 2006
-"The explicit economics of knowledge codification and tacitness", in Understanding Industry and Corporate Changes, G.Dosi, D.Teece and J.Chytri (eds.), Oxford University Press, 2005
-The economics of knowledge, Cambridge: MIT Press, 2004 (paperback in 2006)
-"An introduction to the economy of knowledge society", International Social Science Journal, 171, with P.A.David, 2002
I am currently involved in the preparation and coordination of "The Economics of Knowledge" - as part of the "International Library of Critical Writings in Economics" series (Edward Elgar)
I am also currently preparing the third edition of my pocket book - "Economie de la Connaissance" - Edition La Découverte (Paris)
*SOCIAL INNOVATION
-"On the economics of social innovation : a conceptual Framework and first empricial study", draft, with A.Cuntz and E.Mostovova, 2017
-"Common Innovation in the light of reflections on Mass Flourishing", Book review essay, Research Policy, 2015
http://dx.doi.org/10.1016/j.respol.201504.006
*INDICATORS AND EVALUATION
-"How did medical technologies integrate new information technologies?", draft, with M.Coffano, 2015
-"Advanced postdoc.mobility fellowship (SNSF): a policy evaluation, Policy Brief, Institute of Technology & Public Policy, with S.Barrufaldi, M.Marino and F.Visentin, May 2015
-"Enriching the indicator base for the economics of knowledge", in Science, Technology and Innovation Indicators, Paris: OECD, 87-100, 2007
-"Pitfalls in estimating the returns to corporate R&D using accounting data", Knowledge for Growth, IPTS-EC/Sevilla, with B.Hall and J.Mairesse, 2007
- Measuring knowledge management in the business sector, Paris: OECD, with F.Gault (eds.), 2003
*POLICY PAPERS AND STATEMENTS
-"The future of the EU as an inclusive and sustainable innovation economy", D.Foray & G.Romme (leading authors), position paper co-signed by 12 Eurotech Professors in innovation and entrepreneurship, Eurotech Alliance, April 2016
Biography
1 - Current occupations and activities
I am Full Professor at the Ecole Polytechnique Fédérale de Lausanne (EPFL) and hold the Chair of Economics and Management of Innovation (CEMI).
I am a member of the Swiss Council for Science and Innovation (SWIR); chairman of the Advisory Board of the Swiss Economic Research Institute (KOF); and a foreign member of the Center of Capitalism and Society (Columbia University, New York).
From 2007 to 2015, I served as a member of the Swiss National Research Council (Division IV - Large Scale Programs)
From 2013 to 2016, I was a member of the Expert Commission for Research and Innovation of Germany (E-FI) and a member of the Expert Group for the National Report on Research and Innovation (SBFI, Switzerland).
From 2008 to 2011, I served as chairman of the expert group "Knowledge for Growth"; a group of prominent economists created to advise Commissioner J. Potocnik (European Commission, DG research). This is during this service as member of this Group that I developed the concept of smart specialisation (together with P.A.David and B.Hall) that is now a key policy mechanism of the EU (cohesion policy).
My expertise includes the economics of innovation and knowledge and the economic policy implications of the new knowledge-based economy. I have presented many opening speeches and key note address in academic and policy conferences on these topics. I have written numerous academic papers as well as two books and have edited several books and special issues in these fields. Among these books,I like to highlight :
• Technology and the Wealth of Nations (Pinter, 1992) ed.with C.Freeman;
• Unemployment and Growth in the Knowledge-based Economy (OECD, 1996), ed. with B.A.Lundvall;
• Knowledge economies and societies (a special issue of the International Social Science Journal, Basil Blackwell, 2002, with editions in French, Spanish, Chinese, Arabs, Russian);
• The Economics of knowledge (MIT press, 2004, paperback in 2006) with editions in France, Italy, Korea, China, Greece, Syria and Algeria
• The New Economics of Technology Policy(Edward Elgar)2009, ed.;
. Smart specialisation : opportunities and challenges for regional innovation policy(Routledge, 2015)
Since 2017, I regularly contribute to the Swiss Science Council blog: https://blog.wissenschaftsrat.ch/
2 – Education, previous appointments and academic positions
- I received my Ph.D. in economics in 1984 and my "habilitation à diriger des recherches" in 1992 from the University Lumière of Lyon.
- In 1985, I joined the Centre National de la Recherche Scientifique (CNRS) as a Research Fellow in economics.
- In 1990, I joined the Ecole Centrale de Paris as professor of economics, and taught in the program "ingénieur économiste".
- In 1993, I was nominated as Research Director at CNRS and joined the "Institut pour le Management de la Recherche et de l'Innovation" (IMRI) of the University of Paris-Dauphine.
- In 2001-2004, I worked as a Principal Analyst at the Center for Education, Research and Innovation of OECD (Paris).
- I joined the EPFL as Professeur Ordinaire in 2004.
3 - Honours and awards
Best young economist award - City of Lyon (France)1986
Outstanding research in 1995 (médaille du CNRS)(France)
Futuris award in 2012 for his work on smart specialisation
Best paper award, EJIM, 2014
Doctor Honoris Causa, University of Cluj Napoca, 2017
I was also elected as Research Fellow at ICER (International Center for Economic Research) in Turin, at the Wissenschaftskolleg in Berlin and at IIASA in Laxenburg; and I was Invited Professor at the Universities of Santiago de Compostela, Torino and Padova.
4 - Consulting activities
I have done consulting work for the UNESCO, the OECD, WIPO, UNCTAD, UN/ECE, the European Commission, the Swiss Government and other public organisations. I am currently strongly involved into the "smart specialisation" debate in Europe, giving talks and providing advices in many countries and regions in Europe.
EXPERT GROUP
Knowledge for Growth
EC - DG Research
PUBLICATIONS
=> Dominique Foray's publications
Infoscience publications
Publications
2019
2018
2017
2016
2015
2014
2013
2012
2011
2010
2009
2008
2007
2006
2005
2004
2003
2002
2001
2000
1999
1998
1997
1996
1995
1994
1993
1992
1991
1990
1985
Research
Research

See the section "current work"