Gabriela Tejada Guerrero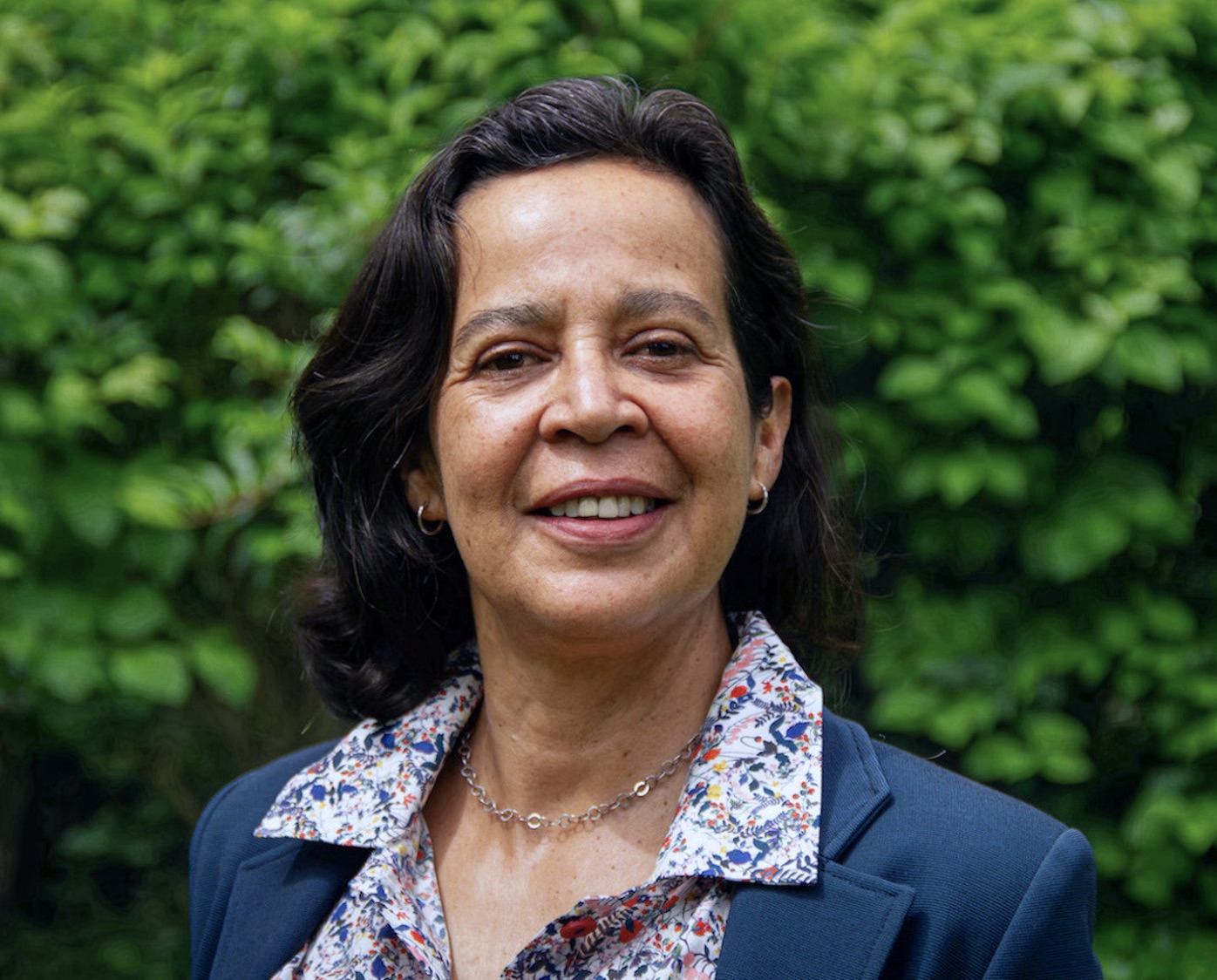 Fields of expertise
International cooperation (education, research, innovation)
Scientific diasporas
Scholars at Risk (SAR)
Transdisciplinarity and interdisciplinarity
UNESCO - science & education - SDGs
Mission
The College of Humanities (CDH) encourages joint research and educational programs that combine the humanities and social sciences with engineering, life sciences, natural sciences and the other technical fields taught at EPFL. We work through a variety of teaching, research and public outreach programs that promote an approach based on the principles of interdisciplinary thinking, global awareness, responsible citizenship and creativity. The CDH has over 75 employees, 7 faculty members, and 130 teachers offering 150 courses on a wide range of themes. It is also home to two research institutes: Digital Humanities Institute (DHI), and Institute for Area and Global Studies (IAGS), one art exhibition center (EPFL Pavilions), and one unit putting on a range of artistic and cultural events (CDH-Culture).
Current function
Member of CDH Direction and coordination of its operations
Support to the Dean in strategic programs, management and liaison with EPFL offices and UNIL
Strategic backing to SHS education program and member of the teaching commission
Coordination of EPFL-UNIL interdisciplinary research program
Member of the Library Commission (COB)
Advisor to the Scholars at Risk program (SAR) at EPFL
Biography
Gabriela has extensive expertise in international cooperation in education, research and innovation. She joined EPFL as scientist at the Cooperation and Development Center (CODEV) where she led the EPFL Leading House Program (2014-2017) of the Swiss government, which upheld Swiss bilateral research cooperation with Brazil, India, Vietnam and Latin America. Her research focused on scientific diasporas and skilled migration with diverse international collaborations under her leadership. She worked at the University of Zurich, and the UNDP in Moldova and Geneva, and taught at the Monterrey Institute of Technology (ITESM). She was visiting researcher at the CES at Harvard University and the CIS at ETH Zurich. Gabriela obtained a BA in International Relations from the UIA (Ibero) in Mexico, and a PhD in Political Sciences from the UAB in Barcelona. She obtained a CAS IPA - International Policy and Advocacy of the D-MTEC, ETH Zurich (2019). Since 2020 Gabriela is Vice-President of the Swiss Commission for UNESCO (member since 2016), where she promotes science-society linkages and advocates for an inclusive development and dialogue through education, science and culture.

Since May 2019, Gabriela is Academic Deputy at the Direction of the College of Humanities (CDH). She serves the Scholars at Risk program (SAR) at EPFL in an advisory capacity.
Publications
Selected publications
Tejada, G.
Indian Migration Report 2019: Diaspora in Europe; Irudaya, R. (ed.); Routledge: Delhi, 2019; pp. 1-27.
"Skilled Indians in Switzerland: Mobility paths and transnational connections"
Garcia Delahaye, S. & Tejada, G.
"Diaspora networks in international business"; Elo and Minto-Coy (eds.); pp. 105-126; Springer, 2019.
"Transnational investments of the Tunisian diaspora: Trajectories, skills accumulation and constraints"
Tejada, G., Cracco, M., Ranquet Bouleau, C., Bolay, J-C., Hostettler, S.
Sustainability 2019, 11(16), 4343
"Testing analytical frameworks in transdisciplinary research for sustainable development"
Tejada, G., Marcel, M., Schneegans, S., Bandyopadhyay, D., Awinia, Ch., Bhattacharya, U.
Report of session at the UNESCO Tech4Dev Conference, 2018
"Strengthening the research and policy nexus in the implementation of the SDGs"
Tejada, G., Varzari, V. & Porcescu, S.
Migration, Transnationalism and Development in South-East Europe and the Black Sea Region; R. King et al. (eds.); Routlege: NY; 2017; pp. 157-173
"Scientific diasporas, transnationalism and home-country development: evidence from a study of skilled Moldovans abroad"
Vasilache, D., Bunyan, D. & Tejada, G.
MiDL Project, UNDP Chisinau, 2017
Guide to Local Planning for Communities Affected by Migration, Based on Human Rights and Gender Equality
Tejada, G.
"Diasporas, Development and Governance"; Chikanda, A., Crush, J., Walton-Roberts, M. (eds.); Global Migration Issues; Vol. 5; Springer; 2016; pp. 239-262.
"Knowledge transfers through diaspora transnationalism and return migration: A case study of Indian skilled migrants"
Tejada, G.
"Migration and social remittances in a global Europe"; Nowicka, M. & Serbedzija, V.; Palgrave Series Europe in a Global Context: London; 2016; pp. 281-301.
"Skilled Indians in Europe: Knowledge transfer and social impact"
Tejada, G., Bhattacharya, U., Khadria, B. & Kuptsch, Ch.
Dynamics of Asian Development; Springer: New Delhi; 2014.
"Indian skilled migration and development. To Europe and back"
Tejada, G. & Siddiqui, Z.
"Indian skilled migration and development. To Europe and back"; Tejada, G., Bhattacharya, U., Khadria, B. & Kuptsch, Ch. (eds.); Springer: New Delhi; 2014; pp. 237-261.
"Transfering skills upon return: matching aspirations in the host countries with the reality back in India"
Porcescu, S, Varzari, V. & Tejada, G.
"Skilled migration and development practices: Republic of Moldova and the countries of South East Europe"; Varzari, V., Tejada, G., Porcescu, S., & Bolay, J-C. (eds.); ASM: Chisinau, 2014; pp. 7-17.
"Skilled migration and development in South East Europe: an introduction"
Tejada, G., Hercog, M., Kuptsch, Ch. & Bolay, J-C.
"Global diasporas and development: socio-economic, cultural, and policy perspectives"; Sahoo & Pattanaik (eds); Springer, New Delhi, 2014; pp. 39-68.
"The link with a home country: Comparative analysis of host country environments for diaspora engagement"
Bolay, J-C. & Tejada, G.
"Indian skilled migration and development. To Europe and back"; Tejada, G., Bhattacharya, U., Khadria, B. & Kuptsch, Ch. (eds.); Springer: New Delhi; 2014; pp. 185-211.
"Globalisation challenges and knowledge transfer from the Indian scientific diaspora"
Tejada, G. & Garcia Delahaye, S.
Rapport sur l'étude sociodémographique de la CTRS mandatée par la DDC, 2014.
"La Communauté Tunisienne Résidente en Suisse (CTRS): Tour d'horizon"
Tejada, G.
Skilled migration and development practices: Republic of Moldova and the countries of South East Europe; Varzari, Tejada, Porcescu, Bolay (eds.); 2014; ASM: Chisinau; pp. 96-122.
"Skilled migration, transnational cooperation and contributions to development: evidence from the Moldovan scientific diaspora"
Varzari, V., Tejada, G., Porcescu, S., & Bolay, J-C.
ASM: Chisinau, 2014.
"Skilled migration and development practices: Republic of Moldova and the countries of South East Europe"
Hercog, M. & Tejada, G.
WP 58; pp. 1-15; IMDS Working Paper Series, JNU, Delhi, 2014.
"Incorporation of skilled migrants in a host country: insights from the study of skilled Indians in Switzerland"
Tejada, G. & Bhattacharya, U.
"Indian skilled migration and development. To Europe and back"; Tejada, G., Bhattacharya, U., Khadria, B. & Kuptsch, Ch. (eds.); Springer: New Delhi; 2014; pp. 3-26.
"Indian skilled migration and development: an introduction"
Siddiqui, Z., & Tejada, G.
International Development Policy, Vol. 6, No. 1, 2014.
"Development and highly skilled migrants: perspectives from the Indian diaspora and returnees"
Tejada, G., Varzari, V. & Porcescu, S.
Journal of South East European & Black Sea Studies; May 2013.
"Scientific diasporas, transnationalism, home country development: evidence from a study of skilled Moldovans abroad"
CODEV-EPFL, IDSK, JNU, ILO
Final Research Report, 2013.
"Migration, scientific diasporas, development. Impact of skilled return migration on development in India"
Tejada, G.
INSCITED Internat. Conference on Science & Technology for Economic Diversification 2013, 152-171
"Scientific diasporas fostering science and technology in the home countries"
Bolay, J-C., Schmid, M., Tejada, G. & Hazboun, E.
Springer: Paris; 2012.
"Technologies and innovations for development. Scientific cooperation for a sustainable future"
Tejada, G.
Migración y Desarrollo; Vol. 10; No. 18; pp. 67-100; 2012.
"Movilidad, conocimiento y cooperación: Las diásporas científicas como agentes de desarrollo"
Tejada, G.
Migration and Development, vol. 10, n. 18, pp. 59-92, 2012.
"Mobility, knowledge and cooperation: Scientific diasporas as agents of development"
Tejada, G.
UNESCO Tech4Dev Conference 2012
"Scientific diasporas, knowledge circulation, development: insights from the study of skilled Moldovans abroad"
Tejada, G., Dia, I., & Kwankam, F.
"Scientific diasporas as development partners. Skilled migrants from developing countries in Switzerland: empirical evidence and policy responses"; Tejada and Bolay (eds.); Peter Lang: Bern; 2010; pp. 487-513.
"Scientific diasporas from Colombia, India and South Africa in Switzerland, concluding remarks and implications for policy and research"
Tejada, G. & Bolay, J-C.
Peter Lang: Bern, 2010.
"Scientific diasporas as development partners. Skilled migrants from Colombia, India and South Africa in Switzerland: empirical evidence and policy responses"
Tejada, G.
"Scientific diasporas as development partners"; Tejada and Bolay (eds.); Peter Lang: Bern; 2010; pp. 199-313.
"The Colombian scientific diaspora in Switzerland"
Bolay, J-C. & Tejada, G.
Scientific diasporas as development partners; Tejada, G. & Bolay, J-C. (eds.); Peter Lang: Berlin; 2010
"North-South scientific cooperation: A challenge for sustainable development"
Tejada, G. & Wickramasekara, P.
Cooperation@epfl and ILO, Lausanne, 2010.
"An action-oriented tool-kit to assess the good practices of skilled migrants and scientific diasporas"
Tejada, G.
Ensemble vers le succès; l'impact des partenariats scientifiques avec les pays en développement, 14-15, Bern, SCNAT and KFPE; 2009
Migrants qualifiés, des avantages pour le Sud
Tejada, G.
IMISCOE Conference on Migrant Diasporas and Decentralized Development, Rotterdam 29-30 May 2008
"Transnational practices to benefit local science and technology: Empirical evidence of the Colombian scientific diaspora"
Tejada, G.
ISA Forum of Sociology on Sociological Debate and Public Research, Barcelona, September 5-8, 2008
"Trasnationalism and diaspora resources impacting development in the homelands"
Tejada, G.
Moneta, 2, 2008
Brain gain statt brain drain
Tejada, G.
Africa-Europe Academic Cooperation, Lisbon, Friedrich Ebert Stiftung, 2008
Academic cooperation enforcing knowledge circulation for the advancement of development in Africa
Tejada, G., Bolay, J-C., Pedrazzini, Y., November, V.
Les liaisons fructueuses, 148-156, RUIG, Geneva, 2008
Développement et recherche scientifique: collaboration entre l'EPFL et le RUIG. Expériences, impacts et perspectives
Tejada, G.
Programa de Asuntos Migratorios; Universidad Iberoamericana; Serie Migración: causas, consecuencias y recomendaciones, Mexico, 2007.
"Diasporas científicas: una oportunidad para impulsar el desarrollo de México"
Tejada, G. & Bolay, J-C.
Global Migration Perspectives No. 51, GCIM, 2005.
"Enhancing development through knowledge circulation: A different view of the migration of highly skilled Mexicans"
Tejada, G. & Bolay, J-C.
Global Migration PerspectivesNo. 51a, GCIM, 2005
Impulsar el desarrollo a través de la circulación de conocimiento: una mirada distinta a las migraciones de los mexicanos altamante calificados