Georges Wagnières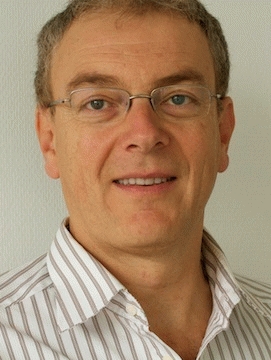 Fields of expertise
- Fluorescence spectroscopy and imaging.
- Photodynamic therapy (PDT).
- Photobiostimulation.
- Biomedical optical spectroscopy and imaging.
- Light dosimetry.
- Preclinical and clinical development of photosensitizers and photodiagnostic instruments.
- Tissue Optics.
- Technology transfer and entrepreneurship.
Mission
- Research and teaching in the field of biomedical optics and photomedicine
- Technology transfer
Biography
Georges Wagnières received his diploma degree (MSc) in physics from the University of Lausanne, Switzerland, in 1986. He obtained his doctorate in science (PhD) in physics (Biomedical optics) from the Swiss Federal Institute of Technology at Lausanne (EPFL) in 1992 and did a postdoctoral work in the Wellman Laboratories of Photomedicine (Harvard Medical School), Boston, USA, from 1993 to 1994. He also obtained a Master degree in Management of Technology delivered by the Ecole des Hautes Etudes Commerciales (HEC) of Lausanne University and the EPFL in 2001.
Georges Wagnières manages a research group active in the fields of:

- Detection of early superficial cancers by fluorescence imaging.
- Characterization of early superficial cancers by high magnification narrow band imaging.
- In vivo and in vitro measurement of the vascular and tissular oxygen concentration by time-resolved luminescence spectroscopy and imaging.
- Preclinical and clinical study of new photosensitizers for photodynamic therapy (PDT).
- Treatment of neurodegenerative conditions (Alzheimer, Parkinson's diseases) by photobiomodulation.
- Preclinical and clinical photodynamic therapy of inflammatory bowel diseases and atheroscerotic plaque.
- Improvement of the selective vascular extravasation of chemotherapeutic agents by PDT.
- Monitoring the light dosimetry during PDT by fluorescence spectroscopy and imaging.
- Monitoring laser treatments of the retina by reflectance imaging.
- Light dosimetry and tissue optical spectroscopy.
- Radiometry.
- Development of light delivery systems for biomedical applications.

Georges Wagnières is also co-founder and was chairman of one spin-off companies:
- Medlight SA, founded in July 1997, which develops, produces and commercializes light distributors for photodynamic therapy.

Georges Wagnières has currently authored more than 225 papers (more than 135 in international journals with review board) and is inventor of 15 patents. He supervised 13 PhD students up to now, and currently teaches biomedical optics and photomedicine in master programs and doctoral schools.

MAIN PUBLICATIONS
Please visit: https://lifmet.epfl.ch/page-152029-en.html
GROUP HOMEPAGE
https://lifmet.epfl.ch/page-152029-en.html
START-UP
Medlight SA
http://www.medlight.com/
Past PhD students (co-supervised)
Dögnitz Nora
Glanzmann Thomas
Mizeret Jérôme
Nowak-Sliwinska Patrycja
Santhakumar Kannappan
File Upload
You can upload files with the form below (max. 300MB)

Research
https://lifmet.epfl.ch/page-152029-en.html
Teaching & PhD
Teaching
Life Sciences Engineering
Chemistry and Chemical Engineering
Physics
PhD Programs
Doctoral Program in Photonics Doctoral Program in Chemistry and Chemical Engineering Doctoral Program in Physics
Courses
This course addresses the principles governing the interactions between light and biological tissue, their optical properties and basic concepts of radiometry. Illustrative diagnostic and therapeutic applications of light in medicine and photobiology will also be described.
---
Brief history
Radiometry and Photometry
Brief introduction to general optics and tissue optics
Light dosimetry
Light-tissues interactions
Introduction to molecular optical spectroscopy (Absorption, fluorescence spectroscopy and imaging techniques; vibrational and Raman spectroscopy; time-resolved luminescence spectroscopy and imaging)