Georgios Sflomos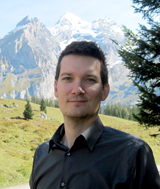 EPFL SV ISREC UPBRI
SV 2830 (Bâtiment SV)
Station 19
CH-1015 Lausanne
Current work
Invasive Lobular Breast Carcinoma (ILC) is the second most frequently occurring histological breast cancer (BC) subtype. It is hard to detect through conventional diagnostic screenings (mammography and/or ultrasound.
It exhibits widespread and peculiar metastatic colonization in ovaries, GI tract, peritoneum, skin, meninges, central nervous system, and bone. ILCs are slowly progressive breast tumors and are exquisitely hormone-sensitive. Unfortunately, ILCs are poorly characterized due to the lack of in vivo models that faithfully recapitulate the disease progression and metastases (Sflomos G. and Brisken C., 2017).
A recently described intraductal transplantation methodology that faithfully mimics estrogen receptor-positive BCs is currently further exploited for metastatic ILCs (Sflomos G. et al., 2016, 2021).
Publications
Selected publications
| | |
| --- | --- |
| George Sflomos, Valerian Dormoy, Tauno Metsalu, Rachel Jeitziner, Laura Battista, Valentina Scabia, Wassim Raffoul, Jean-Francois Delaloye, Assya Treboux, Maryse Fiche, Jaak Vilo, Ayyakkannu Ayyanan, Cathrin Brisken | A Preclinical Model for ERα-Positive Breast Cancer Points to the Epithelial Microenvironment as Determinant of Luminal Phenotype and Hormone Response |
| George Sflomos, Laura Battista, Patrick Aouad, Fabio De Martino, Valentina Scabia, Athina Stravodimou, Ayyakkannu Ayyanan, Assia Ifticene-Treboux, RLS; Philipp Bucher, Maryse Fiche, Giovanna Ambrosini , Cathrin Brisken | Intraductal xenografts show lobular carcinoma cells rely on their own extracellular matrix and LOXL1 |
| Stéphanie Cagnet#, Dalya Ataca#, George Sflomos#, Patrick Aouad, Sonia Schuepbach-Mallepell, Henry Hugues, Andrée Krust, Ayyakkannu Ayyanan, Valentina Scabia, and Cathrin Brisken | Oestrogen receptor α AF-1 and AF-2 domains have cell population-specific functions in the mammary epithelium |
| George Sflomos, Marie Shamsheddin, Cathrin Brisken | An ex vivo model to study hormone action in the human breast |
| George Sflomos and Cathrin Brisken | Breast Cancer Microenvironment and the Metastatic Process |
| Marie Shamseddin, Fabio De Martino, Céline Constantin, Valentina Scabia, Anne-Sophie Lancelot, Csaba Laszlo, Ayyakkannu Ayyannan, Laura Battista, Wassim Raffoul, Marie-Christine Gailloud-Matthieu, Philipp Bucher, Maryse Fiche, Giovanna Ambrosini, George Sflomos, Cathrin Brisken | Contraceptive progestins with androgenic properties stimulate breast epithelial cell proliferation |
| N Tasdemir, J Scott, J Laotche, W Hou, EA Bossart, J Atkinson, G Sflomos, S Sreekumar, C Castro, C Anderson, AV Lee, C Brisken, PC Lucas, NE Davidson and S Oesterreich | Novel human cell line xenograft models of ERα-positive metastatic invasive lobular breast carcinoma as pre-clinical platforms for validating candidate genetic drivers |
| Ana Luísa Cartaxo, Marta F. Estrada, Giacomo Domenici, Ruben Roque, Fernanda Silva, Emilio J. Gualda, Pablo Loza-Alvarez, George Sflomos, Cathrin Brisken, Paula M. Alves, Saudade André & Catarina Brito | A novel culture method that sustains ERα signaling in human breast cancer tissue microstructures |
| Berna C Özdemir, George Sflomos, Cathrin Brisken | The challenges of modeling hormone receptor-positive breast cancer in mice |
| George Sflomos, Cathrin Brisken | A new Achilles Heel in breast cancer? |