Giovanni Boero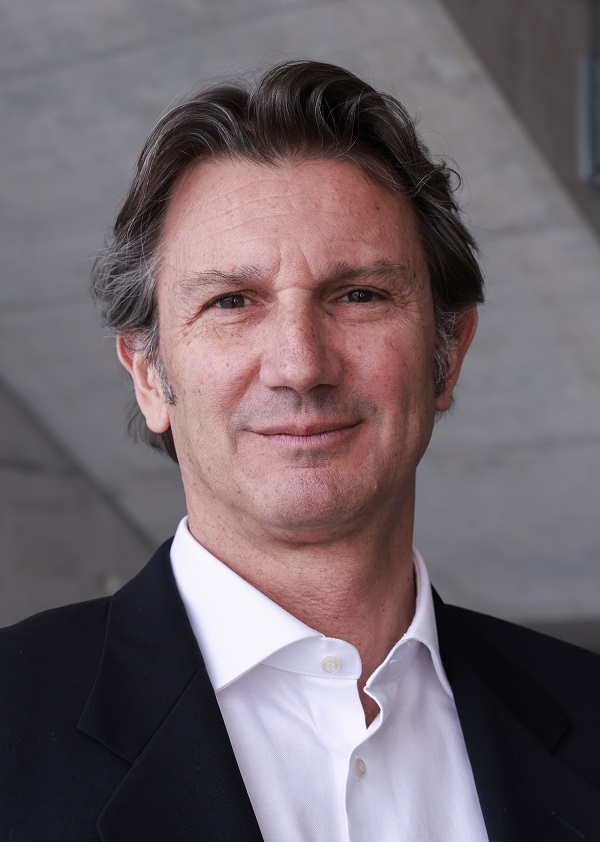 Fields of expertise
Nuclear magnetic resonance (NMR)
Electron spin resonance (ESR)
Ferromagnetic resonance (FMR)
RF electronics
MW electronics
Magnetic sensors
Noise phenomena


Short CV
Born in Genova (Italy). Married with two children. Speaks italian, english, french.
Workplaces:
1996-present: Ecole Polytechnique Federale de Lausanne (EPFL), Lausanne, Switzerland.
1994-1996: Organization Europeenne pour la Recherche Nucleaire(CERN),Geneva,Switzerland.
1993-1995: Fermi National Accelerator Laboratory (FNAL), Batavia, IL, USA.
Education:
2000: PhD, Ecole Polytechnique Federale de Lausanne (EPFL), Lausanne, Switzerland
1994: Laurea in Physics, Università di Genova, Genova, Italy
1988: Diploma in Electronics, ITIS G. Giorgi, Genova, Italy
PhD Students Topics
Present PhD students:
Nergiz Sahin: Single-chip ESR detectors: limit of detection, applications, and exotic phenomena.
Matthieu Ruegg: RF controlled biodegradable implantable capsules (co-supervision with Juergen Brugger, EPFL).
Anthony Jean Beaumont: ESR and FMR magnetometry for CERN magnets (co-supervision with Marco Buzio, CERN).
Anton Malovichko: Cantilever-based detection of bacteria activity (co-supervision with Giovanni Dietler, EPFL).

Past PhD students:
Alessandro V. Matheoud: ESR spectroscopy from 500 MHz to 500 GHz.
Marco Grisi: Single-chip integrated electronics for NMR spectroscopy and magnetometry.
Enrica Montinaro: Microfabrication technologies for NMR, ESR and FMR on subnanoliter samples (co-supervision with Juergen Brugger, EPFL).
Mario Chavarria: Detection limits in chemical analysis by FAIMS (co-supervision with Juergen Brugger, EPFL).
Gabriele Gualco: Cryogenic single chip ESR detectors
Jens Anders: Integrated RF electronics for MRI.
Marc Lany: Single charge detectors in CMOS technology.
Tolga Yalcin: Integrated microwave electronics for ESR.
Malika Bouterfas: Microdevices for ESR on small samples.
Scharazede Mouaziz: Cantilevers and Hall devices for MRFM (co-supervision with Juergen Brugger, EPFL).
Research
Methods and microdevices for nuclear magnetic resonance (NMR), electron spin resonance (ESR), ferromagnetic resonance (FMR) spectroscopy and imaging on subnanoliter samples:
- Inductive detection of NMR, ESR, and FMR with single-chip integrated detectors. Applications to micro-imaging and micro-spectroscopy on subnanoliter samples.
- X-ray detection of FMR (XFMR).
- Mechanical detection of NMR with microcantilevers (MRFM).
- Scanning tunneling microscope (STM) based detection of ESR (STM-ESR).


Research Funding
CTI-Agence pour la promotion de l'innovation
Swiss National Science Foundation
European Union
(total contribution of about 4 MCHF from 2001 to 2019).
Teaching Details
Present courses:
Bachelor Course: General Physics III, 2016-present (160 students)
Bachelor Course: Sensors, 2005-present (160 students, shared with Prof. Ph. Renaud)
Master Course: Nanotechnology, 2012-present (30 students, shared with Prof. J. Brugger)
Doctoral School Course: Magnetic microsensors, 2003-present (15 students)

Past courses:
Doctoral School Course: Integrating sensors with electronics, 2006-2010 (15 students, shared with Prof. Popovic and Dr. P. Kejik)

Diploma and semester projects:
55 projects (1998-present)
Selected publications
A. V. Matheoud, N. Sahin, L.Frehner, G. Boero
Sensors & Actuators A 295, 259 (2019)
Microwave inductive proximity sensors with sub-pm/Hz^1/2 resolution
A. V. Matheoud, N. Sahin, G. Boero
IEEE Transactions on Microwave Theory and Techniques 67, 2782 (2019)
A low power microwave HEMT LC oscillator operating down to 1.4 K
M. Grisi, G. M. Conley,P. Sommer,J. Tinembart, G. Boero
Rev. Sci. Instrum. 90, 015001 (2019)
A single-chip integrated transceiver for high field NMR magnetometry
A. Beaumont, M. Buzio, G. Boero
Rev. Sci. Instrum. 90, 065005 (2019)
Ferrimagnetic resonance field sensors for particle accelerators
M. Rüegg, R. Blum, G. Boero, J. Brugger
Advanced Functional Materials 2019, 1903051 (2019)
Biodegradable frequency‐selective magnesium radio‐frequency microresonators for transient biomedical implants
A. V. Matheoud, N. Sahin, G. Boero
Journal of Magnetic Resonance 294, 59-70(2018)
A single chip electron spin resonance detector based on a single high electron mobility transistor
E. Montinaro, M. Grisi, M. C. Letizia, L. Pethö, M. A. M. Gijs, R. Guidetti, J. Michler, J. Brugger, G. Boero
PLoS ONE 13(5),e0192780 (2018)
3D printed microchannels for sub-nL NMR spectroscopy
A. Capozzi, T. Cheng, G. Boero, C. Roussel, A. Comment
Nature Communications 8, 15757 (2017)
Thermal annihilation of photo-induced radicals following dynamic nuclear polarization to produce transportable frozen hyperpolarized substrates
A. V. Matheoud, G. Gualco, M. Jeong, I. Zivkovic, J. Brugger, H. M. Rønnow, J. Anders, G. Boero
Journal of Magnetic Resonance 278, 113-121 (2017)
Single-chip electron spin resonance detectors operating at 50 GHz, 92 GHz, and 146 GHz
E. Montinaro, M. Grisi, M. C. Letizia, L. Pethö, M. A. M. Gijs, R. Guidetti, J. Michler, J. Brugger, G. Boero
arXiv:1707.05500 (2017)
3D printed microchannels for sub-nL NMR spectroscopy
M. Chavarria, A. Matheoud, P. Marmillod, Y. Liu, D. Kong, J. Brugger, G. Boero
Review Scientific Instruments 88, 035115 (2017)
High sensitivity field asymmetric ion mobility spectrometer
M. Grisi, F. Vincent, B. Volpe, R. Guidetti, N. Harris, A. Beck, G. Boero
Scientific Reports 7,44670 (2017)
NMR spectroscopy of single sub-nL ova with inductive ultra-compact single-chip probes
J. Anders, J. Handwerker, M. Ortmanns, G. Boero
Journal of Magnetic Resonance 266, 41–50 (2016)
A low-power high-sensitivity single-chip receiver for NMR microscopy
I. Kovacevic, P. Babkevich, M. Jeong, J. O. Piatek, G. Boero, H. M. Ronnow
Physical Review B 94, 214433 (2016)
Probing strongly hybridized nuclear-electronic states in a model quantum ferromagnet
M. Grisi, B. Volpe, R. Guidetti, N. Harris, G. Boero
arXiv:1511.06719 (2015)
Nuclear magnetic resonance spectroscopy of single subnanoliter ova
A. Capozzi, J. N. Hyacinthe, T. Cheng, T. Eichhorn, G. Boero, C. Roussel,J. van der Klink, A. Comment
Journal of Physical Chemistry C 119, 22632 (2015)
Photo-induced non-persistent radicals as polarizing agents for X-nuclei dissolution-DNP
M. Grisi, G. Gualco, G. Boero
Review Scientific Instruments 86, 044703 (2015)
A broadband single-chip transceiver for multi-nuclear NMR probes
G. Gualco, J. Anders, S. Alberti, A. Sienkiewicz, L. Forro, G. Boero
Journal of Magnetic Resonance 247, 96-103 (2014)
Cryogenic single-chip electron spin resonance detector
G. Gualco, M. Grisi, G. Boero
Applied Physics Letters 105, 242102 (2014)
Frequency jumps in single-chip microwave LC-oscillators
M. Marelli, N. Gadhari, G. Boero, M. Chiquet, and J. Brugger
Lab on chip 14, 286 (2014)
Cell force measurements in 3D microfabricated environments based on compliant cantilevers
M. S. Gabureac, L. Bernau, G. Boero, I. Utke
IEEE Transactions on Nanotechnology 12, 668 (2013)
Single superparamagnetic bead detection and direct tracing of bead position using novel nanocomposite Hall sensors
G. Boero, G. Gualco, R. Lisowski, J. Anders, D. Suter, J. Brugger
J. Magn. Reson. 231, 133 (2013)
Room temperature strong coupling between a microwave oscillator and an ensemble of electron spins
J. Anders, P. SanGiorgio, X. Deligianni, F. Santini, K. Scheffler, G. Boero
Magn. Reson. Medicine 67, 290 (2012)
Integrated active tracking detector for MRI-guided interventions
J. Anders, A. Angerhofer, G. Boero
J. Magn. Reson. 217,19 (2012)
K-band single chip electron spin resonance detector
F. K. Reinhart, G. Boero
Phys. Rev. B 83, 165321 (2011)
Photon energy dependence of the light pressure exerted onto a thin silicon slab
J. Anders, P. SanGiorgio, G. Boero
J. Magn. Reson. 209, 1 (2011)
A fully integrated IQ-receiver for NMR microscopy
M. Gabureac, L. Bernau, I. Utke, G. Boero
Nanotechnology 21, 115503 (2010)
Granular Co-C nano-Hall sensors by focused-beam-induced deposition
J. Anders, G. Chiaramonte, P. SanGiorgio, G. Boero
J. Magn. Res. 201, 239 (2009)
A single chip array of NMR receivers
G. Boero, S. Rusponi, J. Kavich, A. Lodi Rizzini, C. Piamonteze, F. Nolting, C. Tieg, J. Thiele, and P. Gambardella
Rev. Sci. Instrum. 80, 123902 (2009)
Longitudinal detection of ferromagnetic resonance using x-ray transmission measurements
G. Boero, S. Rusponi, P. Bencok, R. Meckenstock, J.-U. Thiele, F. Nolting, and P. Gambardella
Phys. Rev. B 79,224425 (2009)
Double resonant x-ray and microwave absorption: atomic spectroscopy of precessional orbital and spin dynamics
T. Yalcin, G. Boero
Rev. Sci. Instrum. 79, 094105 (2008)
Single chip detector for electron spin resonance spectroscopy
G.Boero, S.Mouaziz, S.Rusponi, P.Bencok, F.Nolting,S.Stepanow and P.Gambardella
New J. Phys. 10, 013011 (2008)
Element-resolved x-ray ferrimagnetic and ferromagnetic resonance spectroscopy
M. Lany, G. Boero, R. Popovic
Appl. Phys. Lett. 92, 022111 (2008)
Electron counting at room temperature in an avalanche bipolar transistor
K. W. Eberhardt, A. Hunkeler, U. Meier, J. Tharian, S. Mouaziz, G. Boero, J. Brugger, and B. H. Meier
Phys. Rev. B 78, 214401 (2008)
Two-dimensional magnetic resonance force microscopy using full-volume Fourier and Hadamard encoding
Kai W. Eberhardt,S. Mouaziz, G. Boero,J. Brugger, and B. H. Meier
Phys. Rev. Lett. 99,227603 (2007)
Direct Observation of Nuclear Spin Diffusion in Real Space
A. Perentes, G. Sinicco, G. Boero, B. Dwir, P. Hoffmann
J. Vac. Sci. Technol. B 25, 2228 (2007)
Focused electron beam induced deposition of nickel
S. Mouaziz, G. Boero, G. Moresi, C. Degen, Q. Liu, B. Meier, J. Brugger
Microelectr. Eng. 83, 1306 (2006)
Combined Al-protection and HF-vapor release process for ultrathin single crystal silicon cantilevers
S. Mouaziz, G. Boero, R. Popovic, J. Brugger
Journal of Microelectromechanical systems 15, 890 (2006)
Polymer-based cantilevers with integrated electrodes
J. A. J. Steen, J. Hayakawa, T. Harada, K. Lee, F. Calame, G. Boero, A. J. Kulik, and J. Brugger
Nanotechnology 17, 1464 (2006)
Electrically conducting probes with full tungsten cantilever and tip for scanning probe applications
P. Kejik, G. Boero, M. Demierre, R. S. Popovic
Sensor Actuat. A 129, 212 (2006)
An integrated micro-Hall probe for scanning magnetic microscopy
S. Keller, S. Mouaziz, G. Boero, and J. Brugger
Rev. Sci. Instrum. 76, 125102 (2005)
Microscopic four-point probe based on SU-8 cantilevers
G. Boero, S. Rusponi, P. Bencok, R. S. Popovic, H. Brune, P. Gambardella
Appl. Phys. Lett. 87, 152503 (2005)
X-ray ferromagnetic resonance spectroscopy
G. Boero, I. Utke, T. Bret, N. Quack, M. Todorova, S. Mouaziz, P. Kejik, J. Brugger,R. S. Popovic, and P. Hoffmann
Appl. Phys. Lett. 86, 042503 (2005)
Submicrometer Hall devices fabricated by focused electron-beam-induced deposition
M. Lany, G. Boero, R. S. Popovic, Superparamagnetic microbead inductive detector
Rev. Sci. Instrum. 76, 084301 (2005)
Superparamagnetic microbead inductive detector
C. Massin, F. Vincent, A. Homsy, K. Ehrmann, G. Boero, P.-A. Besse, A. Daridon, E. Verpoorte, N.F. de Rooij, and R.S. Popovic
J. Magn. Reson. 164, 242 (2003)
Planar microcoil-based microfluidic NMR probes
G. Boero, M. Bouterfas, C. Massin, F. Vincent, P. A. Besse, R. S. Popovic, A. Schweiger
Rev. Sci. Instrum. 74, 4794 (2003)
Electron spin resonance probe based on a 100 um planar microcoil
G. Boero, M. Demierre, P.-.A. Besse, R.S. Popovic
Sensors Actuat. A 106, 314 (2003)
Micro-Hall devices: performance, technologies and applications
P. A. Besse, G. Boero, M. Demierre, V. Pott, R. S. Popovic
Appl. Phys. Lett. 80, 4199 (2002)
Detection of a single magnetic microbead using a miniaturized silicon Hall sensor
C. Massin, G. Boero, F. Vincent, J. Abenhaim, P. A. Besse, R. S. Popovic
Sensors Actuat. A 97-98, 280 (2002)
High-Q factor RF planar microcoils for micro-scale NMR spectroscopy
G. Boero, P. A. Besse, R. S. Popovic
Appl. Phys. Lett. 79, 1498 (2001)
Hall detection of magnetic resonance
G. Boero, J. Frounchi, B. Furrer, P. -A. Besse, R. S. Popovic
Rev. Sci. Instrum. 72, 2764 (2001)
Fully integrated probe for proton nuclear magnetic resonance magnetometry
P. A. Besse, C. Schott, G. Boero, F. Burger, R. S. Popovic
Measurement and Control 33, 261 (2000)
Realised examples of microsystems and their applications
D. Allspach, A. Hahn, C. Kendziora, S. Pordes, G. Boero, G. Garzoglio, M. Macri, M. Marinelli, M. Pallavicini, E. Robutti
Nucl. Instrum. & Meth. A 410, 195 (1998)
The variable density gas jet internal target for Experiment 835 at Fermilab
G. Boero, C. de Raad Iseli, P. A. Besse, R. S. Popovic
Sensor. and Actuat. A A67, 18-23 (1998)
An NMR magnetometer with planar microcoils and integrated electronics for signal detection and amplification
G. Boero, W. Kubischta, P. Leprince
Nucl. Instrum. & Meth. A 398, 157 (1997)
A high-flow hydrogen dissociator based on a surface-wave discharge
W. Oelert, G. Baur, G. Boero, S. Brauksiepe, A. Buzzo, W. Eyrich, R. Geyer, D. Grzonka, J. Hauffe, K. Kilian, M. LoVetere, M. Macri, M. Moosburger, R. Nellen, S. Passaggio, A. Pozzo, K. Roehrich, K. Sachs, G. Schepers, T. Sefzick, R. S. Simon, R. Stratman
Hyp. Inter. 109, 191 (1997)
Observation of antihydrogen production in flight at CERN
G. Baur, G. Boero, S. Brauksiepe, A. Buzzo, W. Eyrich, R. Geyer, D. Grzonka, J. Hauffe, K. Kilian, M. LoVetere, M. Macri, M. Moosburger, R. Nellen, W. Oelert, S. Passaggio, A. Pozzo, K. Roehrich, K. Sachs, G. Schepers, T. Sefzick, R. S. Simon, R. Stratman
Nucl. Instrum. & Meth. A 391, 201 (1997)
Production of antihydrogen in relativistic collisions
G. Boero, M. LoVetere, M. Macri, S. Passaggio, A. Pozzo
Nuovo Cimento A 109, 1581 (1996)
The internal Xe-jet target for the formation of antihydrogen (H) atoms at CERN LEAR
D. H. Allspach, C. L. Kendziora, M. Marinelli, M. Macri, E. Robutti, G. Boero
Adv. Cryo. Eng. 41, 685 (1996)
Refrigerated hydrogen gas jet for the Fermilab antiproton accumulator
G. Baur, G. Boero, S. Brauksiepe, A. Buzzo, W. Eyrich, R. Geyer, D. Grzonka, J. Hauffe, K. Kilian, M. LoVetere, M. Macri, M. Moosburger, R. Nellen, W. Oelert, S. Passaggio, A. Pozzo, K. Roehrich, K. Sachs, G. Schepers, T. Sefzick, R. S. Simon, R. Stratman
Phys. Lett. B 368, 251 (1996)
Production of antihydrogen