Guillermo Villanueva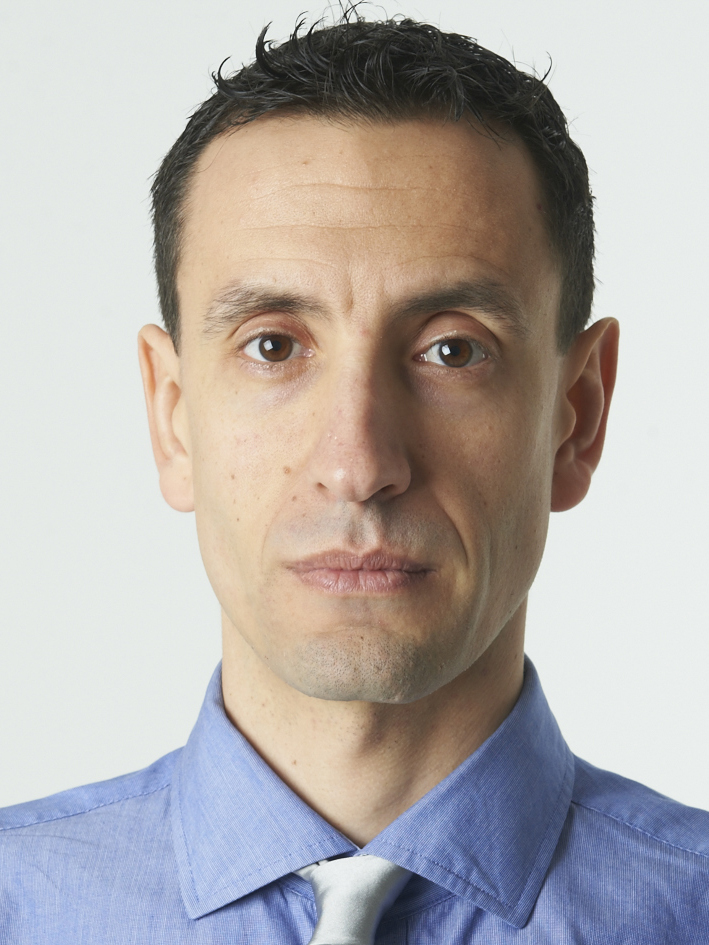 Fields of expertise
MEMS/NEMS - design, analysis, fabrication and characterization Sensors, Oscillators, nonlinear and coupled dynamics, fundamental noise processes
Biography
Guillermo Villanueva is a Tenure Track Assistant Professor at the Ecole Polytechnique Federale de Lausane (EPFL), Switzerland, in the Mechanical Engineering Institute (IGM). Before joining EPFL he was a Marie Curie post-doctoral scholar at DTU (Denmark) and Caltech (California, US); and before a post-doc at EPFL-LMIS1. He received his M.Sc. in Physics in Zaragoza (Spain) and his PhD from the UAB in Barcelona (Spain). Since the start of his PhD (2002), Prof. Villanueva has been active in the fields of NEMS/MEMS for sensing, having expertise from the design and fabrication to the characterization and applicability. He has co-authored more than 75 papers in peer-reviewed journals (h-index of 24 WoK, 32 GoS) and more than 100 contributions to international conferences. He is serving, or has served, on the program committees of IEEE-NEMS, IEEE-Sensors, MNE, IEEE-FCS and Transducers. He is editor of Microelectronic Engineering. He has co-organized MNE2014 and SNC2015; and he is currently co-organizing the short courses at Transducers 2019 and the 16th International Workshop on Nanomechanical Sensors (NMC2019).
Publication Record
<script src='http://labs.researcherid.com/mashlets?el=badgeCont731924&mashlet=badge&showTitle=false&className=a&rid=C-4904-2009'></script>
Professional course
Tenure Track Assistant Professor
Advanced NEMS group
EPFL
January 2017 - Present
SNSF Assistant Professor
Advanced NEMS group
EPFL
July 2013 - June 2019
Marie Curie Post-Doctoral Scholar
Nanoprobes
DTU
2012-2013
Marie Curie Post-Doctoral Scholar
Roukes' Group
Caltech
2009-2012
Post-Doctoral Researcher
LMIS1
EPFL
2007-2009
Research Assistant
Nanodevices
CNM-IMB-CSIC
2002-2006
Education
PhD
Microelectronic engineering
CNM-IMB-CSIC/UAB
2002-2006
Ms.Sc.
Finite Element Modelling
UNED
2005
Ms.Sc.
Microelectronic Engineering
UAB
2002-2004
Ms.Sc.
Physics
Zaragoza
1998-2002
Publications
Infoscience publications
Journal Papers
2022
2021
2020
2019
2018
2017
2016
2015
2014
2013
2012
2011
2010
2009
2008
2006
2005
Teaching & PhD
Teaching
Mechanical Engineering
Microengineering
PhD Programs
Doctoral Program in Microsystems and Microelectronics
Doctoral Program in Electrical Engineering
Doctoral Program in Mechanics
Doctoral Program in Photonics
PhD Students
Abdelaal Yara Tarek Mahmoud Abubakr
,
Ayhan Furkan
,
Hartmann Florian Fernand
,
Herle Dorian Giraud
,
Liffredo Marco
,
Monroe Morgan Mc Kay
,
Moreno Garcia Daniel
,
Spettel Jasmin
,
Stettler Silvan
,
Yandrapalli Soumya
,
Past EPFL PhD Students
De Pastina Annalisa
,
Faizan Muhammad
,
Howell Kaitlin Marie
,
Lozzi Andrea
,
Maillard Damien
,
Courses
In this course we study the modal dynamics of mechanical structures. During the course we will learn key concepts like Normal modes, effective mass and stiffness, and eigenfrequencies.
Program: Section of Mechanical Engineering
---
In this course we will see an overview of the exciting field of Micro and Nanomechanical systems. We will go over the dfferent scaling laws that dominate the critical parameters, how size affects material properties, how these devices are manufactured, designed and later used.
Program: Section of Mechanical Engineering
---