Henrik M. Rønnow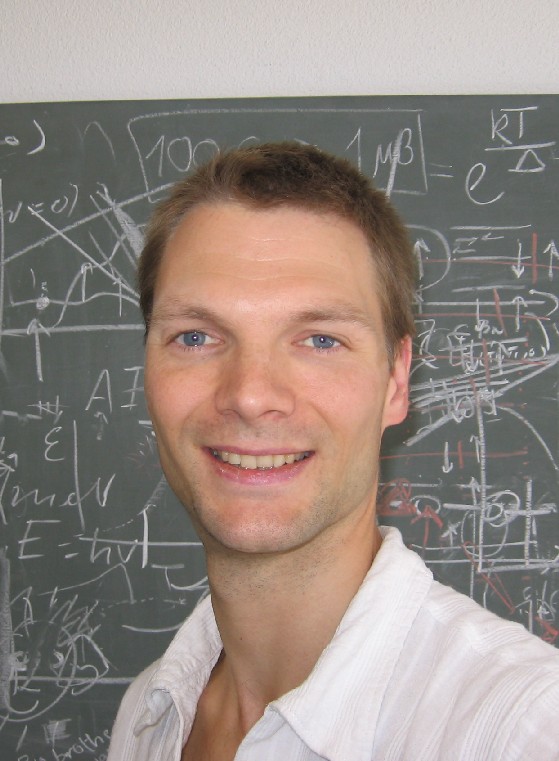 EPFL SB IPHYS LQM
PH D2 455 (Bâtiment PH)
Station 3
CH-1015 Lausanne
Biography
Henrik Ronnow was born in Copenhagen in 1974. He was awarded his master's degree in physics in 1996. Having earned his doctorate in 2000, he left Denmark for training at the Laue-Langevin Institute in Grenoble. Between 2000 and 2002, he held a Marie Curie Fellowship hosted by the Atomic Energy Commission. In 2002 he was appointed as an invited researcher at the NEC Laboratories in Princeton, then at the University of Chicago's James Franck Institute. In 2003, he became a researcher at the Laboratory for Neutron Scattering (Swiss Federal Institute of Technology in Zurich) and at the Paul Scherrer Institute. In 2007 he was
appointed
Assistant Professor at Ecole Polytechnique federale de Lausanne (EPFL). In 2012 he was promoted to Associate Professor.
Profession
2012- Associate Professor, Laboratory for Quantum Magnetism, EPFL, Switzerland
2007-2012 Assistant Professor, Laboratory for Quantum Magnetism, EPFL, Switzerland
2003-2006 Scientist, Laboratory for Neutron Scattering, ETH-Zürich & Paul Scherrer Institute, Switzerland
2002-2003 Visiting Scientist, NEC-Laboratories Inc., Princeton, and James Franck Institute, University of Chicago, USA
2000-2002 Marie Curie Fellowship funded by the EU, hosted by Commissariat à l'Energie Atomique, Grenoble, France
2000 Postdoc, Institut Laue-Langevin, Grenoble, France
1996 Research assistant, Risø National Laboratory, Denmark
Education
2000 Ph.D. in Physics, Risø National Laboratory and University of Copenhagen: Aspects of quantum magnetism in one, two and three dimensions
1996 M.Sc. in Physics, University of Copenhagen: Magnetic properties of holmium-erbium alloys
1995 B.Sc in Mathematics, University of Copenhagen
1994 B.Sc in Physics, University of Copenhagen
1992 High school graduate, Natural Sciences, Scolae Academiae Sorana
Researcher ID
<script src='http://labs.researcherid.com/mashlets?el=badgeCont356874&mashlet=badge&showTitle=false&className=a&rid=A-4953-2009'></script>
Publications
Infoscience publications
Journal Articles
2020
2019
2018
2017
2016
2015
2014
Conference Papers
2015
Reviews
2020
Reports
2015
Teaching & PhD
PhD Programs
Doctoral Program in Physics
PhD Students
Akhyani Mina
,
Favre Virgile Yves
,
Ganesh Hegde Nagabhushan
,
Safiulina Irina
,
Schönenberger Thomas
,
Testa Luc
,
Tolj Davor
,
Tseng Yi
,
Yang Yikai
,
Past PhD Students
Alahgholipour Omrani Arash
,
Dalla Piazza Bastien
,
Fatuzzo Claudia Giuseppina
,
Huang Ping
,
Kovacevic Ivan
,
Kriuchkov Oleksandr
,
Lançon Diane Virginie Marie
,
Mourigal Martin
,
Nikseresht Ghanepour Neda
,
Piatek Julian
,
Shaik Noore Elahi
,
Wang Shuang
,
Yang Lin
,
Courses
This lecture gives an introduction to Solid State Physics, namely to their crystal and electronic structure, their magnetic properties, as well as to their thermal and electric conductance. The level is that of the book by Ashcroft & Mermin. The lecture i...
---
This course allows students to learn the details of selected experimental techniques in solid state physics with some theoretical background. After the course students should be able to use presented techniques in their own research and advance their know...
---
The course focuses on experimental, numerical and theoretical parts of the quantum magnets exhibiting magnetic frustration. It has been designed in such a way that both PhD and MSc students can easily follow complex research problems starting from basic c...
---