Hervé Lissek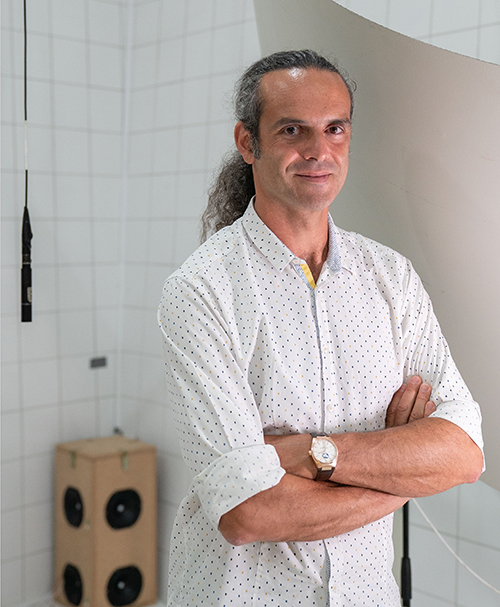 Fields of expertise
Acoustics and audio engineering, Electroacoustics.
Room acoustics.
Active noise control.
Acoustic metamaterials.
Assisted reverberation.
Psychoacoustics.
Sound spatialization
Mission
Head of the Acoustic Group at the Laboratoire de Traitement des Signaux LTS2.

Specialty: Development of ElectroAcoustic MetaMaterials. Bridging the gap between active loudspeakers, electroacoustic resonators, and acoustic metamaterials.

National Focal Point (NFP) for Switzerland within the X-Noise EV European Network (FP7-Aircraft External Noise Research Network and Coordination).

Teaching activities: electroacoustics (Bachelor), Audio engineering (Master), active noise control (Doctoral program).
SHORT BIOGRAPHY
After a PhD in Acoustics (Les Matériaux Actifs à Propriétés Acoustiques Variables, Université du Maine, Le Mans), Dr. Lissek joined the Laboratoire d'Electromagnétisme et d'Acoustique to supervise the active noise control activities of the Acoustic Research Group, headed by Prof. Mario Rossi.
Since 2006, Dr. Lissek took the leadership of the Acoustic Group, and launched several expertise activities together with new research topics at EPFL, especially in the frame of Aircraft Noise Research in EU projects (FP5-Silence(R), FP6-X3 Noise, FP7-TEENI, OPENAIR, XNOISE EV). He is also appointed expert by the EC to evaluate research proposals in calls for projects in Aeronautics within FP7.
Since 2015, Hervé Lissek and the Acoustic Group are affiliated to the Laboratoire de Traitement des Signaux LTS2
Dr. Lissek is now heading a team of 6 people, among which 4 PhD students, 1 Post-doc, and 1 Engineer.
RESEARCH INTERESTS
Dr. Lissek's core competences are related to electroacoustics, namely know-how on loudspeaker and microphone design, acoustic transmission lines description via lumped element models, as well as the design of arrays of transducers for sound reinforcement and acoustic imaging, especially for communication (line arrays, wave field synthesis) applications or noise metrology (beamforming, near-field holography, goniometry). Together with this specific skill, he and his group claim a broader acoustic expertise such as the characterization and model of complex sound sources, including structure-fluid interactions, sound propagation models within complex 3D fields including weather effects and other fluid and thermodynamic interactions, and auditory issues of sound (namely psychoacoustics, including sound design).

As a combination of these competences, active noise control has become a hot activity of Dr. Lissek in the last decade, leading to the development of practical concepts for active noise cancellation, active impedance control, or the recent shunt loudspeakers techniques used as acoustic absorbers, the core of these developments remaining the electroacoustic transducers. As a consequence of the latter, the acoustic group led by Dr. Lissek is investigating new research areas such as acoustic metamaterials, that should lead to acoustic cloaking capabilities.
PROJECTS
Ongoing- SALUTE (H2020-CS2, coord. ECL, France)

- SmartAnswer (H2020-ITN, coord. VKI, Belgium)

- ARTEM (H2020, coord. DLR, Germany)

- Compressive Sensing (SNF)
Completed - INTERACTS (CTI, with Goldmund sa, Relec sa, HEPIA): development of electroacoustic absorbers for the equalization of rooms in the low-frequency range

- BHA(L&S) (CTI, with Phonak ag): development of signal processing techniques for localization and spatialization in hearing aids

- i3DMusic (Eurostars - CTI): enable enhanced playback of existing musical content on up to date and emerging 3D audio systems

- X-Noise EV

- OPENAIR (call FP7-AAT-2008-RTD-1): OPtimisation for low Environmental Noise impact AIRcraft

- CTI-VeoVox: microphone arrays dedicated to speech recognition devices, for telecommunications applications (KTI funding).

- TEENI (call FP7-AAT-2007-RTD-1): Turboshaft Engine Exhaust Noise Identification

- ACT-Noise: Active Control for Tampers Noise (FOEN funding)

- QTT: Quiet Traction Transformer (FOEN funding)

- X3-Noise (call FP6-2005-Aero-1): Aircraft External Noise Research Network and Co-ordination.

- CTI-myVox(TM): microphone arrays dedicated to speech recognition devices, for telecommunications applications (KTI funding).

- CTI-Keystrokes: methodologie for the acoustic qualification of keystroke noise (KTI funding).

- Active materials with variable acoustic properties: new techniques for absorbing noise by way of active acoustic impedance matching.

- Sound design: development of characterization, modelization, and design techniques for enhancing sound quality of manufactured objects.

- Audio: electroacoustic transducers design for audio, telecommunications, and active noise control.
Publications
Infoscience publications
Journal Articles
2023
2022
2020
2019
2018
2017
2016
2015
2014
2013
Conference Papers
2023
2021
2019
2018
2017
2016
2015
2014
2013
Theses
2023
2022
2021
2020
2017
2016
2015
2014
Posters
2017
2014
Talks
2019
2018
2017
2015
Patents
2023
2016
2015
2014
Research
Electroacoustic resonators
Bridging the gap between shunt loudspeakers and active sound absorption.
Acoustic metamaterials
Acoustic metamaterials are engineered structures that exhibit acoustic properties not readily available in nature, such as negative mass density, negative bulk modulus, or negative refraction index.
Acoustic antenna and arrays
Development of distributed acoustic sources or sensors in view of controlling directivity and radiation properties of sound sources.
Psychoacoustics
Listening test procedures and processing techniques wit a view to assessing sound quality of audio systems.
Teaching & PhD
Teaching
Electrical and Electronics Engineering
PhD Students
Liu Qin
,
Padlewski Mathieu François
,
Past EPFL PhD Students
Boulandet Romain
,
Courtois Gilles André
,
Grimaldi Vincent Pierre Olivier
,
Marmaroli Patrick
,
Peic Tukuljac Helena
,
Pham Vu Thach
,
Rivet Etienne Thierry Jean-Luc
,
Rohr Lukas
,
Sergeev Stanislav
,
Seyyed Esfahlani Seyyed Hussein
,
Volery Maxime
,
Zurbrügg Thomas Stefan
,