Magali Lingenfelder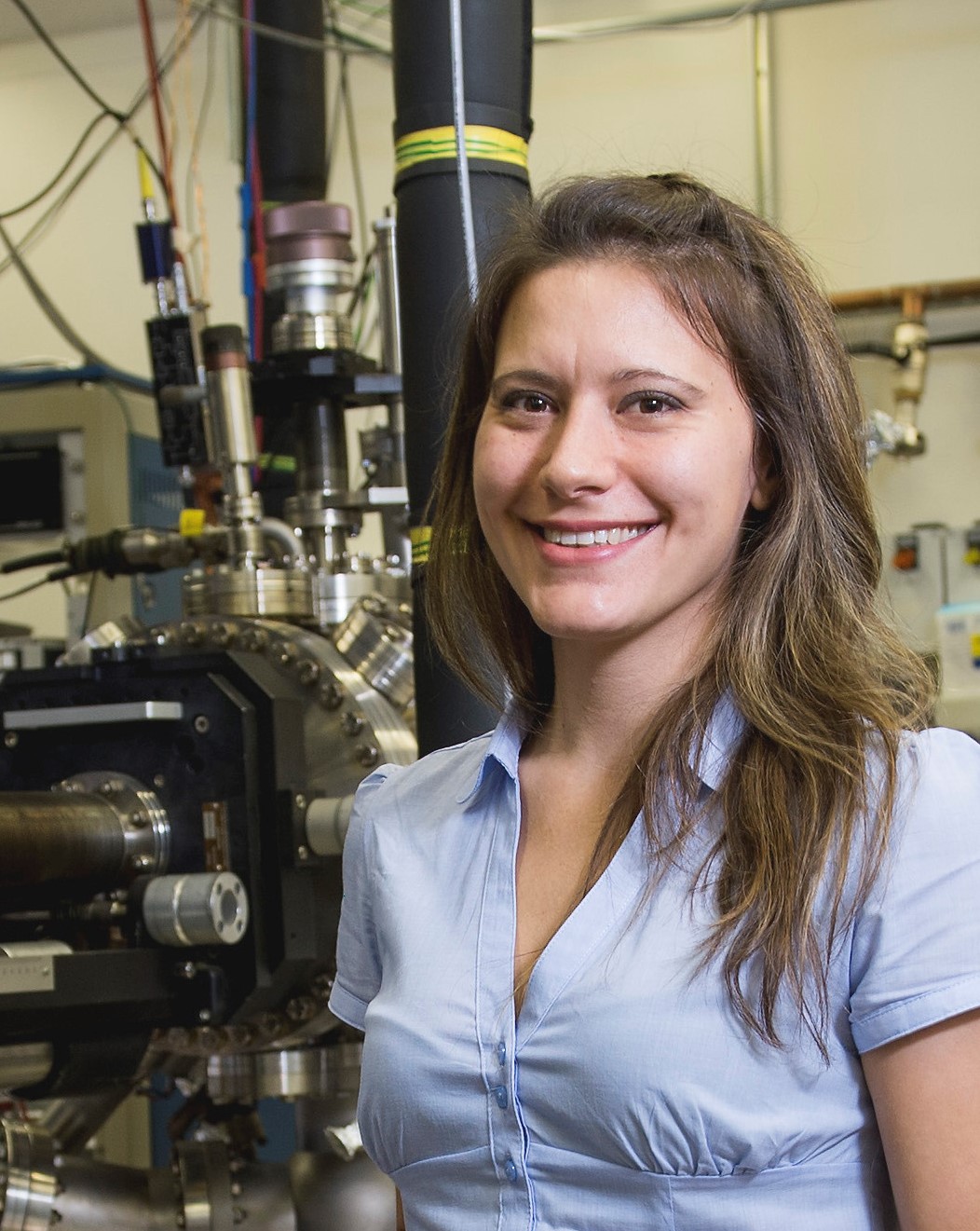 EPFL ENT-R CMNT NL-CMNT
PH H1 457 (Bâtiment PH)
Station 3
CH-1015 Lausanne
Biography

Magalí Lingenfelder was born in the beautiful town of La Falda, Córdoba, Argentina. Before completing her university studies, her fascination for the process of self-assembly and the possibility to "see" atoms using Scanning Tunneling Microscopy took her to the land of her ancestors: Germany. In Stuttgart, she started her journey into the dimensions.

Atoms and Molecules: She completed her MSc. in Chemistry working at the Nanoscience Scale Department of the Max Planck Institute for Solid State Research in Stuttgart. Under the direction of Klaus Kern and Nian Lin, her MSc. thesis was the first in the field of metal-organic coordination at surfaces, opening a new research path that is nowadays followed by many scientists worldwide.

From Single Molecules to 2D assemblies: During her PhD, her curiosity was focused not only on the use molecules and atoms as building blocks for the design of low dimensional structures (bottom up approach to nanoarchitectonics) but also on understanding the dynamics of molecular recognition on surfaces. She used aminoacids and peptides to track the process of chiral recognition in real time, visualizing the 60-year-old prediction of Linus Pauling that chiral recognition was developed during the intermolecular interaction (induced fit vs lock and key model). She completed her PhD thesis at MPI and received the Otto Hahn medal 2008 for her contributions to the understanding of the chiral recognition process with submolecular resolution.

From Flatland to 3D structures: After years of extensive work under well controlled ultra-high vacuum conditions, she was ready to delve into the real world of physical chemistry at the liquid/solid interface beyond flatland. She went on to investigate the transfer of chiral information from 2D assemblies to 3D crystals (using a combination of bottom up and top down techniques) as a Post-Doctoral Fellow at the Institut de Ciència de Materials de Barcelona (David's Amabilino group on Stereochemistry and Materials 2009-2011).

In the quest to understand relevant molecular mechanisms under environmental conditions, she crossed the pond once more in 2011 to work at the Molecular Foundry at the Lawrence Berkeley National Laboratory where she used Atomic Force Microscopy and Synchrotron based Spectroscopies at the liquid/solid interface to investigate CO2 sequestration on complex protein assemblies. Working with Jim De Yoreo, she learnt that the world is not simply made atom by atom and there is much complexity to be gained from observing how biological systems shape our world.

Her excellent track record in Nanoscience and her passion for problem-oriented interdisciplinary research brought her to lead the MPI-EPFL laboratory for Molecular Nanoscience at EPFL campus, the core of the MPI-EPFL Center for Molecular Nanoscience and Technology, a unique Center created in 2013, at the crossroad between physics, chemistry, engineering and life sciences.

Current work
Her current work is focused on using surface science tools to explore the coding of biomimetic structures at the nanoscale. Her goal is to unravel and edit nature's protocols to design hierarchical materials from molecular building blocks that can self-assemble with predictable shapes and functions, a field that she calls BioNanoarchitectonics. Her research is in close collaboration with theoreticians, organic chemists who synthesize tailor-made molecules incorporating specific chemical groups, and biologists who genetically modify proteins and purify them for later use in functional biointerfaces. Special focus is given to the construction of stimuli-responsive, catalytic, and hybrid organic-inorganic nanostructures for energy applications.

Selected Invited Talks
March 2019 ACS Spring 2019 National Meeting in Orlando, FL (session Presider "Self-Assembly in 2D")
"BioNanoarchitectonics and the dynamics of alive functional surfaces"
ACS
March 2017 Conference on Molecular Nanostructures 2017. Monte Verità, Ascona, Switzerland. "BioNanoarchitectonics: functional nanostructures that build themselves"
Dec 2016 Conference Advance Microscopy and Spectroscopy of Supramolecular and Macromolecular Systems on Surfaces, Hong Kong. "Designing Hybrid Materials Atom by Atom".
IAS
Dec 2016 URPP LightChEC Scientific Meeting, Universität Zürich. "BioNanoarchitectonics: principles and aplications".
Nov 2016 Physics Colloquium Instituto Balseiro, Bariloche, Argentina. "BioNanoarchitectonics: Functional Nanostructures that build themselves".
IB
Oct 2016 Plenary talk, VII Meeting of Physics and Chemistry of Surfaces, Santa Fé, Argentina. "Nanoarchitectonics: Nanostructures that build themselves"
July 2016 Workshop on Bio-inspired nanosystems for energy conversion. Harnack-Haus der Max-Planck Gesellschaft, Berlin. "Self-assembled Functional Nanostructures in Flatland"
Oct 2015 Scientific Advisory Board meeting 2015, Max Planck Institute for Solid State Research, Stuttgart, Germany. ""Smart Supramolecular Nanopores at the liquid/solid interface""
Oct 2015 Conference Chirality at the Nanoscale, Leuven, Belgium
""Tuning the self-assembly of 5-amino [6]helicene on solid surfaces""
Nov 2014 Seminar Talk, Donostia International Physics Center DIPC, Spain
""A molecular interactions' roadmap to 2D functional nanostructures""
Oct 2014 Conference Nanoscience for Clean Energy, Schloss Ringberg, Germany
""Biomimetic nanostructures for CO2 sequestration"
Sept 2014 17th International Conference on Solid Films and Surfaces (ICSFS17), Rio de Janeiro, Brazil (session chair CAT1)
""Exploring the Surface Science of Bio-inspired Nanostructures: Tailoring Molecules to Functionality"
April 2014 Conference on Molecular Nanostructures 2014. Monte Verità, Ascona, Switzerland
""A close-up view of biomolecular mechanisms""
March 2014 247th ACS National Meeting, Dallas, TX (session Presider "Supramolecular Self-Assembly at Surfaces" 16.03.14)
"Bio-inspired nanostructures: Patterning and mechanisms"
Dec 2013 Seminar Talk, Physics of interfaces and Nanomaterials, University of Twente, NL
""Exploring the Surface Science of Bioinspired nanostructures: tailoring molecules to functionality""
Fields of expertise
BioNanoarchitectonics, Self-assembly, Scanning Probe Microscopy, Chirality, X-Ray Photoelectron Spectroscopy, solid/liquid interfaces, Artificial photosynthesis, 2D materials