Maher Kayal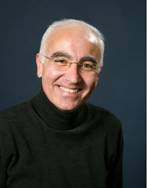 EPFL STI IEL GR-KA
ELB 338 (Bâtiment ELB)
Station 11
CH-1015 Lausanne
Domaines de compétences
Analog Circuits Design Modeling and Deign Methodologies.
Mixed-mode Low Power Low Voltage electronics design.
Sensors interface and signal processing.
CAD tools for Analog circuits.
Mission
The Electronics Laboratory (ELab) know-how has originally been built around CMOS analog and mixed-signal ICs design. It has progressively been extended to MOS device physics and modeling. Some results obtained in modeling and circuit design techniques are translated into specific software tools as a subset of the main commercial CAD environment. Today, the main focus of the Elab in the field of IC Design, is concentrated on:
- Ultra low power sensors interface,
- High efficiency energy harvesting,
- Electronics for Smart buildings management,
- Real time electronics dedicated to Power grids emulation for smart grid technologies,
- Smart power design and modeling for automotive applications.
Biographie
Maher Kayal received M.S. and Ph.D degrees in electrical engineering from the Ecole Polytechnique Fédérale de Lausanne (EPFL, Switzerland) in 1983 and 1989 respectively. He has been with the Electronics laboratories of the Ecole Polytechnique Fédérale de Lausanne (EPFL, Switzerland) since 1990, where he is currently a professor and director of the "Energy Management and Sustainability" section. He has published many scientific papers, coauthor of three text books dedicated to mixed-mode CMOS design and he holds eleven patents. His technical contributions have been in the area of analog and Mixed-signal circuits design including highly linear and tunable sensors microsystems, signal processing and green energy management.

Prizes and Honors :

• Electronics Letters journal Premium Award 2013,
• Outstanding Paper Award? IEEE Mixdes 2013
• Basil Papadias paper Award, IEEE Powertech 2013
• Best Paper Awards, Mixdes 2013
• Best Paper Awards, ICCAS 2012
• Outstanding Paper Award- IEEE Mixdes 2012.
• Poland Section IEEE ED Chapter special award in 2011.
• Credit Suisse Award for Best Teaching- 2009.
• The William M. Portnoy Award at the Energy Conversion Congress and Exposition , California Sept 2009.
• Best Paper Award - IEEE-Mixdes 2009.
• High Quality Paper - IEEE Power Tech Conference June 2009.
• Best Paper Award - IEEE-Mixdes 2007.
• Best Paper Award - IEEE-TTTC International Conference on Automation, Quality and Testing, Robotics - 2006.
• Best Application Specific Integrated Circuit at the International European Design and Test Conference ED&TC - 1997.
• Ascom Award for the Best Work in Telecommunication Fields – 1990.
Publications Books.
Books:
• Methodology for the Digital Calibration of Analog Circuits and Systems, Marc Pastre & Maher Kayal. Springer Publisher- (ISBN 1-4020-4252-3)-2006.
• Structured Analog CMOS Design, Danica Stefanovic & Maher Kayal. Springer Publisher-(ISBN 978-1-4020-8572-7)-2008.
• Linear CMOS RF Amplifiers for Wireless Applications, Maher Kayal, Springer Publisher. (ISBN 978-90-481-9360-8)-2010.
• Coeditor of Microelectronics Education Kluwer Academic Publishers. (ISBN 1-4020-2072-4). -2004.

Enseignement & Phd
Enseignement
Electrical and Electronics Engineering
Microengineering

Programmes doctoraux
Doctoral Program in Microsystems and Microelectronics
Doctorants
Ripamonti Giacomo
,
A dirigé les thèses de
Ajbl Andrea
,
Asadi Zanjani Nastaran
,
Blagojevic Marija
,
Bonjour Lysandre-Edouard
,
Buccella Pietro
,
Coustans Mathieu Yves Hervé
,
Dal Fabbro Paulo Augusto
,
Fabre Laurent
,
Gaugaz François Pierre
,
Gosselin Paul Stanislas
,
Harik Louis
,
Kauth Christian
,
Khosro Pour Naser
,
Kyriakidis Theodoros
,
Lanz Guillaume Olivier
,
Lilis Georgios
,
Lo Conte Fabrizio
,
Maréchal Sylvain
,
Michelis Stefano
,
Nagel Ira
,
Pastre Marc
,
Paun Maria-Alexandra
,
Pesenti Sergio
,
Sallin Denis
,
Stefanovic Danica
,
Stefanucci Camillo
,
Van Cutsem Olivier Valentin Henri
,
Voulgari Evgenia
,
Cours
L'étudiant maîtrise la conception et la mise en oeuvre des circuits et systèmes électroniques sous forme discrète et intégrée
---
L'étudiant maîtrise la conception et la mise en oeuvre des circuits et systèmes électroniques sous forme discrète et intégrée. L'accent est mis sur les applicationb dans le domaine des télécommunications.
---
---
For over 5 decades, technology scaling has served to reduce the cost of electronic components and functionality. This course deals with the trade-off between analog and digital in the nanometer era. A number of concrete examples will be used to illustra...
---
1. MOS Transistor Modeling for Low-Voltage and Low-Power Circuit Design
2. Limits to Low-Voltage Analog Design
3. Basic Low-Voltage Circuit Techniques
4. Low-Voltage SC Circuits
5. Design of Linear SC Circuits in Digi...
---
1. DC-DC Converters, Topologies & Control Techniques
2. Converter Modeling and Feedback Loop Design
3. Microprocessor Power Supplies
4. Switched-Capacitor Power Supplies
5. CMOS Linear Regulators, Design and Case ...
---
1. Clock Recovery and Data Retiming
2. Basic Concepts of PLL Topologies
3. CMOS Prescalers & Advanced Loop Filters
4. Fundamentals of Integrated VCO Circuits
5. Single Chip CMOS PLL Synthesizers
6. None PL...
---
---