Michel Bierlaire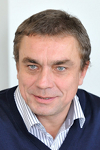 EPFL ENAC IIC TRANSP-OR
GC B2 386 (Bâtiment GC)
Station 18
CH-1015 Lausanne
EPFL ENT-I TRACE
GC B2 386 (Bâtiment GC)
Station 18
CH-1015 Lausanne
EPFL ENAC GIS-GE
GC B2 386 (Bâtiment GC)
Station 18
CH-1015 Lausanne
Fields of expertise
Transportation analysis
Operations Research
Discrete choice models
Nonlinear optimization


Biography
Born in 1967, Michel Bierlaire holds a PhD in Mathematical Sciences from the Facultés Universitaires Notre-Dame de la Paix, Namur, Belgium (University of Namur). Between 1995 and 1998, he was research associate and project manager at the Intelligent Transportation Systems Program of the Massachusetts Institute of Technology (Cambridge, Ma, USA). Between 1998 and 2006, he was a junior faculty in the Operations Research group ROSO within the Institute of Mathematics at EPFL. In 2006, he was appointed associate professor in the School of Architecture, Civil and Environmental Engineering at EPFL, where he became the director of the Transport and Mobility laboratory. Since 2009, he is the director of TraCE, the Transportation Center. From 2009 to 2017, he was the director of Doctoral Program in Civil and Environmental Engineering at EPFL. In 2012, he was appointed full professor at EPFL. Since September 2017, he is the head of the Civil Engineering Institute at EPFL.

His main expertise is in the design, development and applications of models and algorithms for the design, analysis and management of transportation systems. Namely, he has been active in demand modeling (discrete choice models, estimation of origin-destination matrices), operations research (scheduling, assignment, etc.) and Dynamic Traffic Management Systems.

As of October 2019, he has published 123 papers in international journals, 4 books, 39 book chapters, 184 articles in conference proceedings, 163 technical reports, and has given 191 scientific seminars. His ISI h-index is 31. His Google Scholar h-index is 61.

He is the founder, organizer and lecturer of the EPFL Advanced Continuing Education Course "Discrete Choice Analysis: Predicting Demand and Market Shares".

He is the founder of hEART: the European Association for Research in Transportation.

He is the Editor-in-Chief of the EURO Journal on Transportation and Logistics. He is an Associate Editor of Operations Research. He is the editor of two special issues for the journal Transportation Research Part C. He has been member of the Editorial Advisory Board (EAB) of Transportation Research Part B since 1995, of Transportation Research Part C since January 1, 2006.




Miscellaneous responsibilities
as of June 2016


Member of the Editorial Advisory Board, Transportation Research Part B (since January 01, 1995)
Member of the Editorial Advisory Board, European Transport, Quarterly Journal of Transport Law, Economics and Engineering (since February 01, 2005)
Member of the Editorial Advisory Board, Transportation Research Part C (since January 01, 2006)
Director of the Transport and Mobility Laboratory, Ecole Polytechnique Fédérale de Lausanne, Lausanne, Switzerland (since July 01, 2006)
Associate Editor, Journal of Choice Modelling (since June 01, 2007)
Member of the Scientific Council, Centre for Transport Studies, KTH Royal Institute of Technology, Sweden (since March 06, 2009)
Director, Transportation Center, Ecole Polytechnique Fédérale de Lausanne, Switzerland (since May 06, 2009)
Director of the Doctoral Program in Civil and Environmental Engineering, Ecole Polytechnique Fédérale de Lausanne, Lausanne, Switzerland (since January 01, 2010)
Editor-in-Chief, EURO Journal on Transport and Logistics (since February 01, 2011)
Member of the Editorial Advisory Board, European Journal of Transport and Infrastructure Research (since November 08, 2011)
Associate Editor, Operations Research (since January 01, 2012)
Member of the research council, Swiss Federal Railways (SBB), Bern, Switzerland (since January 01, 2015)
Member of the Academic Promotion Committee, EPFL, Lausanne, Switzerland (since April 01, 2015)
Member of the scientific advisory board, CIRRELT (Interuniversity Research Center on Enterprise Networks, Logistics and Transportation, Québec, Canada (since January 01, 2016)
External expert, Swiss Federal Railways (SBB), Bern, Switzerland (since February 01, 2016) [RailFit 20/30 Project]
Professional course
Full Professor
Transport and Mobility Laboratory
School of Architecture, Civil and Environmental Engineering, Ecole Polytechnique F�d�rale de Lausanne
2012-present
Associate Professor
Transport and Mobility Laboratory, School of Architecture, Civil and Environmental Engineering
Ecole Polytechnique F�d�rale de Lausanne
2006-2012
Ma�tre d'enseignement et de recherche
Operations Research Group ROSO
Ecole Polytechnique F�d�rale de Lausanne
1998-2006
Research Associate - Project Manager
Intelligent Transportation Systems Program
Massachusetts Institute of Technology
1995-1998
Research Assistant
Transportation Research Group
Facult�s Universitaires Notre-Dame de la Paix (University of Namur), Belgium
1988-1995
Education
Ph.D. in Mathematical Sciences
Mathematical models for transportation demand analysis
Facultes Universitaires Notre-Dame de la Paix, Namur, Belgium
1996
Publications
Infoscience publications
Journal Articles
2020
2019
2018
2017
2016
2015
2014
2013
2012
2011
2010
2009
2008
2007
2006
Teaching & PhD
Teaching
Civil Engineering
PhD Programs
Doctoral Program in Electrical Engineering Doctoral Program in Civil and Environmental Engineering
PhD Students
Ataç Selin
,
Bortolomiol Stefano
,
Gumy Alexis
,
Lederrey Gael
,
Molyneaux Nicholas Alan
,
Ortelli Nicola Marco
,
Pacheco Paneque Meritxell
,
Pougala Janody
,
Past PhD Students
Antonini Gianluca
,
Atasoy Bilge
,
Binder Stefan Yves Gabriel
,
Chen Jingmin
,
Crittin Frank
,
Cruz Mota Javier
,
Danalet Antonin
,
Eggenberg Niklaus
,
Fernández Antolín Anna
,
Frejinger Emma
,
Glerum Aurélie
,
Hurtubia González Ricardo Daniel
,
Hänseler Flurin Silvan
,
Kazagli Evanthia
,
Markov Iliya Dimitrov
,
Moret Stefano
,
Nikolic Marija
,
Oeuvray Rodrigue
,
Osorio Pizano Carolina
,
Robenek Tomas
,
Robin Thomas
,
Spassov Ivan
,
Thémans Michaël Clément Louis Ghislain
,
Umang Nitish
,
Vacca Ilaria
,
Courses
(Coursebook not yet approved by the section)
---
---
---
(Coursebook not yet approved by the section)
---
(Coursebook not yet approved by the section)
---
(Coursebook not yet approved by the section)
---