Michel Bierlaire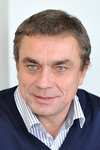 Biography
Belgian, born in 1967, Michel Bierlaire holds a PhD in Mathematical Sciences from the Facultés Universitaires Notre-Dame de la Paix, Namur, Belgium (University of Namur). Between 1995 and 1998, he was research associate and project manager at the Intelligent Transportation Systems Program of the Massachusetts Institute of Technology (Cambridge, Ma, USA). Between 1998 and 2006, he was a junior faculty in the Operations Research group ROSO within the Institute of Mathematics at EPFL. In 2006, he was appointed associate professor in the School of Architecture, Civil and Environmental Engineering at EPFL, where he became the director of the Transport and Mobility laboratory. Since 2009, he is the director of TraCE, the Transportation Center. From 2009 to 2017, he was the director of Doctoral Program in Civil and Environmental Engineering at EPFL. In 2012, he was appointed full professor at EPFL. Since September 2017, he is the head of the Civil Engineering Institute at EPFL.
His main expertise is in the design, development and applications of models and algorithms for the design, analysis and management of transportation systems. Namely, he has been active in demand modeling (discrete choice models, estimation of origin-destination matrices), operations research (scheduling, assignment, etc.) and Dynamic Traffic Management Systems.
As of December 2017, he has published 113 papers in international journals (including Transportation Research Part B, the transportation journal with the highest impact factor), 4 books, 39 book chapters, 170 articles in conference proceedings, 160 technical reports, and has given 187 scientific seminars. His ISI h-index is 25. His Google Scholar h-index is 51.
He is the founder, organizer and lecturer of the EPFL Advanced Continuing Education Course "Discrete Choice Analysis: Predicting Demand and Market Shares".
He is the founder and the chairman of hEART: the European Association for Research in Transportation.
He is the Editor-in-Chief of the EURO Journal on Transportation and Logistics. He is an Associate Editor of Operations Research and of the Journal of Choice Modelling. He is the editor of two special issues for the journal Transportation Research Part C. He has been member of the Editorial Advisory Board (EAB) of Transportation Research Part B since 1995, of Transportation Research Part C since January 1, 2006, and of the journal "European Transport" since 2005.
Affiliations
Links
Miscellaneous responsibilities
as of June 2016
Member of the Editorial Advisory Board, Transportation Research Part B (since January 01, 1995)
Member of the Editorial Advisory Board, European Transport, Quarterly Journal of Transport Law, Economics and Engineering (since February 01, 2005)
Member of the Editorial Advisory Board, Transportation Research Part C (since January 01, 2006)
Director of the Transport and Mobility Laboratory, Ecole Polytechnique Fédérale de Lausanne, Lausanne, Switzerland (since July 01, 2006)
Associate Editor, Journal of Choice Modelling (since June 01, 2007)
Member of the Scientific Council, Centre for Transport Studies, KTH Royal Institute of Technology, Sweden (since March 06, 2009)
Director, Transportation Center, Ecole Polytechnique Fédérale de Lausanne, Switzerland (since May 06, 2009)
Director of the Doctoral Program in Civil and Environmental Engineering, Ecole Polytechnique Fédérale de Lausanne, Lausanne, Switzerland (since January 01, 2010)
Editor-in-Chief, EURO Journal on Transport and Logistics (since February 01, 2011)
Member of the Editorial Advisory Board, European Journal of Transport and Infrastructure Research (since November 08, 2011)
Associate Editor, Operations Research (since January 01, 2012)
Member of the research council, Swiss Federal Railways (SBB), Bern, Switzerland (since January 01, 2015)
Member of the Academic Promotion Committee, EPFL, Lausanne, Switzerland (since April 01, 2015)
Member of the scientific advisory board, CIRRELT (Interuniversity Research Center on Enterprise Networks, Logistics and Transportation, Québec, Canada (since January 01, 2016)
External expert, Swiss Federal Railways (SBB), Bern, Switzerland (since February 01, 2016) [RailFit 20/30 Project]
Parcours professionnel
| | | | |
| --- | --- | --- | --- |
| Full Professor | Transport and Mobility Laboratory | School of Architecture, Civil and Environmental Engineering, Ecole Polytechnique F�d�rale de Lausanne | 2012-present |
| Associate Professor | Transport and Mobility Laboratory, School of Architecture, Civil and Environmental Engineering | Ecole Polytechnique F�d�rale de Lausanne | 2006-2012 |
| Ma�tre d'enseignement et de recherche | Operations Research Group ROSO | Ecole Polytechnique F�d�rale de Lausanne | 1998-2006 |
| Research Associate - Project Manager | Intelligent Transportation Systems Program | Massachusetts Institute of Technology | 1995-1998 |
| Research Assistant | Transportation Research Group | Facult�s Universitaires Notre-Dame de la Paix (University of Namur), Belgium | 1988-1995 |
Education
| | | | |
| --- | --- | --- | --- |
| Ph.D. in Mathematical Sciences | Mathematical models for transportation demand analysis | Facultes Universitaires Notre-Dame de la Paix, Namur, Belgium | 1996 |
Compétences
Transportation analysis
Operations Research
Discrete choice models
Nonlinear optimization

Publications
Infoscience
Journal Articles
2019
2018
2017
2016
2015
2014
2013
2012
2011
2010
2009
2008
2007
2006
Autres publications
Bierlaire, M.
M. Labb�, G. Laporte, K. Tanczos and Ph. Toint (eds), Operations Research and Decision Aid Methodologies in Traffic and Transportation Management, Vol. 166 of NATO ASI Series, Series F: Computer and Systems Sciences, Springer Verlag
Discrete choice models
Bierlaire, M.
Annals of Operations Research , to appear
A theoretical analysis of the cross-nested logit model
Bottom, J., Ben-Akiva, M., Bierlaire, M., Chabini, I., Koutsopoulos, H. and Yang, Q.
A. Ceder (ed.), Transportation and Traffic Theory. Proceedings of the 14th International Symposium on Transportation and Traffic Theory, Pergamon, 1999
Investigation of route guidance generation issues by simulation with DynaMIT
Ben-Akiva, M. and Bierlaire, M.
R. Hall (ed.), Handbook of Transportation Science, International Series in Operations Research and Management Science, Vol. 23 Kluwer
Discrete choice methods and their applications to short-term travel decisions
Bierlaire, M. and Crittin, F.
Operations Research , 52(1), 2004
An efficient algorithm for real-time estimation and prediction of dynamic OD table
Ben-Akiva, M., Bierlaire, M., Koutsopoulos, H. N. and Mishalani, R.
M. Gendreau and P. Marcotte (eds), Transportation and network analysis: current trends. Miscellenea in honor of Michael Florian, 2002
Real-time simulation of traffic demand-supply interactions within DynaMIT
Bierlaire, M., Toint, P. L. and Tuyttens, D.
Linear Algebra and its Applications, 143: 111-143, 1991
On iterative algorithms for linear least squares problems with bound constraints,
Ben-Akiva, M., Bierlaire, M., Burton, D., Koutsopoulos, H. and Mishalani, R.
Networks and Spatial Economics, 1(3/4)., 2001
Network state estimation and prediction for real-time transportation management applications.
Liebling, Th. M., Bierlaire, M., Crittin, F., H�che, J.-F., Thi�mard, E., Stagno, A. and Righetti, F.
F.-L. Perret and C. Jaffeux (eds), The Essentials of Logistics and Management, EPFL Press, 2002
Modeling and simulation in logistics
Ben-Akiva, M., McFadden, D., Train, K., Walker, J., Bhat, C., Bierlaire, M., Bolduc, D., Boersch-Supan, A., Brownstone, D., Bunch, D., Daly, A., de Palma, A., Gopinath, D., Karlstrom, A. and Munizaga, M. A.
Marketing Letters , 13(3), 2002
Hybrid choice models: Progress and challenges
Bierlaire, M., Lotan, T. and Toint, P. L.
Transportation Science, 31(4): 363-371., 1997
On the overspecification of multinomial and nested logit models due to alternative specific constants
Bierlaire, M.
Transportation Research B, 36(9): 837-850, 2002
The total demand scale: A new measure of quality for static and dynamic origin-destination trip tables.
Ben-Akiva, M. and Bierlaire, M.
R. Hall (ed.), Handbook of Transportation Science, 2nd edition, Kluwer , 2003
Discrete choice models with applications to departure time and route choice
Spada, M., Bierlaire, M. and Liebling, Th. M.
Transportation Science, to appear
Decision-aid methodology for the school bus routing and scheduling problem
Bierlaire, M. and Toint, Ph. L.
Transportation Research B, 29(1): 47-60
MEUSE: an origin-destination estimator that exploits structure
Dellaert, B., Arentze, T., Bierlaire, M., Borgers, A. and Timmermans, H.
Journal of Marketing Research, 35(2), 1998
Investigating consumers' tendency to combine multiple shopping purposes and destinations