Olivier Verscheure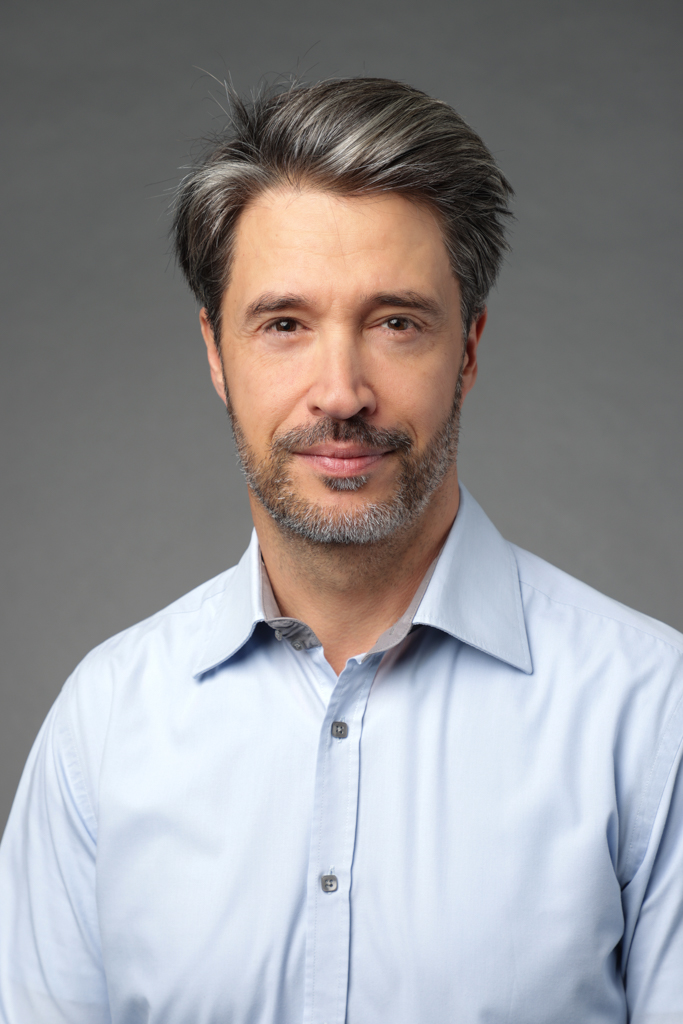 SWISS DATA SCIENCE CENTER
Housed at both EPFL and ETH Zurich, the newly created Swiss Data Science Center (SDSC) will address the fragmentation within today's data and analytics landscapes. The SDSC will be composed of a distributed multi-disciplinary team of data scientists and experts in domains including personalized health and personalized medicine, transportation, earth and environmental science, social science and digital humanities, and economics. The center aims to federate data providers, data and computer scientists, and subject-matter experts around a cutting-edge analytics platform offering domain-specific "Insights-as-a-Service" while addressing security and privacy issues inherent to the field of data science. The unique synergy that the center will enable among the institutions of the ETH Domain and between academic and industrial stakeholders in both data science and across carefully selected domains is expected to foster scientific breakthroughs with significant societal impact. To accomplish this vision, the center will: (i) develop a network of embedded data science support to work closely with research groups and foster collaboration between users and data scientists; (ii) offer end-to-end data science services to the research and development communities in Switzerland and beyond, specifically a set of hosted software solutions to provide "Insights-as-a-Service"; (iii) create a community to share tools, methods and knowledge in the field.
EPFL ENT-R SDSC SDSC-GE
INN 239 (Bâtiment INN)
Station 14
CH-1015 Lausanne
Biography
Olivier Verscheure received his Ph.D. degree in computer science from the Swiss Federal Institute of Technology, Lausanne (EPFL), in June 1999. In July 1999 Olivier joined the IBM T. J. Watson Research Center, NY as a member of the research staff, and managed the Exploratory Stream Analytics research group from 2007 to 2010. In July 2010 Olivier transferred to the newly established IBM Research lab in Ireland, where he played major consulting role to the Lab Director in the formation of the new lab. He led a technical (analytics research and software engineering) and management team of about 40 people. Since May 2016 Olivier is the Executive Director of the newly created Swiss Data Science Center, a national R&D center organizationally hosted by both EPFL in Lausanne and ETH Zurich, whose technical and operational team will be distributed between the two institutions.

His current research interests include stream and big data mining, geospatial analysis, and large-scale data management applied to various sectors including personalized health and medicine, Intelligent Transportation System, Telco, Smarter Buildings, Smart Grid, Healthcare and Waste Water Management. Olivier received two IBM Outstanding Technical Achievement Awards, published nearly 100 research papers (garnering over 2,400 citations) in top international forums, two of which were awarded Best Paper, is regularly invited to speak nationally and internationally, has invented more than 40 US and international patents, chaired major international technical conferences and workshops in his research areas, and served on PhD committees in major universities.
Publications
Other publications
PUBLICATIONS
1. R. Nair, E. Bouillet, Y. Gkoufas, O. Verscheure, M. Mourad, F. Yashar, R. Perez, J. Perez, and G. Bryant, "Data as a Resource: Real-time Predictive Analytics for Bus Bunching," Proceedings of the 94th Annual Meeting of the Transportation Research Board, 2015 2. A. Marascu, P. Pompey, E. Bouillet, M. Wurst, O. Verscheure, M. Grund, "TRISTAN: Real-time analytics on massive time series using sparse dictionary compression", IEEE Big Data, 291-300, 2014 3. A. Marascu, P. Pompey, E. Bouillet, O. Verscheure, M. Wurst, M. Grund, "MiSTRAL: An architecture for low-latency analytics on MasSive time series", IEEE International Conference on Big Data, 15-21, 2013 4. E. Bouillet, B. Chen, C. Cooper, D. Dahlem, O. Verscheure, "Fusing Traffic Sensor Data for Real-time Road Conditions", Proceedings of First International Workshop on Sensing and Big Data Mining, 1-6, 2013 5. E. Bouillet, R. Kothari, V. Kumar, L. Mignet, S. Nathan, A. Ranganathan, O. Verscheure, "Processing 6 Billion CDRs/Day: from Research to Production", Proceedings of the 6th ACM International Conference on Distributed Event-Based Systems (DEBS), 2012 6. B. Foo, D. Turaga, O. Verscheure, M. van der Schaar, L. Amini, "Configuring trees of classifiers in distributed multimedia stream mining systems", IEEE Transactions on Circuits and Systems for Video Technology (3), 245-258, 2011 7. L. Gasparini, E. Bouillet, F. Calabrese, O. Verscheure, B. O'Brien, "System and analytics for continuously assessing transport systems from sparse and noisy observations: Case study in Dublin", Intelligent Transportation Systems (ITSC), 2011 8. J. Gao, W. Fan, D. Turaga, O. Verscheure, X. Meng, L. Su, J. Han, "Consensus extraction from heterogeneous detectors to improve performance over network traffic anomaly detection", IEEE INFOCOM, 181-185, 2011 9. A. Baptista, E. Bouillet, F. Calabrese, O. Verscheure, "Towards building an uncertainty-aware personal journey planner", IEEE Intelligent Transportation Systems (ITSC), 2011 10. E. Bouillet, L. Gasparini, O. Verscheure, "Towards a real time public transport awareness system: case study in dublin", ACM Multimedia, 797-798, 2011 11. T.T. Tchrakian, O. Verscheure, "A lagrangian state-space representation of a macroscopic traffic flow model", IEEE Intelligent Transportation Systems (ITSC), 2011 12. L. Amini, E. Bouillet, F. Calabrese, L. Gasparini, O. Verscheure, "Challenges and results in city-scale sensing", IEEE Sensors, 59-61, 2011 13. A. Schumann, J. Hayes, P. Pompey, O. Verscheure, "Adaptable Fault Identification for Smart Build- ings", Artificial Intelligence and Smarter Living, Twenty-Fifth AAAI Conference on Artificial Intelligence, 2011 14. H. Park, D. Turaga, O. Verscheure, M. Van der Schaar, "Foresighted tree configuration games in resource constrained distributed stream mining sensors", Ad Hoc Networks 9 (4), 497-513, 2011 15. O. Verscheure, "Smart cities: how data mining and optimization can shape future cities", ECML/PKDD, 11-11, 2011 16. S. Xie, W. Fan, O. Verscheure, J. Ren, "Efficient and numerically stable sparse learning", ECML/PKDD, 483-498, 2010 17. D. Turaga, H. Park, R. Yan, O. Verscheure, "Adaptive multimedia mining on distributed stream processing systems", IEEE ICDMW, 1419-1422, 2010 18. A. Biem, E. Bouillet, H. Feng, A. Ranganathan, A. Riabov, O. Verscheure, "IBM infosphere streams for scalable, real-time, intelligent transportation services", Proceedings of the 2010 ACM SIGMOD, 2010 19. D. Sow, A. Biem, M. Blount, M. Ebling, O. Verscheure, "Body sensor data processing using stream computing", Proceedings of the international conference on Multimedia information retrieval, 449-458, 2010 20. E. Zhong, W. Fan, Q. Yang, O. Verscheure, J. Ren, "Cross validation framework to choose amongst models and datasets for transfer learning", ECML PKDD, 547-562, 2010 21. D. Turaga, H. Andrade, B. Gedik, C. Venkatramani, O. Verscheure, J.D. Harris, "Design principles for developing stream processing applications", Software: Practice and Experience 40 (12), 1073-1104, 2010 22. A. Biem, E. Bouillet, H. Feng, A. Ranganathan, A. Riabov, O. Verscheure, "Real-Time Traffic Infor- mation Management using Stream Computing", IEEE Data Eng. Bull. 33 (2), 64-68, 2010 23. A. Biem, B. Elmegreen, O. Verscheure, D. Turaga, H. Andrade, T. Cornwell, "A streaming approach to radio astronomy imaging", IEEE ICASSP, 2010 24. W. Fan, E. Zhong, J. Peng, O. Verscheure, K. Zhang, J. Ren, R. Yan, Q. Yang, "Generalized and Heuristic-Free Feature Construction for Improved Accuracy", SDM, 629-640, 2010 25. E. Zhong, W. Fan, J. Peng, K. Zhang, J. Ren, D. Turaga, O. Verscheure, "Cross domain distribution adaptation via kernel mapping", Proceedings of the 15th ACM SIGKDD, 2009 26. D. Turaga, R. Yan, O. Verscheure, B. Foo, F. Fu, H. Park, M. van der Schaar, "Resource-adaptive multimedia analysis on stream mining systems", IEEE ICME, 2009 27. LKS Daldorff, DS Turaga, O Verscheure, A Biem, "Direction of arrival estimation using single tripole radio antenna", IEEE ICASSP, 2009 28. H. Park, D. Turaga, O. Verscheure, M. van der Schaar, "A framework for distributed multimedia stream mining systems using coalition-based foresighted strategies", IEEE ICASSP, 2009 29. S. Xie, W. Fan, J. Peng, O. Verscheure, J. Ren, "Latent space domain transfer between high dimensional overlapping distributions", Proceedings of the 18th international conference on World wide web, 91-100, 2009 30. D. Turaga, M. Vlachos, O. Verscheure, "On k-means cluster preservation using quantization schemes", ICDM, 533-542, 2009 31. H. Park, D. Turaga, O. Verscheure, M. van der Schaar, "Tree configuration games for distributed stream mining systems" IEEE ICASSP, 2009 32. M. Vlachos, A. Anagnostopoulos, O. Verscheure, P.S. Yu, "Online pairing of VoIP conversations", The VLDB Journal, The International Journal on Very Large Data Bases, 2009 33. L. Daldorff, S.M. Mohammadi, J. Bergman, B. Thide, A. Biem, O. Verscheure, "Novel data stream techniques for real time HF radio weather statistics and forecasting", Ionospheric radio Systems and Techniques, 2009 34. E. Zhong, W. Fan, J. Peng, O. Verscheure, J. Ren, "Universal learning over related distributions and adaptive graph transduction", Machine Learning and Knowledge Discovery in Databases, 678-693, 2009 35. E. Kokiopoulou, P. Frossard, O. Verscheure, "Fast keyword detection with sparse time-frequency mod- els", ICME, 1081-1084, 2008 36. B. Foo, D. Turaga, O. Verscheure, M. van der Schaar, L. Amini, "Resource constrained stream mining with classifier tree topologies", IEEE Signal Processing Letters, 2008 37. J. Wolf, N. Bansal, K. Hildrum, S. Parekh, D. Rajan, R. Wagle, K.L. Wu, O. Verscheure, "Scheduling optimizer for distributed applications: A reference paper", Software: Practice and Experience 40 (12), 1073-1104, 2008 38. W. Fan, K. Zhang, H. Cheng, J. Gao, X. Yan, J. Han, P. Yu, O. Verscheure, "Direct mining of discriminative and essential frequent patterns via model-based search tree", Proceedings of the 14th ACM SIGKDD international conference on Knowledge Discovery and Decision, 2008 39. D. Turaga, B. Foo, O. Verscheure, R. Yan, "Configuring topologies of distributed semantic concept classifiers for continuous multimedia stream processing", Proceedings of the 16th ACM international conference on Multimedia, 289-298, 2008 40. D. Turaga, O. Verscheure, D. Sow, L. Amini, "Adaptative Signal Sampling and Sample Quantization for Resource-Constrained Stream Processing", BIOSIGNALS, 96-103, 2008 41. F. Fu, D. Turaga, O. Verscheure, M. van der Schaar, L. Amini, "Configuring networked classifiers in distributed and resource constrained stream processing systems", IEEE ICASSP, 2007 42. F. Fu, D. Turaga, O. Verscheure, M. van der Schaar, L. Amini, "Configuring competing classifier chains in distributed stream mining systems", Selected Topics in Signal Processing, IEEE Journal of 1 (4), 548-563, 2007 43. D. Turaga, O. Verscheure, J. Wong, L. Amini, G. Yocum, E. Begle, B. Pfeifer, "Online FDC control limit tuning with yield prediction using incremental decision tree learning", Sematech AEC/APC 2007 44. I. Tseng, O. Verscheure, D. Turaga, U.V. Chaudhari, "Optimized one-bit quantization for adapted GMM-based speaker verification", INTERSPEECH, 786-789, 2007 45. U. Chaudhari, O. Verscheure, J. Huerta, X. Li, G. Ramaswamy, L. Amini, "Efficient Speaker Detection via Target Dependent Data Reduction", IEEE ICME, 977-980, 2006 46. D. Turaga, O. Verscheure, U.V. Chaudhari, L.D. Amini, "Resource management for networked classi- fiers in distributed stream mining systems", ICDM, 1102-1107, 2006 47. L. Amini, N. Jain, A. Sehgal, J. Silber, O. Verscheure, "Adaptive control of extreme-scale stream processing systems, Distributed Computing Systems", 2006. ICDCS 2006 48. I. Tseng, O. Verscheure, D. Turaga, U. Chaudhari, "Quantization for adapted GMM-based speaker verification", IEEE ICASSP, 2006 (Student Best Paper Award) 49. P. Frossard, O. Verscheure, C. Venkatramani, "Signal processing challenges in distributed stream processing systems", IEEE ICASSP, 2006 50. O Verscheure, M Vlachos, A Anagnostopoulos, P Frossard, E Bouillet, "Finding 'Who Is Talking to Whom' in VoIP Networks via Progressive Stream Clustering", ICDM, 667-677, 2006 51. D. Turaga, C. Venkatramani, O. Verscheure, "Adaptive live streaming over enterprise networks", IEEE ICME, 974-979, 2005 52. A. Sehgal, A. Jagmohan, O. Verscheure, P. Frossard, "Fast distortion-buffer optimized streaming of multimedia", ICIP,II-181-4, 2005 53. C.-Y. Lin, O. Verscheure, L. Amini, "Semantic routing and filtering for large-scale video streams monitoring", ICME, 2005 54. I. Radulovic, P. Frossard, O. Verscheure, "Adaptive video streaming in lossy networks: versions or layers?", Multimedia and Expo, 2004, ICME, 2004 55. L. Amini, A. Paleologo, O. Verscheure, "Settlement and capacity planning in multi-service provider infrastructures", IEEE International Performance, Computing, and Communications, 2004 (Best Paper Award) 56. A. Sehgal, O. Verscheure, P. Frossard, "Distortion-buffer optimized TCP video streaming", ICIP, 2083-2086, 2004 57. C. Venkatramani, P. Westerink, O. Verscheure, P. Frossard, "Securing media for adaptive streaming", Proceedings of the 11th ACM Conference on Multimedia (MM), 307-310, 2003 58. C. Venkatramani, P. Frossard, O. Verscheure, P. Westerink, "ARMS: adaptive rich media secure stream- ing", ACM Multimedia, 2003 59. O. Verscheure, C. Venkatramani, P. Frossard, L. Amini, "Joint server scheduling and proxy caching for video delivery", Computer Communications 25 (4), 413-423, 2002 60. P. Frossard, O. Verscheure, "Batched patch caching for streaming media", Communications Letters, IEEE 6 (4), 159-161, 2002 61. O Verscheure, P Frossard, "Optimal scheduling of rich media in a rate-distortion sense", Proceedings of the International Symposium on Mathematical Theory of Networks and Systems, 2002 62. C. Venkatramani, O. Verscheure, P. Frossard, K.W. Lee, "Optimal proxy management for multimedia streaming in content distribution networks", Proceedings of the 12th NOSSDAV, Miami, 2002 63. P. Frossard, O. Verscheure, "AMISP: a complete content-based MPEG-2 error-resilient scheme", Cir- cuits and Systems for Video Technology, IEEE Transactions on 11 (9), 989-998, 2001 64. P. Frossard, O. Verscheure, "Joint source/FEC rate selection for quality-optimal MPEG-2 video deliv- ery", Image Processing, IEEE Transactions on 10 (12), 1815-1825, 2001 65. O. Verscheure, P. Frossard, J.-Y. Le Boudec, "Optimal media streaming in a rate-distortion sense for guaranteed service networks", Proceedings of the International Symposium on Mathematical Theory of Networks and Systems, 2001 66. O. Verscheure, P. Frossard, J.Y. Le Boudec, "Joint smoothing and source rate selection for guaranteed service networks", IEEE INFOCOM, 2001 67. P. Frossard, O. Verscheure, "Joint source/FEC rate selection for optimal MPEG-2 video delivery", IEEE ICME, 2000 68. J.Y. Le Boudec, O. Verscheure, "Optimal smoothing for guaranteed service", IEEE/ACM Transactions on Networking (TON) 8 (6), 689-696, 2000 69. P. Frossard, O. Verscheure, "Content-based mpeg-2 structuring and protection", SPIE Photonics East, 350-361, 2000 70. P. Frossard, O. Verscheure, "Adaptive MPEG-2 information structuring", SPIE Photonics East, 113- 123, 1999 71. M. Hamdi, O. Verscheure, J.P. Hubaux, I. Dalgic, P. Wang, "Voice service interworking for PSTN and IP networks", Communications Magazine, IEEE 37 (5), 104-111, 1999 72. O. Verscheure, P. Frossard, M. Hamdi, "User-oriented QoS analysis in MPEG-2 video delivery", Real- Time Imaging 5 (5), 305-314, 1999 73. X.G. Adanez, O. Verscheure, J.P. Hubaux, "New Network and ATM Adaptation Layers for real-time multimedia applications: A performance study based on psychophysics", Multimedia Telecommunica- tions and Applications, 216-231, 1998 74. O. Verscheure, X. Garcia, G. Karlsson, J.P. Hubaux, "User-oriented QoS in packet video delivery", Network, IEEE 12 (6), 12-21, 1998 75. O. Verscheure, P. Frossard, M. Hamdi, "MPEG-2 video services over packet networks: Joint effect of encoding rate and data loss on user-oriented QoS", Proceedings of NOSSDAV, 257-264, 1998 76. P. Frossard, O. Verscheure, "MPEG-2 video over lossy packet networks: Adaptive MPEG-2 information structuring", SPIE's International Symposium on Voice, Video, and Data Communications, 1998 77. P. Frossard, O. Verscheure, "MPEG-2 over Lossy Packet Networks: QoS Analysis and Improvement", IEEE Communications Magazine 54, 619-631, 1998 78. O. Verscheure, P. Frossard, M. Hamdi, "Joint impact of MPEG-2 encoding rate and ATM cell losses on video quality", IEEE GLOBECOM, 1998 79. C. Gbaguidi, S. Znaty, J.P. Hubaux, O. Verscheure, "Management of multimedia resources: From a generic information model to its application to an MPEG2 video Codec", IFIP/ICCC International Conference on Information Network and Data Communication, 1998 80. X. Garcia, A. Olivier, O. Verscheure, P. Frossard, "Reliable transmission of MPEG-2 VBR video streams over new network adaptation and ATM adaptation layers", IEEE ATM Workshop, 158-167, 1997 81. O. Verscheure, C.J. van den Branden Lambrecht, "Adaptive quantization using a perceptual visibility predictor" IEEE ICIP, 298-301, 1997 82. O. Verscheure, X. Garcia, "Perceptual Quality Metric as a Performance Tool for ATM Adaptation of MPEG-2 based Multimedia Applications", EUNICE Summer School, 1997 83. C. van den Branden, O. Verscheure, J. Urbain, F. Tassin, "Quality Assessment of Image Features in Video Coding", IEEE ICIP, Santa Barbara, 302-305, 1997 84. C. van den Branden Lambrecht, O. Verscheure, J. Urbain, F. Tassin, "Quality assessment of image features in video coding", IEEE ICIP, 302-305, 1997 85. A. Basso, O. Verscheure, R. Noro, J.P. Hubaux, R. Meuli, R. Laurini, P. Patthy, "A multimedia architecture for medical tele-imaging over ATM", Computer Assisted Radiology",Elsevier Science, 1997 86. O. Verscheure, P. Frossard, "Perceptual MPEG-2 syntactic information coding: a performance study based on psychophysics", Proceedings of the Picture Coding Symposium, 297-302, 1997 87. O. Verscheure, R. Noro, J.P. Hubaux, B. Andrea, R. Meuli, R. Laurini, "A Multimedia Architecture for Medical Tele-Imaging over ATM", Computer Assisted Radiology, 519-524, 1997 88. O. Verscheure, P. Chabloz, J.P. Hubaux, "A Flexible Rate Control Mechanism for Interactive MPEG-2 Video Services over ATM Networks", 1997 89. X. Garcia, O. Verscheure, "New Network and ATM Adaptation Layers for Interactive MPEG-2 Video Communications: A Performance Study Based on Psychophysics",Interoperable Communication Net- works 1 (LCA-ARTICLE-1998-005), 145-178, 1997 90. C. Gbaguidi, O. Verscheure, J.P. Hubaux, "A new flexible and modular QoS mapping framework based on psychophysics", Management of Multimedia Networks and Services, Chapman & Hall, 67-80, 1997 91. C.J. Van Den Branden Lambrecht, O. Verscheure, "Perceptual quality measure using a spatiotemporal model of the human visual system", Electronic Imaging: Science & Technology, 450-461, 1996 92. C. Gbaguidi, S. Znaty, O. Verscheure, J.P. Hubaux, "Management of Multimedia Resources: From Concepts to Application", FIP INDC, 1996 93. O. Verscheure, A. Basso, M. El-Maliki, J.P. Hubaux, "Perceptual bit allocation for MPEG-2 CBR video coding", IEEE ICIP, 117-120, 1996 94. O. Verscheure, J.P. Hubaux, "Perceptual video quality and activity metrics: Optimization of video service based on MPEG-2 encoding", Multimedia Telecommunications and Applications, 249-265, 1996
PATENTS
1. Patent 7,039,189, "STREAM CONTINUITY ENFORCEMENT", 02/05/06, issued 2. Patent 7,006,567, "A METHOD AND APPARATUS FOR SCALABLE AND DATA LOSS RESISTANT COMPRESSION OF DIGITAL VIDEO SIGNALS", 28/02/06, issued 3. Patent 6,628,300, "TRANSCODING PROXY FOR MATCHING PURSUIT", 30/09/03, issued 4. Patent 7,228,535, "METHOD AND SYSTEM FOR ADAPTIVE STREAM SCHEDULING IN RESOURCE CONSTRAINED ENVIRONMENTS", 05/06/07, issued 5. Patent 7,526,565, "MULTIPLE DESCRIPTION HINTING AND SWITCHING FOR ADAPTIVE MEDIA SERVICES", 28/04/09, issued 6. Patent7,657,651,"SYSTEM AND RESOURCE EFFICIENT METHOD FOR LIVE MEDIA STREAMING TO HETEROGENEOUS CLIENTS", 02/02/10, issued 7. Patent 7,313,236, "INDEXED STREAM CIPHER INDEX ASSIGNMENT TO DYNAMICALLY INTERCHANGEABLE ACCESS UNITS", 25/12/07, issued 8. Patent 7,623,657, "INDEXED STREAM CIPHER INDEX ASSIGNMENT TO DYNAMICALLY INTERCHANGEABLE ACCESS UNITS", 24/11/09, issued 9. Patent 7,545,978, "SYSTEM AND APPARATUS ON EXTRACTING VISUAL FEATURES FROM COMPRESSED - DOMAIN VIDEOS FOR CONCEPT MODEL TRAINING AND DETECTION", 09/06/09, issued 10. Patent 7,912,284, "SYSTEM AND APPARATUS ON EXTRACTING VISUAL FEATURES FROM COMPRESSED - DOMAIN VIDEOS FOR CONCEPT MODEL TRAINING AND DETECTION", 22/03/11, issued 11. Patent 7,546,377, "ALTERNATE STREAM SIGNALING FOR ADAPTIVE STREAM SELECTION", 09/06/09, issued 12. Patent 7,493,406, "SYSTEM AND METHOD FOR MAXIMAL FLOW SCHEDULING IN LOSS-TOLERANT DATAFLOW SYSTEM", 17/02/09, issued 13. Patent 7,613,848, "METHOD AND APPARATUS FOR DYNAMIC STABILIZATION OF A DIS- TRIBUTED STREAM PROCESSING/DATA FLOW SYSTEM", 03/11/09, issued 14. Patent 7,831,424, "TARGET SPECIFIC DATA FILTER TO SPEED PROCESSING", 09/11/10, issued 15. Patent 7,769,583, "SYSTEM AND METHOD FOR QUANTIZING FEATURES FEEDING DETECTION SYSTEMS USING ADAPTED GAUSSIAN MIXTURE MODELS", 03/08/10, issued 16. Patent 7,822,604, "SYSTEMS AND METHODS FOR PAIRING MULTI-WAY CONVERSATIONS OVER SPEECH DATA STREAMS", 26/10/10, issued 17. Patent 8,862,424, "INTEGRATED CROSS-TESTER ANALYSIS AND REAL-TIME ADAPTIVE TEST", 2014 18. Patent 8,666,988, "CONFIGURING CLASSIFIER TREES AND CLASSIFYING DATA", 2014 19. Patent 8,433,669, "CONFIGURING INDIVIDUAL CLASSIFIERS WITH MULTIPLE OPERATING POINTS FOR CASCADED CLASSIFIER TOPOLOGIES UNDER RESOURCE CONSTRAINTS", 2013 20. Patent YOR920120685US2, "DE-NOISING SCHEDULED TRANSPORTATION DATA", 06/08/14, issued 21. Patent 9,032,521, "ADAPTIVE CYBER-SECURITY ANALYTICS", 2015 22. Patent 9,015,183, "ACCELERATING TIME SERIES DATA BASE QUERIES USING DICTIONARY BASED REPRESENTATIONS", 2015 23. Patent Disclosure YOR920070034US1, "ADAPTIVE SIGNAL SAMPLING AND SAMPLE QUANTIZATION FOR RESOURCE-CONSTRAINED STREAM PROCESSING", 30/05/07, filed 24. Patent Disclosure YOR920070347US1, "HIERARCHICAL AND INCREMENTAL MULTIVARIATE ANALYSIS FOR PROCESS CONTROL", 22/01/08, filed 25. Patent Disclosure YOR920070490US1, "MULTI-MODAL DATA ANALYSIS FOR AUTOMATED WAFER AND TOOL FAULT DETECTION AND CLASSIFICATION", 22/01/08, filed 26. YOR920070791US1,"ROBUST PATTERN MATCHING IN CONTINUOUS SPEECH", 02/05/08, filed 27. Patent Disclosure YOR920070547US1, "CONFIGURING INDIVIDUAL CLASSIFIERS WITH MULTIPLE OPERATING POINTS FOR CASCADED CLASSIFIER TOPOLOGIES UNDER RESOURCE CONSTRAINTS", 14/11/07, filed 28. Patent Disclosure YOR920080739US1, "METHOD FOR SHAPE-ADAPTIVE QUANTIZATION OF TIME SERIES FOR PRIVACY PRESERVING AND LOW COMPLEXITY K-MEANS CLUSTERING", filed 29. Patent Disclosure YOR920090028US1, "DIRECTION OF ARRIVAL ESTIMATION USING SINGLE TRIPOLE RADIO ANTENNA", 17/04/09, filed 30. Patent Disclosure YOR920090027US1, "METHOD FOR CONFIGURING CLASSIFIER TREES IN RESOURCE CONSTRAINED SCENARIOS", 14/05/09, filed 31. Patent Disclosure YOR920090218US1, "INTEGRATED CROSS-TESTER ANALYSIS AND REAL-TIME ADAPTIVE TEST", 30/08/10, filed 32. Patent Disclosure YOR920090217US1, "OPTIMAL TEST FLOW SCHEDULING WITHIN AUTOMATED TEST EQUIPMENT FOR MINIMIZED MEAN TIME TO DETECT FAILURE", 20/05/10, filed 33. Patent Disclosure YOR820090467, "SYSTEM AND METHODS FOR AUTOMATIC RULE COMPOSITION FOR ANOMALY DETECTION", filed 34. Patent Disclosure YOR920100354US1, "METHOD AND APPARATUS FOR ADAPTIVE SEMI-SUPERVISED SECURITY ANALYTICS", 13/10/10, filed 35. Patent Disclosure YOR920120686US1, "AUTOMATIC TUNING OF VALUE-SERIES ANALYSIS TASKS BASED ON VISUAL FEEDBACK", 29/12/12, filed 36. Patent Disclosure YOR920120687US1, "ACCELERATING TIME SERIES DATA BASE QUERIES USING DICTIONARY BASED REPRESENTATION", 15/12/12, filed 37. Patent Disclosure YOR920120659US1, "HEDGING RISK IN JOURNEY PLANNING", 12/08/12, filed 38. PatentDisclosureYOR920120658US1,"JOURNEY COMPUTATION WITH RE-PLANNING BASED ON EVENTS IN A TRANSPORTATION NETWORK", 12/08/12, filed 39. Patent Disclosure YOR920120685US1, "DE-NOISING SCHEDULED TRANSPORTATION DATA", 08/12/12, filed 40. Patent Disclosure YOR920120687US1, "ACCELERATING TIME SERIES DATA BASE QUERIES USING DICTIONARY BASED REPRESENTATION", 15/12/12, filed 41. Patent Disclosure YOR920120654US1, "ITERATIVE ACTIVE FEATURE EXTRACTION", 09/02/13, filed 42. Patent Disclosure YOR920120878US1, "TECHNIQUES FOR ITERATIVE REDUCTION OF UN- CERTAINTY IN WATER DISTRIBUTION NETWORKS", 09/02/13, filed 43. Patent Disclosure YOR920120854US1, "CONFIGURING BUILDING ENERGY MANAGEMENT SYSTEMS USING KNOWLEDGE ENCODED IN BUILDING MANAGEMENT SYSTEM POINTS LISTS", 09/02/13, filed 44. Patent Disclosure YOR920120654US1, "ITERATIVE ACTIVE FEATURE EXTRACTION", 09/02/13, filed 45. Patent Disclosure YOR920121025US1, "GUIDING USES IN OPTIMIZATION-BASED PLANNING UNDER UNCERTAINTY", 27/07/13, filed 46. Patent Disclosure YOR920130844US1, "CREATING UNDERSTANDABLE MODELS FOR NUMEROUS MODELING TASKS", 23/11/13, filed
Teaching & PhD
Teaching
Communication Systems
Computer Science
Courses
(Coursebook not yet approved by the section)
---