Paolo De Los Rios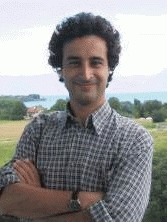 Mission
The research activity of Paolo De Los Rios focuses on applications of statistical physics to biophysics and to the structure of complex networks. Understanding the physics of proteins is one of the great scientific challenges of the years to come. How do proteins fold to their functional form? How do they work once folded? How do they interact with each other? These and other questions are best approached by the interaction of biology, experimental biophysics and theoretical tools, with particular emphasis on statistical physics since thermal noise plays a determinant role at the scale of proteins. Many systems as different as the Internet and the World Wide Web, social interactions among individuals or market relations between companies, interacting proteins (see above) in the living cell, food web relations in habitats, and many others, find their unifying framework in the theory of complex networks. Although each network is a specific system with its own peculiarities, their large-scale properties can be studied with the tools of statistical physics so to discover that some general principles govern systems that are, at a first examination, very different and unrelated with each other.
Biography
Paolo De Los Rios earned his master in Electronic Engineering at the Turin Institute of Technology (Politecnico di Torino) in May 1993. In November 1993 he moved to Trieste, Italy, to enter the PhD program in Theoretical Condensed Matter Theory at the International School for Advanced Studies (SISSA/ISAS) where he obtained the PhD degree in October 1996 for his work on the statistical physics of disordered systems. After a one year postdoc at the Max-Planck Institute for the Physics of Complex Systems in Dresden, Germany, in November 1997 he moved to the University of Fribourg, Switzerland, to join the group of Prof. Yi-Cheng Zhang. There he has worked on various applications of statistical physics to complex systems. In September 2000 he has been appointed Assistant Professor in Statistical Physics of Living Matter and Complex Systems at the Institute of Theoretical Physics of the University of Lausanne, Switzerland. Since April 2010 he is Associate Professor at the Institute of Theoretical Physics of the Ecole Polytechnique Fédérale de Lausanne (EPFL), Switzerland.
Teaching & PhD
PhD Programs
Doctoral Program in Physics
Doctoral Program in Biotechnology and Bioengineering
Doctoral Program in Computational and Quantitative Biology
PhD Students
Cois Davide
,
Flatt Solange Marie
,
Liang Shiling
,
Mohr Adélaïde Alice
,
Shelest Alexandra
,
Talamanca Lorenzo
,
Past EPFL PhD Students
Assenza Salvatore
,
Caretta Cartozo Cécile
,
Floretta Lucio
,
Gfeller David
,
Maffi Carlo
,
Malinverni Duccio
,
Martini Andrea
,
Morton de Lachapelle David Sébastien
,
Petermann Thomas
,
Salvi Giovanni
,
Sassi Alberto Stefano
,
Courses
Introduction to the methods of classical mechanics (Lagrange and Hamilton equations) and to the concepts of normal modes and stability.
---
1. Introduction to polymer theory: on and off-lattice polymers; statistical
properties; exact, numerical and approximate results; correlation length;
self-avoidance.
2. Interacting polymers: experiments and models; analytical and
numerical solutions of the models; phase diagram.
3. Proteins: their role in biology; basic
---
This lecture presents ongoing work on how scientific questions can be tackled using machine learning. Machine learning enables extracting knowledge from data computationally and in an automatized way. We will learn on examples how this is influencing the very scientific method.
---