Pascale Jablonka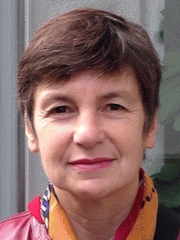 Research Project
If you are interested in a TP4b or Master project, don't hesitate to contact me. You can find below some examples of the projects proposed for the 2019 Spring. # Stellar mass estimates for a volume limited sample of galaxies around the Virgo cluster # Deconvolution of images for the next generation of cosmological imaging surveys # Algorithms to trace the Cosmic Web
Fields of expertise
Formation and evolution of galaxies: surveys and numerical simulations.
Galaxy clusters and cosmic filamentary structures
Local Group dwarf galaxies
First generations of stars in the Universe
Biography
Pascale Jablonka is a French/Swiss astrophysicist who specializes in the area of galaxy evolution. She earned a doctorate in astrophysics from the University Paris 7- Denis Diderot in France. She then held a postdoctoral fellowship at the Headquarter of the European Southern Observatory (ESO, Germany), before obtaining a position at CNRS (France). She is currently Directrice de Recherche at CNRS and on leave of absence from Paris Observatory in the Laboratoire d'astrophysique of EPFL.

Pascale Jablonka conducts both observations and numerical simulations to gain insights into the formation and evolution of galaxies. Her research focuses on three main topics :
> Understanding the nature of the first stars in the Universe
> Infering the driving parameters of the galaxy star formation histories
> Deciphering the impact of the environment on galaxy evolution.

Her research exploits ground-based and space telescopes as well as high performance computing facilities.

Teaching & PhD
PhD Programs
Doctoral Program in Physics
Courses
This course is an introduction to stellar physics. It yields the concepts needed to understand how a star behaves, to build models of stellar structure and evolution, and to interpret stellar spectra.
---
(Coursebook not yet approved by the section)
---