Pavan P Ramdya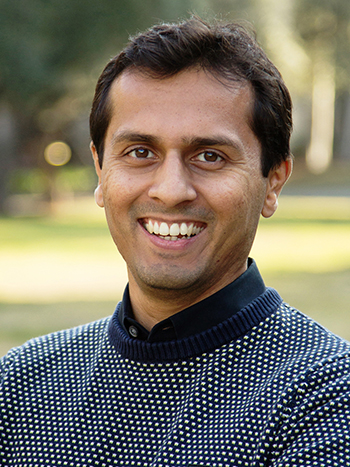 EPFL SV BMI UPRAMDYA
AAB 1 05 (Bâtiment AAB)
Station 19
CH-1015 Lausanne
EPFL SV IBI-GE
AAB 1 05 (Bâtiment AAB)
Station 19
CH-1015 Lausanne
Mission

We use genetics, microscopy, modeling, and quantitative behavioral analysis to understand how the brain works.

Biography

https://ramdya-lab.epfl.ch/

Fields of expertise
Neuroscience
Behavior
Neuroengineering
Synthetic neurobiology
Publications
MAIN PUBLICATIONS
Chen C-L*, Hermans L*, Viswanathan MC, Aymanns F, Unser M, Cammarato A, Dickinson MH, Ramdya P
Nature Communications. 2018 Oct 22; 9(1):4390.
Imaging neural activity in the ventral nerve cord of behaving adult Drosophila.
Ramdya P, Thandiackal R, Cherney R, Asselborn T, Benton R, Ijspeert AJ, Floreano D.
Nature Communications. 2017 Feb 17;8:14494.
Climbing favours the tripod gait over alternative faster insect gaits.
Ramdya P, Lichocki P, Cruchet S, Frisch L, Tse W, Floreano D, Benton R.
Nature. 2015 Mar 12;519(7542):233-6.
Mechanosensory interactions drive collective behaviour in Drosophila.
Pavan Ramdya & Florian Engert
Nature Neuroscience, 2008 Sep;11(9):1083-90.
Emergence of binocular functional properties in a monocular neural circuit.
Teaching & PhD
Teaching
Life Sciences Engineering,
PhD Programs
Doctoral Program in Neuroscience
Doctoral Program in Computational and Quantitative Biology
Doctoral program in robotics, control, and intelligent systems
Doctoral Program in Electrical Engineering
Doctoral Program in Biotechnology and Bioengineering
Courses
The goal of the course is to increase the knowledge in the fields of motor control and neurorobotics. The students will acquire knowledge about state-of-the-art discoveries in motor control in biological and artificial/robotic systems.

---
Students will acquire an integrative view on biological and artificial algorithms for controlling autonomous behaviors in animals and robots. Students will synthesize and apply this knowledge in oral presentations and exercises.

---