Pierre-André Farine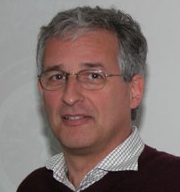 Biographie
Pierre-André Farine received the Doctoral and Engineering Degrees in Microtechnology from University of Neuchâtel, Switzerland, respectively in 1984 and 1978, and the Engineering in Microtechnology from ETS Le Locle in 1974. He was working 17 years for the Swiss watch industries (Swatch Group), including developments for high-tech products, such as pager watches, watches including integrated sensors such as pressure, compass, altimeter and temperature sensors for Tissot. He was also involved in prototypes developments for watches including GPS and cellular GSM phones. Since 8 years, he is Professor in Electronics and Signal Processing at the Institute of Microtechnology IMT, University of Neuchâtel, Switzerland. Full professor at EPFL since January 1st, 2009, he works in the field of low-power integrated products for portable devices, including microelectronics for wireless telecommunications, UWB and GNSS systems. He is Head of the Electronics and Signal Processing Laboratory ESPLAB of the EPFL IMT-NE. His laboratory works also for video and audio compression algorithms and their implementation in low power integrated circuits.
Education & honors
1978 - 1984 Université de Neuchâtel, Institut de microtechnique IMT Doctorat ès sciences, thèse intitulée : Filtrage numérique caractérisé par un traitement quasi-continu des signaux. 1973 - 1978 Université de Neuchâtel, Faculté des Sciences,Diplôme d'Ingénieur en Microtechnique,Mention très bien, Prix Landry. 1968 - 1973 Ecole d'Ingénieur du Canton de Neuchâtel EICN,Diplôme d'Ingénieur ETS en Microtechnique,Prix de l'Union Technique Suisse UTS, Rotary et Zodiac.
Professional Experience
2009 - Present Full Professor in microtechnology at the School of Engineering STI, leading the Electronics and Signal Processing Laboratory, active in low-power CMOS integrated circuits for applications covering instrumentation and signal processing in neuroscience, wireless communications, UWB systems, GNSS, video and audio processing 2002-2008 Full Professor at the Institute of Microtechnology (IMT) University of Neuchâtel, in continuation with Prof. Nicolaas De Rooij's work. 2002-2008 Responsable of the shape recognition laboratory (3 collaborateurs) ( in addition to his work at the ESPLAB) 2002-Present Professor in electronics and signal proccesing, at Unine (2002-2008) and at EPFL (2009-Present) Institute of Microtechnology, Head of of the elcctronics and signal processing laboratory (32 collaborants) researchers and Ph.D. students. 1987 - 2002 ASULAB SA, R & D Laboratories at Swatch Group, Head of Group E (15 engineers).Collaboration and workshops at the R & D department of Hewlett-Packard firm in Cupertino, Trimble Navigation in Sunnyvale, SiRF in San Jose, EM-US in Colorado Springs. 1986 - 1987 EPFL, Lausanne, Lecturer in courses Signals and Systems I and II. 1985 - 1987 ASULAB SA, R & D Laboratories at Swatch Group, Project leader in the field of biomedical electronics.
Board Members
- Scientific Advisor at the Charles-Edouard Guillaume Foundation. - Member of the General Assembly at the Association for the Swiss Official Chronometer Control. - President at the OMEGA Foundation Award. - Chairman of the Technical Commission at the COSC and CA board member. - Member of the Scientific Committee at the Swiss Society of Chronometry SSC. - Board of Director's vice-president at LEA (European Associated Laboratory in Microengineering). - Member of the Scientific Committee at the FST (Foundation Swiss telethesis).
Research projects, industrial developments, projec
1985-2002 (Projects done at Swatch Group SA, R & D Asulab Division): Involve in the design and implementation of products and functional blocks for Swatch Group companies (in the field of CMOS integrated circuits, micro-engineering constructions interfaces, micromechanics and sensors). Technical Watches and new developments in the fields of telecommunications and bio-medical electronics, including: GPS Watch: Design and implementation of a GPS watch with analogical display using the watch hands to indicate the direction of a target, geographic north and the speed. Study and construction of micro-ribbons miniaturized antennas, high-frequency low-power receivers with CMOS and BiCMOS technology, and demodulation devices for dispreading spectrum with CMOS technology. Project Manager. Tissot Silen-T: alarm watch without sound incorporating a vibrator to check time with discretion, watch for blind people. The reading through vibration could be accomplished by moving a finger above the watch's glass. When the finger is on top of one of the watch needles, the vibrator is operating continuously for the hour's needle, and intermittently for the minute's needle. Tissot T-Touch: watch where all the functions are controlled by a capacitive touch screen and incorporating a sensor for pressure, an electronic compass and a temperature sensor to indicate, among other things: barometric pressure, altitude, weather forecasting, temperature and direction of magnetic north. Watch Salto (ETA MecaQuartz): mechanical watch with the precision of a quartz watch (without battery or electrochemical accumulator). Watch with quartz oscillator temperature compensated (VHP Longines, Omega): ETA Calibers 252,511 and 252,611, the new standard by the COSC (Swiss Official Chronometer Control) regarding the quartz watches (type IV). An improved accuracy of the quartz watch (10 seconds per year) has been accomplished within an extended temperature range (from 0-60 ° C). Tissot Navigator: waterproof watch with time indication according to the selection of 24 different time zones. The indication of a time zone is obtained by rotating the watch's wheel. Swatch Pager Watch: incorporating a HF or UHF type reseptor (Pocsag type) allowing the reception of messages ("pager" local call B in Switzerland, receiver frequency 147MHz, 466MHz in Germany and 900MHz in USA). We worked on HF and UHF and software for in this product. Angiometer Nius2 (Omega Electronics): Study and realization of a medical device for measuring arterial compliance, diameter and thickness of arteries and their temporal variations. Work in collaboration with EPFL - MBL (Medical Engineering Laboratory) and the CHUV (Hypertension Division). Glucometer (Omega Electronics): Device for measuring blood glucose for diabetic patients. Integrating a circuit for measuring and recording of blood glucose levels using amperometric method and an analog-digital conversion method of 12-bit. Quartz Gyrometer with crystal oscillator and micropump with MEMs technology: Development of electronic circuits for the control of these devices. Video Finish (Longines): Study and realization of a videographic system for measurement of mobiles (video-finish). Mandate with Longines.
Enseignement & Phd
A dirigé les thèses EPFL de
Ali Shafqat
,
Ataei Ashtiani Milad
,
Ayyalasomayajula Pradyumna
,
Capuano Vincenzo
,
Chastellain Frédéric
,
Ghamari Saeed
,
Jovanovic Aleksandar
,
Leclère Jérôme
,
Moridi Mohssen
,
Müller Urs Alexander
,
Ribot Sanfelix Miguel Angel
,
Tanevski Mitko
,
Tawk Youssef
,
Waelchli Grégoire
,
Wang Ban
,
Wang Chao
,
Zhao Yazhou
,