Sophia Kathryn Johnson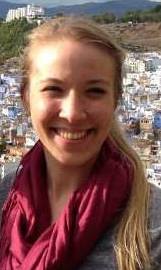 EPFL SB ISIC LCBC
BCH 4105 (Batochime UNIL)
Av. F.-A. Forel 2
CH-1015 Lausanne
Biography
Born in Pasadena, California and raised in Austin, Texas. I graduated summa cum laude with my bachelor in science in chemistry in 2012 from the University of Texas at Austin.
Before enrolling at EPFL in 2021, I worked in a variety of fields:
Curriculum development in introductory chemistry at the University of Texas at Austin
Information architecture and taxonomy development at Indeed.com
Scientific entrepreneurship program direction for undergraduate researchers at the University of Texas at Austin
In each of these experiences, I learned that I am interested in understanding how systems work, solving problems without easy solutions, mentoring younger scientists, and working with teams of people from diverse backgrounds. However, I missed being in the center of solving scientific challenges myself. In 2020, while continuing to direct a growing science entrepreneurship program I audited biology courses at the University of Texas and volunteered to research (computational chemistry) with the University of Tennessee.
Now in LCBC at EPFL, I blend my interests to research in computational biochemistry, TA bachelor and masters students, and collaborate with an international team.
Education
Bachelor of Science, Chemistry
Summa cum laude graduate
University of Texas at Austin
August 2008 - May 2012
Research
Oxidative Damage in DNA
In order to evaluate the viability of a charge transfer damage recognition mechanism, changes in redox potential within chromatin structures for oxidative lesions in DNA are measured. A hybrid mixed quantum mechanical-molecular mechanical (QM/MM) approach allows for the efficient analysis of atomic position and momentum data of these large biological systems.
DNA Adduct Formation due to Hormone Metabolism
Metabolites of estrogen can form both depurinating and stable DNA adducts. Furthermore, synthetic progestins and endocrine-disrupting chemicals, such as BPA, can also form DNA adducts. A hybrid mixed quantum mechanical-molecular mechanical (QM/MM) approach with thermodynamic integration method for enhanced sampling is utilized to study the formation of the DNA adducts and their relative stability.