Francesco Mondada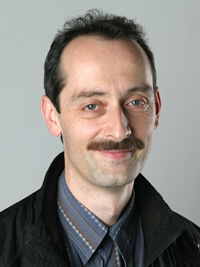 Domaines de compétences
Développement de robots mobiles miniature
Robotique bio-inspirée
Intéractions art-robotique
Robotique et éducation
Elections du conseil
Dans le conseil de faculté depuis la création de la faculté STI (initialement corps intermédiaire, ensuite corps des enseignants), je me suis fortement engagé dans quelques dossiers comme celui des infrastructures (ateliers, informatique) et plus en général sur des sujets qui portent sur l'éducation et la structure de la faculté.

Dans la nouvelle configuration avec le nouveau doyen, je désire continuer cet engagement afin que la STI puisse continuer a jouer son rôle de formation et de recherche dans les meilleures conditions possibles. Je tiens tout particulièrement au respect de chaque personne et de sa contribution, au soin du niveau d'éducation qu'on fourni ensemble, à un cadre bien défini et transparent pour la recherche et à une collaboration entre laboratoires, instituts et facultés.
Publications
Publications Infoscience
Publications triées par type
Articles de journaux
Papiers de conférences
Livres
Thèses
Chapitres de livres
Rapports techniques
Posters
Présentations
Brevets
Projets d'étudiants
Enseignement & Phd
Enseignement
Microengineering
Programmes doctoraux
Doctoral program in computer and communication sciences
Doctoral program in robotics, control, and intelligent systems
Doctoral Program Digital Humanities
Doctoral Program in Learning Sciences
Doctorants
Botner Barmak Rafael
,
Brender Jérôme Guillaume
,
Broisin Matthieu Jean-Michel Philippe
,
El-Hamamsy Laila Abdelsalam
,
Massé Kunal
,
Papaspyros Vaios
,
A dirigé les thèses EPFL de
Ardiny Hadi
,
Bonani Michael
,
Bonnet Frank
,
Chevalier Morgane Solène Denise
,
Fink Julia
,
Giang Christian
,
Gribovskiy Alexey
,
Magnenat Stéphane
,
Riedo Fanny
,
Rochat Frédéric
,
Rétornaz Philippe
,
Schoeneich Patrick
,
Vaussard Florian Christopher
,
Cours
Ce cours aborde la programmation de systèmes embarqués: la cross-compilation, l'utilisation d'une FPU dans des microcontrôleurs, l'utilisation d'instructions DSP et les mécanismes à disposition dans le cadre d'un Real-time Operating System. Le tout est mis en oeuvre dnas un contexte robotique.
---
Ce cours donne les bases nécessaires au développement de robots mobiles autonomes. Autant les aspects matériels que les aspects logiciels seront abordés. Les étudiants appliqueront leurs connaissances pour la programmation et le contrôle d'un robot mobile réel.
---
L'objectif de cette série de travaux pratiques est d'appliquer les différents cadres théoriques acquis dans les cours sur une variété de robots, allant des robots industriels aux robots mobiles autonomes, en passant par les dispositifs robotiques, jusqu'aux robots interactifs.
---