Aleksandra Radenovic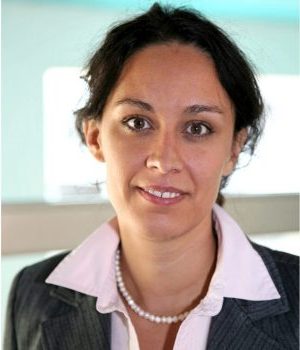 Publications
Citation data from
Researcher ID
Citation data from
Google Scholar
Full list from
Publist
Curriculum Vitae
Curriculum Vitae
CV
Mission
Many biomolecules show remarkably more complex behavior at the single-molecule level than it is observed in bulk, ensemble-averaged experiments. It is now evident that sparsely populated molecular sub-states are vital for the biological function. Insights into complex behavior can be gained through manipulation, imaging or sensing of single biomolecules.
Single-molecule techniques can provide us with extraordinarily clear and often surprising views of biomolecules in action. Development of appropriate instrumentation has been identified as the key ingredient for advances in biophysical sciences. Three most important examples here are single molecule localization microscopy (SMLM), optical tweezers and nanopores. SMLM made it possible to "see" by visualizing single fluorophores in living cells while laser-based optical tweezers allowed us to "touch" with experiments on physical forces involved in stretching and binding of biomolecules, while nanopores, the simplest and the most recent single molecule technique allows for rapid and high-throughput biosensing and discrimination of atto–molar molecule concentrations.
Current work
My lab works in the research field that can be termed single molecule biophysics. We develop techniques and methodologies based on optical imaging, biosensing and single molecule manipulation with the aim to monitor the behavior of individual biological molecules and complexes in vitro and in live cells. Our current research is focused on three major directions:
(i) Developing and using nanopores as platform for molecular sensing and manipulation. In particular we focus on solid-state nanopores realized either in glass nanocapillaries, or on suspended 2d-material membranes and standard silicon-nitride membranes.
(ii) Studying how biomolecules function, especially how proteins and nucleic acids interact, using force-based manipulation single-molecule techniques, in particular optical tweezers, optical wrench system, Anti- Brownian Electrokinetic (ABEL) trap and combination of nanopore/nanocapillaries with OT.
(iii) Developing super-resolution optical microscopy, based on single molecule localizations (SMLM) in cells with molecular-scale resolution, with an aim to extract quantitative information.
Biography
From October 2015 Associate Professor
2008-2015 Tenure-Track Assistant Professor
2004-2007 Postdoc at the University of California, Berkeley in the group of Prof.Liphardt
2003 PhD student of Prof. Dietler in Laboratory of Physics of Living Matter, University of Lausanne
1999 Diploma thesis on the subject of the Raman spectroscopy of beta carotene
1994-1999 Physics department at the University of Zagreb
1994 baccalaureate, Classical gymnasium
Awards/Achievements
2015 SNSF-ERC Consolidator Grant
2010 ERC Starting Grant
2003 Fellowship of the Swiss National Science Foundation
Patents
Patent Number: WO07079411
ALIGNMENT, TRANSPORTATION AND INTEGRATION OF NANOWIRES USING OPTICAL TRAPPING
Publication date: 2007-07-12.
Link
Patent Number:PCT/IB2013/052093
MANUFACTURING OF ORIFICES IN GLASS LIKE MATERIALS, E.G. NANOCAPILLARIES AND OBJECT OBTAINED ACCORDING TO THIS PROCESS
Publication date: 2014-25-03
Patent Number: WO2015121394
MOLECULAR SENSING DEVICE-
Publication date: 2015-20-08
Link
Patent filed
NANOPORE FORMING METHOD AND USES THEREOF
PCT / P1899EP00; Publication date: Pending
Compétences
Single molecule biophysics
Solid State Nanopores
2-D materials
Optical tweezers
Second Harmonic Generation
Super -resolution microscopy
Signaling
Publications
Infoscience
Peer reviewed journal articles
Les données en-ligne ne sont pas accessibles
2020
2019
Enseignement & Phd
Enseignement
Life Sciences Engineering,
Programmes doctoraux
Doctoral Program in Biotechnology and Bioengineering
Doctoral Program in Physics
Doctoral Program in Microsystems and Microelectronics
Doctoral Program in Photonics
Doctoral Program in Chemistry and Chemical Engineering
Doctoral Program in Materials Science and Engineering
Doctoral Program in Computational and Quantitative Biology
Cours
La biophotonique est l'application de la lumière à la biologie, du diagnostic au traitement médical. C'est un domaine pluridisciplinaire où intervient la physique, la chimie, la biologie, la médecine et l'ingénierie.

---
Le cours propose six sessions pratiques qui présentent les techniques expérimentales et d'analyse d'intérêt majeur dans le domaine de la bio-ingegnerie, accompagnées d'une approche quantitative et basées sur l'utilisation de nouvelles techologies.

---