Aleksandra Radenovic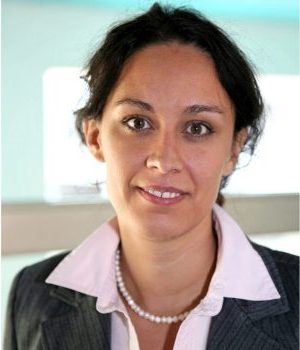 Fields of expertise
Single molecule biophysics
Solid State Nanopores
2-D materials
Optical tweezers
Second Harmonic Generation
Super -resolution microscopy
Signaling
Curriculum Vitae
Curriculum Vitae CV




Mission
Many biomolecules show remarkably more complex behavior at the single-molecule level than it is observed in bulk, ensemble-averaged experiments. It is now evident that sparsely populated molecular sub-states are vital for the biological function. Insights into complex behavior can be gained through manipulation, imaging or sensing of single biomolecules.
Single-molecule techniques can provide us with extraordinarily clear and often surprising views of biomolecules in action. Development of appropriate instrumentation has been identified as the key ingredient for advances in biophysical sciences. Three most important examples here are single molecule localization microscopy (SMLM), optical tweezers and nanopores. SMLM made it possible to "see" by visualizing single fluorophores in living cells while laser-based optical tweezers allowed us to "touch" with experiments on physical forces involved in stretching and binding of biomolecules, while nanopores, the simplest and the most recent single molecule technique allows for rapid and high-throughput biosensing and discrimination of atto–molar molecule concentrations.
Biography
From April 2021 Full Professor
2015 -2021 Associate Professor
2008-2015 Tenure-Track Assistant Professor
2004-2007 Postdoc at the University of California, Berkeley in the group of Prof.Liphardt
2003 PhD student of Prof. Dietler in Laboratory of Physics of Living Matter, University of Lausanne
1999 Diploma thesis on the subject of the Raman spectroscopy of beta carotene
1994-1999 Physics department at the University of Zagreb
1994 baccalaureate, Classical gymnasium
Current work
My lab works in the research field that can be termed single molecule biophysics. We develop techniques and methodologies based on optical imaging, biosensing and single molecule manipulation with the aim to monitor the behavior of individual biological molecules and complexes in vitro and in live cells. Our current research is focused on three major directions:

(i) Developing and using nanopores as platform for molecular sensing and manipulation. In particular we focus on solid-state nanopores realized either in glass nanocapillaries, or on suspended 2d-material membranes and standard silicon-nitride membranes.

(ii) Studying how biomolecules function, especially how proteins and nucleic acids interact, using force-based manipulation single-molecule techniques, in particular optical tweezers, optical wrench system, Anti- Brownian Electrokinetic (ABEL) trap and combination of nanopore/nanocapillaries with OT.

(iii) Developing super-resolution optical microscopy, based on single molecule localizations (SMLM) in cells with molecular-scale resolution, with an aim to extract quantitative information.



Awards/Achievements
2016 CCMX Materials challenge award
2015 SNSF-ERC Consolidator Grant
2010 ERC Starting Grant
2003 Fellowship of the Swiss National Science Foundation



Patents
Patent Number: WO07079411
ALIGNMENT, TRANSPORTATION AND INTEGRATION OF NANOWIRES USING OPTICAL TRAPPING
Publication date: 2007-07-12.
Link

Patent Number:PCT/IB2013/052093
MANUFACTURING OF ORIFICES IN GLASS LIKE MATERIALS, E.G. NANOCAPILLARIES AND OBJECT OBTAINED ACCORDING TO THIS PROCESS
Publication date: 2014-25-03
Link US patent

Patent Number: WO2015121394
MOLECULAR SENSING DEVICE-
Publication date: 2015-20-08
Link

Patent Number: WO2016142925A1
NANOPORE FORMING METHOD AND USES THEREOF WO2016142925A1
Publication date :2016-15-09
Link

Patent Number: WO2018002099 OSMOTIC POWER GENERATION IN 2D NANOPORES
Publication date :2018-15-09
Publication date :2016-15-09 Link Link US patent

Patent application:BENCHMARKING OF SINGLE IMAGING DATASETS19 180 900.3 - Your ref.: 6.1943 - Our ref.: 34623EP Patent applicationSYSTEMS AND METHODS FOR DIGITAL INFORMATION DECODING AND DATA STORAGE IN HYBRID MACROMOLECULES
2020 September
Awards
CCMX Materials challenge award
2016
SNSF-ERC Consolidator Grant
2015
Publications
Infoscience publications
Peer reviewed journal articles
2023
2022
2021
2020
2019
2018
2017
2016
2015
2014
2013
2012
2011
2010
2008
2007
2006
2004
2003
Teaching & PhD
Teaching
Life Sciences Engineering
Microengineering
PhD Students
Cai Nianduo
,
Guo Wei
,
Ibrahim Khalid Ashraf Mohie
,
Mayer Simon Finn
,
Mayner Eveline Simone
,
Miljkovic Helena
,
Naidu Akhil Sai
,
Ronceray Nathan Cyprien Arsène
,
Teng Yunfei
,
Past EPFL PhD Students
Annibale Paolo
,
Bulushev Roman
,
Davis Sebastian James
,
Descloux Adrien Charles-François Raymond
,
Dutto Fabrizia
,
Feng Jiandong
,
Glushkov Evgenii
,
Graf Michael
,
Kayci Metin
,
Lihter Martina
,
Macha Michal Daniel
,
Navikas Vytautas
,
Planchette Arielle Louise
,
Raillon Camille Alice
,
Shivanandan Arun
,
Thakur Mukeshchand
,
Courses
This module serves as an introduction to the area of biophotonics. The approach is multidisciplinary .The course is mainly knowledge-based but students will benefit from the skills learned by carrying out problem solving and by completing the assignment.
---
Advanced Bioengineering Methods Laboratories (ABML) offers laboratory practice and data analysis. These active sessions present a variety of techniques employed in the bioengineering field and matching a quantitative and technological based approach.
---
To get familiar with the state-of-the-art in medical and bio-instrumentation. To acquire basic understanding of related physiology associated to these instruments.
---