Brian McCabe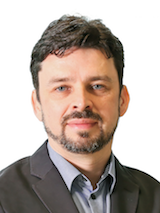 EPFL SV BMI UPMCCABE
SV 2511 (Bâtiment SV)
Station 19
CH-1015 Lausanne
Research
Motor Neuroscience in Health and Disease
Our research aspires towards the dual goals of understanding, with molecular and cellular resolution, the neuronal circuit networks and interconnecting synapses that comprise the motor system, and in tandem, to decipher and ameliorate neurodegenerative motor disorders. The vital necessity for precise motor control, the ability to image motor synapses in vivo together with expedient electrophysiological access, coupled with the stringency of locomotor behavioural quantitation, make motor circuits an potent paradigm to allow molecular, cellular and physiological interrogation of the mechanisms through which synapses and circuits develop, adapt and coordinate to produce ensemble activity. Exploiting these advantages can also illuminate how neuronal circuits are depleted by ageing and neurodegenerative disorders including SMA and ALS (motor neuron disease). As the basis for our investigations, we exploit the advanced neurogenetic control enabled by the molecular and genome engineering capabilities of the Drosophila model system. Drosophila share not only extensive genetic conservation with humans but also many morphological, physiological and behavioural similarities. Augmenting this foundation, we extend and validate our studies in rodents in addition to human cellular models.


Teaching & PhD
Teaching
Life Sciences Engineering
PhD Programs
Doctoral Program in Neuroscience
Courses
An interdisciplinary EPFL student team will design and build genetic circuits with novel functionalities. Students learn to develop a project and carry it out to completion in a concrete manner. Their creativity and critical thinking are highly encouraged.
---
The goal of this course is to learn how to discover, digest, analyze and a criticize scientific papers encompassing defined topics within neuroscience.
---