Claudia R. Binder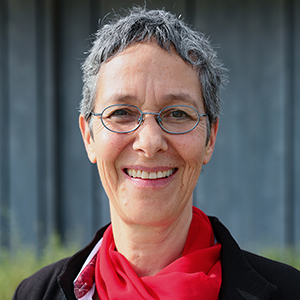 Fields of expertise
Transition research
Urban metabolism
Energy
Sustainability assessment
Regulatory mechanisms in human-environment systems
Systems science
Inter- and transdisciplinarity
Biography
Claudia R. Binder, a Swiss, Canadian and Colombian citizen, was born in Montreal and spent most of her childhood in Switzerland and Colombia. She studied at ETH Zurich from 1985 to 1996, earning a degree in biochemistry and then a PhD in environmental sciences. After conducting her post-doctoral research at the University of Maryland in the US from 1996 to 1998, she returned to Switzerland and took a position as a senior research scientist at ETH Zurich, studying the interaction between human and environmental systems at the Institute for Natural and Social Science Interface. In 2006, Binder joined the University of Zurich as an assistant professor in the Department of Geography, and in 2009 moved to the University of Graz in Austria where she served as a full professor of systems science. In 2011, she took a position at the University of Munich's Department of Geography as a full professor of human-environment relations.
Binder joined EPFL in March 2016 and set up the Laboratory for Human-Environment Relations in Urban Systems (HERUS) at ENAC; she also holds the La Mobilière Chair on Urban Ecology and Sustainable Living.
Her research involves analyzing, modelling and assessing the transition of urban systems towards sustainability. She looks in particular at how we can better understand the dynamics of urban metabolism, what characterizes a sustainable city, and what drives and hinders transformation processes. She does so by combining knowledge from social, natural and data science. Her research focuses on food, energy, and sustainable living and transport in urban systems.
In Switzerland, Binder was appointed to the Research Council, Programs Division of the Swiss National Science Foundation (SNSF) in 2016 and serves on the Steering Committee of the SNSF's National Research Program 71, "Managing Energy Consumption" and the Swiss Competence Centers for Energy Research (SCCER). She is also a member of the Steering Board on Sustainability Research for the Swiss Academies of Arts and Sciences. In 2019, she was elected as a member of the University Council of the University of Munich (LMU).
At EPFL, Binder is the academic director of Design Together, a cross-disciplinary teaching initiative. She was appointed to the management team of the Energy Center in 2018 and as head of the working group on EPFL's energy and sustainability strategy in 2019.
Teaching & PhD
Teaching
Environmental Sciences and Engineering
PhD Programs
Doctoral Program in Architecture and Sciences of the City Doctoral Program in Civil and Environmental Engineering Doctoral Program Digital Humanities Doctoral Program in Technology Management
PhD Students
Bargagli Stoffi Pietro Junio
,
Barsanti Matteo
,
Bösch Anne Frédérique Cécile Noémi
,
Huynh Trung Tin
,
Pagani Anna
,
Pang Melissa
,
Serra Coch Gloria
,
Superti Valeria
,
Past EPFL PhD Students
Fritz Livia Bianca
,
Halla Pekka Jaakko
,
Meinherz Franziska
,
Mühlemeier Susan Marie
,
Schilling Thorsten
,
Courses
The Transition Workshop 2021 offers, in a Masterclass mode, a real-time engagement in the planning processes of the Greater Geneva - one of the most advanced and innovative urban areas worldwide.
---
This course examines the supply of energy from various angles: available resources, how they can be combined or substituted, their private and social costs, whether they can meet the demand, and how the transition to a renewable energy system can be fostered.
---
Facing environmental challenges requires to address it with a systemic perspective. Life Cycle Assessment (LCA) and Material Flow Analysis (MFA) are environmental assessment methods enabling the calculation of environmental performance of products, services and territories.
---
This course provides students with the ability to critically reflect on sustainability and perform a sustainability assessment based of problems in urban areas. At the end of the course students are able to develop a own sustainability assessment with the Sustainability Solution Space methodology.
---
Resource management and Industrial Ecology
Methods for analysing resource management issues
Material Flow Analysis
Extended input output analysis
Urban and regional metabolism
Applications to minerals, metals, water and energy
Course project based on industry and/or regional cases
Data sources, quality and uncertainty