Diego Ghezzi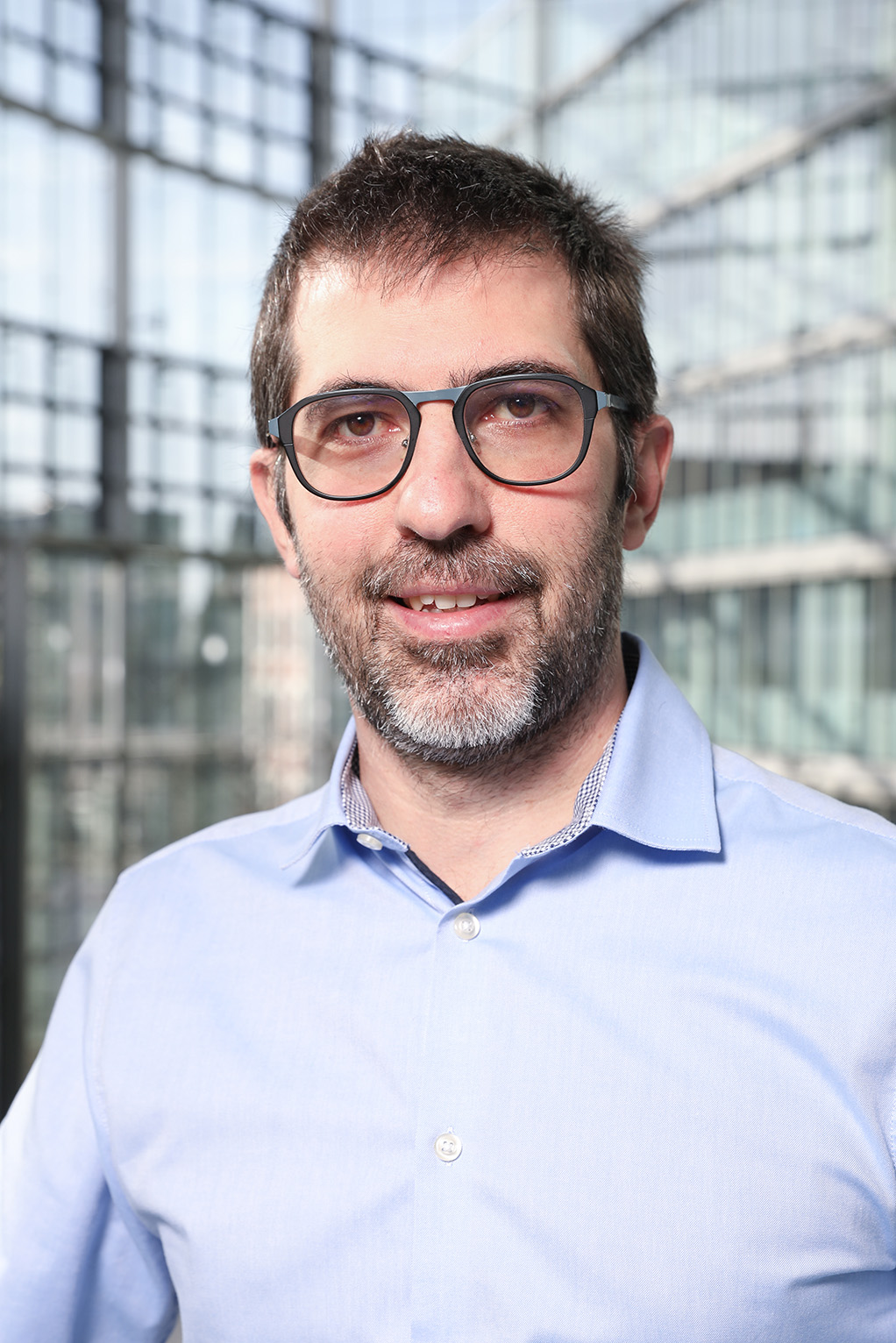 EPFL STI IBI-STI LNE
B3 3 246.134 (Campus Biotech bâtiment B3)
Ch. des Mines 9
CH-1202 Genève
EPFL STI IBI-STI LNE
B3 3 238.134 (Campus Biotech bâtiment B3)
Ch. des Mines 9
CH-1202 Genève
EPFL STI IBI-STI LNE
B3 3 238.134 (Campus Biotech bâtiment B3)
Ch. des Mines 9
CH-1202 Genève
Fields of expertise
Neuro-optoelectronic interfaces, visual prosthesis, optical stimulation, microfabrication, polymers, neuroprosthetics, biocompatibility, visual system, sight restoration, sensory perception, artificial photoreceptors
Biography
Prof. Diego Ghezzi holds the Medtronic Chair in Neuroengineering at the School of Engineering at the Ecole Polytechnique Fédérale de Lausanne. He received his M.Sc. in Biomedical Engineering (2004) and Ph.D. in Bioengineering (2008) from Politecnico di Milano. From 2008 to 2013, he completed his postdoctoral training at Istituto Italiano di Tecnologia in Genova at the Department of Neuroscience and Brain Technologies; where he was promoted to Researcher in 2013. In 2015, he was appointed as Tenure-Track Assistant Professor of Bioengineering at the EPFL Center for Neuroprosthetics and Institute of Bioengineering.
Mission
Our laboratory is a multidisciplinary environment promoting cross-fertilization among various expertise. We bring materials science, engineering, life science, and medicine together by the convergence of physicists, engineers, neuroscientists, and ophthalmologists cooperating to accomplish innovative projects. Our mission is the development of application-driven solutions based on compliant, minimally invasive, and replaceable neuroprosthetic devices. Ultimately, we aim at translating our research findings into clinical practice.
Professional course
Researcher
Department of Neuroscience and Brain Technologies
Istituto Italiano di Tecnologia, Genova, Italy
February 2014 - March 2015
Postdoctoral Fellow
Laboratory of Prof. Fabio Benfenati
Istituto Italiano di Tecnologia, Genova, Italy
March 2008 - January 2014
Education
Ph.D.
Bioengineering
Politecnico di Milano
June 27th, 2008
Laurea
Biomedical Engineering
Politecnico di Milano
December 22th, 2004
Publications
Infoscience publications
Journal Articles
2023
2022
2021
2020
2019
2018
2017
2016
2015
2013
2012
2011
2010
2009
2008
2007
Conference Papers
2021
2015
2013
2012
2008
2006
2005
Reviews
2022
2020
2015
2014
2013
Theses
2022
2021
2020
Book Chapters
2014
2011
Posters
2019
2018
2017
2016
2015
2014
2013
2012
2011
2010
2009
2008
2007
2006
Talks
2018
2017
2016
2015
2014
2013
2012
2007
2006
Patents
2020
2018
Research
Retinal Prosthesis
Inspired by intraocular lenses, we have designed a foldable and photovoltaic wide-field epiretinal prosthesis (named POLYRETINA) capable of stimulating wireless retinal ganglion cells. Within a visual angle of 46.3 degrees, POLYRETINA embeds more than 6000 stimulating pixels, it is foldable to allow implantation through a small scleral incision, and it has a hemispherical shape to match the curvature of the eye. We demonstrate that it is not cytotoxic and respects optical and thermal safety standards; accelerated aging shows a lifetime of at least 2 years. POLYRETINA represents a significant progress towards the improvement of both visual acuity and visual field with the same device, a current challenging issue in the field.
Optic Nerve Stimulation
In the last decade, research on vision prosthetics has been focused primarily on retinal prostheses. However, optic nerve represents the preferred point of implantation in order to treat patients not eligible for retinal prostheses (e.g. optic nerve diseases). In our laboratory, we are developing a novel intraneural electrode array (named OpticSELINE) that is effective in inducing the activation of the visual cortex upon electrical stimulation of the optic nerve. The OpticSELINE induces selective cortical activation patterns depending on the stimulating electrode, thus suggesting that it possesses spatial selectivity in fiber stimulation.
Teaching & PhD
Teaching
Life Sciences Engineering
PhD Students
Barbruni Gian Luca
,
Hinrichs Sandrine
,
Leong Franklin
,
Medagoda Danashi Imani
,
Past EPFL PhD Students
Airaghi Leccardi Marta Jole Ildelfonsa
,
Borda Eleonora
,
Chenais Naïg Aurelia Ludmilla
,
Fanelli Adele
,
Gaillet Vivien
,
Vagni Paola
,
Courses
The course presents materials science and engineering from the perspective of biological applications. Lectures provide solid fundamentals on the design, fabrication, and characterization of materials. Exercises provide instructive examples on how to implement biomaterials in biomedical research.
---
This course aims at providing the key knowledge and skills needed by professional bioengineers working in the field of vision restoration with neuroprostheses. During the course the students will work on a project related to the development of a visual prosthesis.
---