Matteo Dal Peraro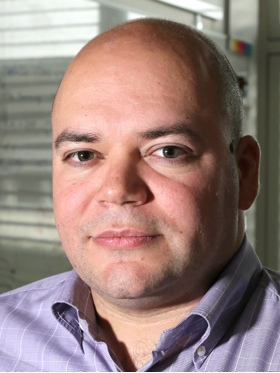 Biography
Matteo Dal Peraro graduated in Physics at the University of Padua in 2000. He obtained his Ph.D. in Biophysics at the International School for Advanced Studies (SISSA, Trieste) in 2004. He then received postdoctoral training at the University of Pennsylvania (Philadelphia) under the guidance of Prof. M. L. Klein. He was nominated Tenure Track Assistant Professor at the EPFL School of Life Sciences in late 2007.
His research at the Laboratory for Biomolecular Modeling (LBM), within the Interfaculty Institute of Bioengineering (IBI), focuses on the multiscale modeling of large macromolecular systems.
Education
| | | | |
| --- | --- | --- | --- |
| B.S. and M.S. | Physics | University of Padua | 2000 |
| Ph.D. | Biophysics | International School for Advanced Studies (SISSA) | 2004 |
Fields of expertise
Computational biophysics
Modeling of biological systems
Publications
Journal Articles
2018
2017
2016
2015
2014
2013
2012
2011
2010
2009
2008
2007
Conference Papers
2014
2013
2011
2010
2008
Reviews
2016
2015
2014
2013
Theses
2018
2017
2015
2014
2013
2012
Book Chapters
2014
Teaching & PhD
Teaching
Life Sciences Engineering,
PhD Programs
Doctoral Program in Biotechnology and Bioengineering
Doctoral Program in Chemistry and Chemical Engineering
Doctoral Program in Computational and Quantitative Biology
Courses
The main focus of this course is on the description of molecular interactions defining the structure, dynamics and function of biological systems. The principal experimental and computational techniques used in structural biology will be introduced and pr...

---
The goal is to learn to analyze a paper critically, asking whether the data presented support the conclusions that are drawn. The analysis is presented in the form of a summary abstract and critical, constructive referee's report.

---
To expose EDBB students to research in Bioengineering through attendance of lecture series given by EDBB students and external speakers. The objectives are to broaden the knowledge of students in the field of Bioengineering and expose them to the diversit...

---