Paolo De Los Rios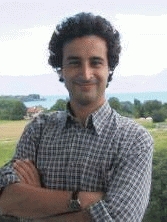 Enseignement & Phd
Programmes doctoraux
Doctoral Program in Physics Doctoral Program in Biotechnology and Bioengineering Doctoral Program in Computational and Quantitative Biology
Doctorants
Cois Davide
,
Flatt Solange Marie
,
Liang Shiling
,
Mohr Adélaïde Alice
,
Shelest Alexandra
,
Talamanca Lorenzo
,
A dirigé les thèses EPFL de
Assenza Salvatore
,
Caretta Cartozo Cécile
,
Floretta Lucio
,
Gfeller David
,
Maffi Carlo
,
Malinverni Duccio
,
Martini Andrea
,
Morton de Lachapelle David Sébastien
,
Petermann Thomas
,
Salvi Giovanni
,
Sassi Alberto Stefano
,
Cours
Présentation des méthodes de la mécanique analytique (équations de Lagrange et de Hamilton) et introduction aux notions de modes normaux et de stabilité.
---
In this course we will study the cell (minimum unit of life) and its components. We will study several key cellular features: Membranes, genomes, channels and receptors. We will apply the laws of physics to develop models to make quantitative and predictive statements
---
Introduction à l'utilisation des idées et méthodes de la physique théorique dans l'étude de polymères et bio polymères.
---