Raphaël Butté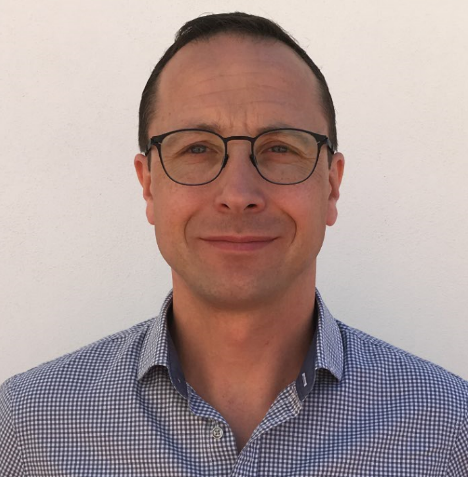 Fields of expertise
- Optical properties of semiconducting nanostructures

- Light-matter interaction in semiconductors

- Physics of weakly interacting bosonic condensates

- Polariton lasers

- Photonic crystals

- High-beta nanolasers
Main Scientific Achievements
(i) Demonstration of the lowest midgap defect density for amorphous silicon related materials (Lyon),

(ii) Experimental investigation of the interplay between lower polariton relaxation rate and cavity photon lifetime for the formation of nonequilibrium polariton condensates (Sheffield),

(iii) First report of room temperature polariton lasing in bulk and quantum well based planar microcavities (EPFL),

(iv) First mapping of polariton condensation phase diagram over a temperature range spanning two orders of magnitude (EPFL),

(v) Systematic study of the structural and optoelectronic properties of the InAlN alloy near lattice-matching to GaN (EPFL),

(vi) First systematic theoretical description of the emission properties of polariton laser diodes encompassing: the steady-state regime, the current modulation and the small-signal transient responses, the relative intensity noise, the turn-on delay and the emission linewidth (EPFL),

(vii) First report of cw blue lasing at room temperature in high-β III-nitride nanocavities grown on silicon (EPFL).


















Mission
Explore the optical properties of III-nitride (III-N) semiconductors including low-dimensional heterostructures that can be integrated to nanophotonic platforms. His current research topics include but are not limited to:

A- the physics of waveguides operating in the strong exciton-photon coupling regime.

B- the properties of high-quality factor nanophotonic structures including microdisks and photonic crystals such as two-dimensional nanocavities and one-dimensional nanobeam cavities.

Other research topics deal with the study of the optical properties of III-N nanostructures such as quantum wells and quantum dots and the investigation of the physical processes governing the internal quantum efficiency of III-N light emitters.


















Biography
Raphaël Butté was born in Paris, France, in 1973. He received the PhD degree from the University Claude Bernard, Lyon, France, in 2000 for his research on the structural and optoelectronic properties of hydrogenated nanostructured silicon thin films with potential applications for photovoltaics and thin film transistors.

He then moved to the University of Sheffield (2000-2003), UK, to work as postdoctoral research associate in the group of Prof. Maurice S. Skolnick (Fellow of the Royal Society).
His research shifted to the optical properties of III-V semiconductors with a main focus on the nonlinear optical properties of cavity polaritons occurring in GaAs-based microcavities driven under resonant optical excitation.

In 2004, he moved to Ecole Polytechnique Fédérale de Lausanne (EPFL) as scientific collaborator in charge of optical spectroscopy at LASPE (http://laspe.epfl.ch/), a newly established laboratory directed by Prof. Nicolas Grandjean.
In 2010, he became permanent member of staff (Scientific Collaborator and Lecturer). He was promoted to the position of Senior Scientist in 2016.
His current research activity deals with planar waveguides, microdisks and photonic crystals made from III-nitride semiconductors. In particular, he is leading the activity focusing on: (i) the physics of exciton-polaritons in planar waveguides and (ii) high-β photonic crystal nanolasers.

He is the author of 121 scientific articles published in peer-reviewed international journals, 14 publications published in peer reviewed journals following an international conference (Web of Science > 5100 citations, h-index: 38; Google Scholar > 7000 citations, h-index: 45) and 6 book chapters.

He has given 32 invited talks in International Conferences/Winter-Summer Schools/Workshops.
He has been the Publications Chair/Guest Editor of the Proceedings of the 5th International Workshop on Nitride semiconductors (IWN2008) and also served as Scientific Secretary of IWN2008 and of the 5th International Conference on Spontaneous Coherence in Excitonic Systems (ICSCE5).

In 2012, he was one of the 149 scientists recognized by the Outstanding Referee program (http://publish.aps.org/OutstandingReferees) of the American Physical Society (APS) selected from a pool of roughly 60,000 currently active referees.
He has also received the Outstanding Reviewer Awards 2021 for the journal Applied Physics Express published by the Institute of Physics (IOP Publishing).

Since September 2019, he is an Editorial Board Member of the newly launched open access APS journal, Physical Review Research.

From September 2013 until December 2017, he was one of the Editors of the journal "Superlattices and Microstructures" (Elsevier).

Since September 2015 he is a member of the Physics Doctoral School Teaching Committee. He was also a member of the EPFL Teaching Conference from September 2015 until August 2017.
Teaching & PhD
Courses
Lectures on the fundamental aspects of semiconductor physics and the main properties of the p-n junction that is at the heart of devices like LEDs & laser diodes. The last part deals with light-matter interaction phenomena in bulk semiconductors such as absorption, spontaneous & stimulated emission.
---
Introduction to the magnetic and electronic properties of nanostructures
---
This course presents how to broach some natural phenomena by adequate modeling, and also the relevant mathematical tools, like vector calculus. Emphasis is put on everyday life phenomena, which can be described by Newtonian mechanics.
---