Vassily Hatzimanikatis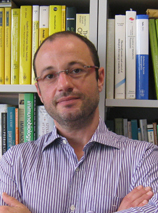 Biography
Dr. Vassily Hatzimanikatis is currently Associate Professor of Chemical Engineering and Bioengineering at Ecole Polytechnique Federale de Lausanne (EPFL), in Lausanne, Switzerland. Vassily received a PhD and an MS in Chemical Engineering from the California Institute of Technology, and his Diploma in Chemical Engineering from the University of Patras, in Greece. After the completion of his doctoral studies, he held a research group leader position at the Swiss Federal Institute of Technology in Zurich (ETHZ), Switzerland. Prior to joining EPFL, Vassily worked for three years in DuPont, Cargill, and Cargill Dow, and he has been assistant professor at Northwestern University, at Illinois, USA. Vassily's research interests are in the areas of computational systems biology, biotechnology, and complexity. He is associate editor of the journals Biotechnology & Bioengineering, Metabolic Engineering and Integrative Biology, and he serves on the editorial advisory board of the journals Bioprocess and Biosystems Engineering, Journal of Chemical Technology and Biotechnology, and Industrial Biotechnology. He has written over 70 technical publications and he is co-inventor in three patents and patent applications. Vassily is a fellow of the American Institute for Medical and Biological Engineering (2010), he was a DuPont Young Professor (2001-2004), and he has also received the Jay Bailey Young Investigator Award in Metabolic Engineering (2000), and the ACS Elmar Gaden Award (2011).
Education
PhD
Chemical and Biological Engineering
California Institute of Technology
1991-1997
Diploma (Master)
Chemical Engineering
University of Patras, Greece
1986-1991
Teaching & PhD
Teaching
Chemistry and Chemical Engineering
Mathematics
PhD Students
Choudhury Subham
,
Fleuriot - Blitman Hugo André Denis
,
Joly Denis Alain Henri Lucien
,
Keshk Omar Sherif Mohamed
,
Kim Bokyoung
,
Lagoda Konrad
,
Liaskos David
,
Patelli Elliott
,
Sahin Asli
,
Toumpe Ilias
,
Vagena Evangelia
,
Past EPFL PhD Students
Andreozzi Stefano
,
Ataman Meriç
,
Berset Yves
,
Chiappino-Pepe Anush
,
Dallavilla Tiziano
,
Denhardt-Eriksson Robin Alexander
,
Goeldel Nicolas Peter
,
Guidotti Nora
,
Hadadi Noushin
,
Hafner Jasmin Maria
,
Hameri Tuure Eelis
,
Hauert Sylvie
,
Hosseini Zhaleh
,
Leynaud-Kieffer Curran Laure Marie Colette
,
Masid Barcon Maria
,
Mohammadi Peyhani Homa
,
Oftadeh Mohammad Omid
,
Pierson Yann Mathieu
,
Pinto Vieira Joana Raquel
,
Racle Julien
,
Radivojevic Andrijana
,
Sallin Olivier Vincent
,
Salvy Pierre Guy Rémy
,
Soh Keng Cher
,
Sveshnikova Anastasia
,
Tokic Milenko
,
Tsouka Sofia
,
Tymoshenko Stepan
,
Weilandt Daniel Robert
,
Özdemir Muhittin Emre
,
Courses
Introduction to Chemical Engineering is an introductory course that provides a basic overview of the chemical engineering field. It addresses the formulation and solution of material and energy balances by using the physical/chemical properties of materials.
---
The course of Bioreactor modeling and simulation focuses on the principles of algorithmic design and analysis of biochemical reactors. The application of these designed reactors would be in the production line of the of pharmaceutical, biotech and chemical industries.
---