Vincent Pierre Lamirand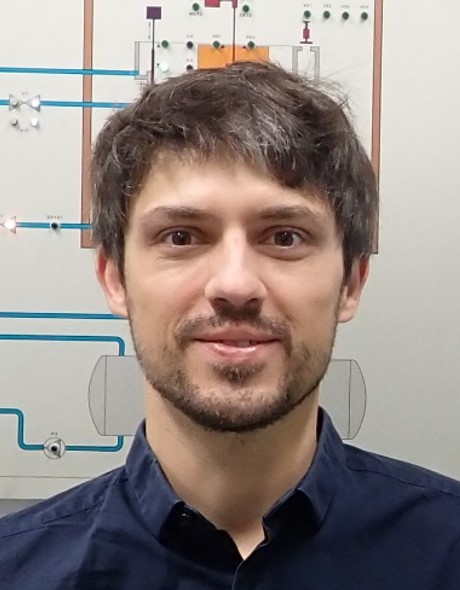 Candidature aux élections AE/Conseil FSB
Je suis en poste comme chercheur au sein de l'équipe du professeur A. Pautz à l'EPFL depuis maintenant bientôt six ans. Je suis déjà représentant du corps intermédiaire (CI) à l'
Assemblée d'École
et au
Conseil FSB
pour le mandat actuel, qui est mon deuxième mandat, et je souhaite continuer à m'investir par ce biais dans la vie de l'École.
Je serai attentif à représenter l'ensemble du personnel, mais aussi le CI, ses doctorants, jeunes chercheurs et collaborateurs scientifiques plus expérimentés. Je considère que cela consiste à faciliter le dialogue entre le personnel et les instances de l'École, et valoriser le rôle du CI pour le bénéfice de tous.
Vous trouverez plus de détails dans mon profil sur mon parcours, ma mission à l'EPFL et mon travail de recherche et d'enseignement. N'hésitez pas à me contacter pour plus d'informations !
Domaines de compétences
Détection de rayonnements, Instrumentation, Physique des réacteurs, Mesure et métrologie, Méthodes Monte Carlo, Radioprotection, Réactions nucléaires, Analyse de données, Analyse par faisceau d'ions, Accélérateurs de particules (MeV)
Mission
Je suis responsable des activités de recherche expérimentale sur les installations du LRS à l'EPFL, soient le réacteur expérimental CROCUS et la cavité d'irradiation LOTUS. Je suis également adjoint du Chef des installations nucléaires P. Frajtag. Enfin, je contribue à la charge d'enseignement du LRS, avec le cours de Détection de rayonnements, et les travaux pratiques sur le réacteur et dans nos installations.

Je suis membre de l'Assemblée d'École et du Conseil de Faculté des Sciences de base depuis 2016. Je siège également au Conseil de l'Institut de Physique depuis 2017.
Biographie
Après une thèse de doctorat sur la mesure de sections efficaces de réactions (p,n) sur accélérateur (IRSN, France), j'ai travaillé sur le développement de détecteurs et méthodes de mesure neutron pour la physique des réacteurs (CEA, France). Je suis en poste au LRS à l'EPFL depuis octobre 2014, en tenure track de l'Insitut Paul Scherrer depuis 2016, en tant que responsable des activités de recherche expérimentale sur nos installations.
Parcours professionnel
Program manager of experimental research, Deputy Head of LRS nuclear facilities
Laboratory for Reactor Physics and Systems Behaviour (LRS)
EPFL and Paul Scherrer Institute (since 2016)
2014
Physicist, postdoctoral fellow
Experimental Physics Service (SPEx)
Atomic Energy Commission (CEA, France)
2012-2014
PhD student
Laboratory for Neutron Metrology and Dosimetry (LMDN)
Radioprotection and Nuclear Safety Institute (IRSN, France)
2008-2011
Formation
PhD degree
Nuclear Physics
UJF Grenoble 1 (France)
2011
Master Degree
Physics, sp. in Subatomic Physics
UCB Lyon 1 (France)
2008
Bachelor Degree
Physics
UCB Lyon 1 (France)
2006
Recherche
Mon travail s'inscrit dans le cadre des activités expérimentales de recherche du LRS, détaillées sur ses pages :
ici
.
Mon travail actuel consiste à analyser le programme expérimental COLIBRI, dont la première phase s'est terminée en décembre 2019, et à préparer le prochain programme dans CROCUS : PETALE. Je co-encadre également deux thèse de doctorat sur le développement de mesures de bruit neutronique, et le développement de mesure neutron en cœur par fibre optique, ainsi qu'une thèse en collaboration avec le CEA en France portant sur la modulation neutronique en réacteur.
Enseignement & Phd
Thèses de Master
Edoardo Brunetto (PoliTo, Italie, Nuclear eng.), encadrement partagée avec F. Vitullo : "Highly localized measurements in UniStuttgart reactor", 2020
Tom Mager (Phelma, France-PoliTo, Italie, Nulclear eng.), encadrement partagée avec O. Pakari : "The LEAF system and gamma detection applications in CROCUS", 2019-2020
Yifeng Jiang (INSA-INSTN, France, Nuclear eng.), encadrement partagé avec A. Laureau : "Characterization of the neutron spectrum in the EPFL CROCUS reactor by foil activation dosimetry and Monte Carlo calculations", 2018
Adrien Theler (EPFL, Physique), encadrement partagé avec B. Geslot (CEA) : "Caractérisation et analyse des signaux de chambres à fission miniatures à double dépôt dans le réacteur MINERVE", 2017
Oskari Pakari (EPFL-ETHZ, Nuclear eng.), encadrement partagé avec G. Perret (PSI) : "Implementation of neutron noise instrumentation in current mode", 2016

Projets semestriels
Roxane Oesterle, en collaboration avec l'IRA (CHUV), encadrement par Thierry Buchillier : "In-Situ Gamma Spectroscopy with HPGe", 2020
Edoardo Brunetto, encadrement avec F. Vitullo : "Validation of the Serpent 2 model for the CARROUSEL facility", 2019
Roxane Oesterle, en collaboration avec l'IRA (CHUV), encadrement par Nicolas Cherbuin et Jérôme Damet : "Extremity Dosimetry: Effect of Plexiglass Syringe Shield on Ga-68, and TLD-100 v.s. MCP-Oeil Results", 2019
Felix Grimberg, encadrement par D. Siefman : "The Unscented Kalman Filter: Introduction and Application to Point Reactor Kinetics", 2019
Bert Vandereydt, encadrement avec O. Pakari : "Modelling of gamma detectors for CROCUS using Monte Carlo transport codes", 2018
Felix Von Rütte, encadrement avec S. Radman : "Design of a cloud chamber", 2017
Isabelle Tanseri, encadrement avec D. Siefman : "Measurement of concrete neutron activation in the cavity of the CROCUS reactor", 2017
Harrison Gavotto, encadrement avec D. Siefman : "Neutron activation in the cavity of the CROCUS reactor" 2015-2016 printemps, Adrien Theler (EPFL, Physique) : "Gamma characteristion of the LOTUS cavity", 2016
Adrien Theler (EPFL, Physique) : "Development of an experimental channel for CROCUS", 2015
Oskari Pakari (EPFL-ETHZ, NE Master), encadrement avec G. Perret (PSI) : "Neutron noise measurements in current mode", 2015

Stages
Jihyo Seo (KONICOF exchange program, South Korea), 08.2019-01.2020
Alexandre Colin (Phelma, France), encadrement avec O. Pakari : "Characterisation of the neutron activation of the EPFL CROCUS reactor's structures", 05.2018-08.2018
Vincent Chaussonnet (EPF Montpellier, France), encadrement avec O. Pakari et D. Siefman : "Assessment of the activation of the concrete cavity of the experimental reactor CROCUS", 09.2017-12.2017
Michael Chadwick (McGill University, Canada) : "Mechanical modeling of the LOTUS cavity and design of experimental setup", 05.2016-08/2016
Michael Chadwick (McGill University, Canada) : "Mechanical modeling of the CROCUS reactor", 05.2015-08.2015
Cours
(Fiche de cours pas encore validée par la section)
---
(Fiche de cours pas encore validée par la section)
---