Dusan Licina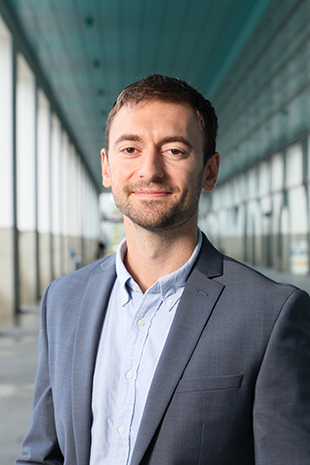 Fields of expertise
Indoor air quality
Human exposure assessment
Building ventilation and control
Building IoT sensing
Human thermal comfort
Human behavior and interactions
Energy efficient buildings
Biography
Dusan Licina is a Tenure Track Assistant Professor of Indoor Environmental Quality at the School for Architecture, Civil, and Environmental Engineering (ENAC) at EPFL. He leads the Human-Oriented Built Environment Lab (HOBEL) in Fribourg since 1 June 2018.

Dusan's research and teaching are driven by the need to advance knowledge of the intersections between people and the built environment in order to ensure high indoor environmental quality for building occupants with minimum energy input. His research group specializes in air quality engineering, focusing on understanding of concentrations, dynamics and fates of air pollutants within buildings, and development and application of methods to quantitatively describe relationships between air pollution sources and consequent human exposures. His research interests also encompass optimization of building ventilation systems with an aim to improve air quality and thermal comfort in an energy-efficient manner.

Throughout his career, Dusan specialized in air quality engineering, focusing on sources and transport of air pollutants in buildings, human exposure assessment, and optimization of building ventilation systems with an aim to improve air quality. Dusan completed my joint Doctorate degree at the National University of Singapore and Technical University of Denmark. He was formerly master and bachelor student in Mechanical Engineering at the University of Belgrade, Serbia. Prior to joining EPFL, Dusan worked for 3.5 years in the USA, first he was a postdoctoral researcher at the University of California Berkeley, and then he served as director on the standard development team at International WELL Building Institute (IWBI) in New York.

Dusan is the recipient of several honors and awards, including Ralph G. Nevin's award by the American Society of Heating, Refrigerating and Air-Conditioning Engineers (ASHRAE) given in recognition of significant accomplishment in the study of human response to the environment. He is editorial board member of the highly acclaimed Indoor Air journal. He is passionate about raising awareness about the air quality issues worldwide and developing buildings that are not only energy efficient, but that also contribute to "Michelin Star" indoor air quality.
Publications
Infoscience publications
Journal articles
2022
2021
2020
2019
2018
2017
2016
2015
2014
2012
2011
Research
https://www.epfl.ch/labs/hobel/home-2/research-pro
https://www.epfl.ch/labs/hobel/home-2/research-pro
Teaching & PhD
Teaching
Civil Engineering
PhD Programs
Doctoral Program in Civil and Environmental Engineering
Doctoral Program in Mechanics
Doctoral Program in Architecture and Sciences of the City
https://www.epfl.ch/labs/hobel/home-2/teaching/
https://www.epfl.ch/labs/hobel/home-2/teaching/
Courses
(Coursebook not yet approved by the section)
---