Sandro Carrara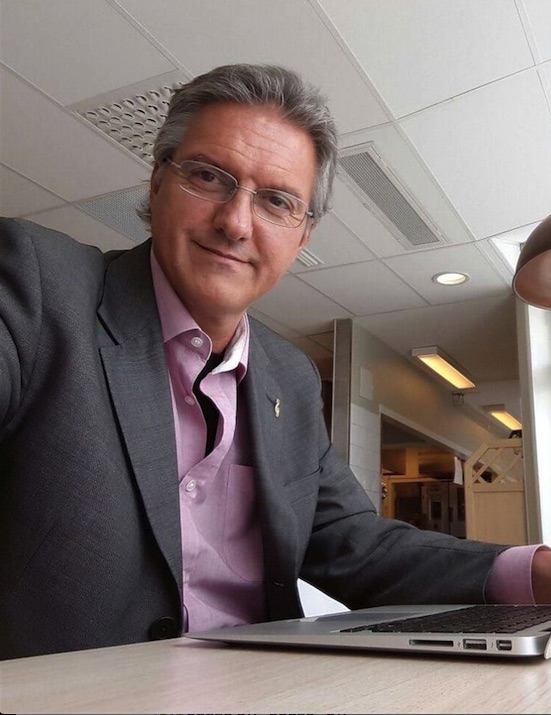 Domaines de compétences
Recherche___________________________
1. Biophysique des films minces
2. Nanotechnologie
3. Technologie CMOS

Enseignement (Cours)____________
1. «science et technologie du génie électrique
Biographie
Sandro Carrara a été nommé IEEE Fellow pour ses remarquables réalisations dans le domaine de la conception de biocapteurs CMOS à l'échelle nanométrique. Il a également reçu le prix "IEEE Sensors Council Technical Achievement Award" en 2016 pour son leadership dans le domaine émergent du co-design des interfaces Bio/Nano/CMOS. Il est un Professeur titulaire à l' EPFL à Lausanne (Suisse) et responsable du groupe de recherche "Bio/CMOS Interfaces" (BCI). Il est ancien professeur de biocapteurs optiques et électriques au Département de génie électrique et de biophysique (DIBE) de l'Université de Gênes (Italie) et ancien professeur de nanotechnologie à l'Université de Bologne (Italie). Il est titulaire d'un doctorat en biochimie et de biophysique de l'Université de Padoue (Italie), une master en physique de l'Université de Gênes (Italie), et un diplôme en électronique de l'Institut National de Technologie à Albenga (Italie). Ses intérêts scientifiques sont sur les phénomènes électriques de films nano-bio-structuré, et comprennent CMOS conception de biopuces à base de protéines et de l'ADN. Le long de sa carrière, il a publié 7 livres, l'un comme auteur avec Springer sur les interfaces Bio/CMOS et, plus récemment, un manuel de bioélectronique avec La prestigieuse Cambridge University Press. Il a également publié plus de 250 articles scientifiques et est l'auteur de 13 brevets. Il est maintenant chef rédacteur du Journal IEEE Sensors; il est également fondateur et chef rédacteur du Journal BioNanoScience par Springer, et rédacteur adjoint de IEEE Transactions on Circuits and Biomedical Systems. Il est membre du IEEE Sensors Council et de son comité exécutif. Il était membre du Conseil des gouverneurs de la IEEE Circuits And Systems Society (CASS). Il a été nommé IEEE conférencier émérite pour les années 2017-2019 pour le Conseil IEEE Sensors, et de la société CASS pour les années 2013-2014. Son travail a reçu plusieurs reconnaissances internationales: plusieurs Top-25 Hottest-articles (2004, 2005, 2008, 2009, et deux fois en 2012) publiés dans des journaux internationales très fort impact telles que Biosensors and Bioelectronics, Sensors And Actuators B, IEEE Sensors, et Thin Solid Films; un Award à une conference de l'OTAN en 1996 pour la contribution originale à la physique de la conductivité à électron unique dans les nano-particules; six "Best Paper Awards" pour des articles présentés à la conférence IEEE Sensors Conference en 2019 (Montreal), IEEE NGCAS en 2017 (Genoa), MOBIHEALTH en 2016 (Milan), IEEE PRIME en 2015 (Glasgow), en 2010 (Berlin) et en 2009 (Cork), un prix de la meilleure affiche au rencontre annuel de Nanotera en 2011 (Berne), et un prix de la meilleure affiche au NanoEurope Symposium en 2009 (Rapperswil). De 1997 à 2000, il a été membre d'un comité international au ELETTRA Synchrotron à Trieste. De 2000 à 2003, il était responsable scientifique d'un Programme national de recherche (PNR) dans le dépôt de nanobiotechnologie. Il était un expert internationalement estimé du comité d'évaluation de l'Académie de Finlande dans un programme de recherche pour les années 2010-2013. Il a été le président général (General Chair) de la Conférence IEEE BioCAS 2014, le premier conférence internationale dans le domaine des circuits et des systèmes pour les applications biomédicales.
Rédacteur en chef
Journal IEEE Sensors
Fondateur et Rédacteur en chef
Journal BioNanoScience par Springer
Rédacteur Adjoint
Journal IEEE T. on Biomedical Circuits and Systems
Conseil des Conférences
2021: IEEE MeMeA (General Chair)
2019: PRIME (Co-General Chair)
2018: IEEE MeMeA (Co-General Chair)
2017: IEEE BioCAS (TPC Chair)
2016: IEEE ICECS (TPC Chair) - IEEE ISCAS (Special Session Chair)
2015: IEEE BioCAS (TPC Chair) - IEEE Sensors Conference (Demos Chair)
2014: IEEE BioCAS(General Chair)
2013: IEEE IWASI (Sterring Committee)
2012: IEEE BioCAS (Session Chair)
2011: IEEE ISMICT (TPC Chair) / IEEE BioCAS / IEEE IWASI
2010: IEEE BioCAS (Session Chair)
2009: Nano-Net (Session Chair)
Formation
Diplôme en Electronique
institute technique National de Albenga (Italie)
Master en Physique
Université de Gênes (Italie)
Doctorat en biochimie de biophysique
Université de Padoue (Italie)
Récompenses
IEEE Fellow
in recognition for contributions to design of nanoscale biological CMOS sensors
2015
IEEE Sensors Council Technical Achievement Award
for design of nanoscale biological CMOS sensory systems and for leadership in the emerging area of co-design in Bio/Nano/CMOS interfaces for sensing
2016
Distinguished Lecturer
of the IEEE Sensors Council
2017 - 2019
Best Paper Award
by the Sensors Council at the IEEE Symposium MeMeA, Bari, Italy
2020
2nd Best Paper Award
at the IEEE Sensors Conference, Montreal, Canada
2019
Gold Leaf Prize
at the 1st IEEE/NGCAS international Conference, Genoa, Italy
2017
Best Poster Award
at the EMBEC'17 international Conference, Tampere, Finland
2017
Best Paper Award
at the MOBIHEALTH international Conference, Milan, Italy
2016
Gold Leaf Prize
at the 11th PRIME international Conference, Glasgow, UK
2015
Distinguished Lecturer
of the IEEE Circuits and Systems Society
2013-2015
First Prize, Best Poster Award
for the best poster at the Nano-Tera Annual Meeting, Bern, Switzerland
2011
Bronze Leaf Prize
at the 6th PRIME international Conference, Berlin, Germany
2010
Gold Leaf Prize
at the 5th PRIME international Conference, Cork, Ireland
2009
Publications
Autres publications
Les livres
1. Sandro Carrara, Krzysztof Iniewski, (Eds),
Handbook of Bioelectronics
, Cambridge University Press, Cambridge, 2015 // 2. Sandro Carrara (Aut),
Bio/CMOS Interfaces and Co-Design
, Springer, New York, 2013 // 3. W.Burleson & S.Carrara (Eds),
Security and Privacy for Implantable Medical Devices
, Springer, NY, 2014 // 4. Sandro Carrara (Ed),
Nano-Bio-Sensing
, Springer, New York, 2011 // 5. Sandro Carrara (Aut),
Che cosa è il tempo?
(italian), Simonelli, Milan, 2011 // 6. Alexander Schmid, al. et S.Carrara (Eds), Nano-Net, Springer, Berlin, 2009 // 7. C.A. Nicolini, S. Carrara, et al. (Auts), Molecular Bioelectronics, World Scientific, Singapore, 1996
Les brevets avec l'EPFL
S. Carrara, F. Stradolini, T. Kilic (2017), Fouling-resistant Pencil Graphite electrode, international Patent Application n° PCT/IB2017/053175 G. Köklü, S. Carrara, G. De Micheli (2013), A novel CMOS Image Sensor with Event/Change Detection and Reduced Data Redundancy. Provisional U.S. Patent Application No. 61/816,197 I. Taurino, M. Arnaud, F. Laszlo, G. De Micheli, S. Carrara, (2013) Close and Selective Integration of Carbon Nanomaterials by CVD onto working microelectrodes of multi sensing electrochemical biosensors, filed on September 13th 2013, European Patent Registration # EP 13184291.6
Recherche
Projets de recherche actuels
Smart Neural Dust to Revert Blindness
(Body Dust for Brain stimulation)
Visual prostheses are used to revert blindness: a medical condition affecting more than 39 million people worldwide (WHO). So far retinal prostheses showed the best performances in clinical trial on patients. However, one of the main limitations is the low resolution as due to the limited number of electrodes that can be addressed with wires. Therefore, we propose an innovative neurostimulation by wireless device is an array of thousands freestanding, ultra-small, and individually addressable CMOS-pixels (200 x 200 x 30 μm3), as a kind of Body-Dust embedded into a conformable mesh for easy surgical placement in human visual cortex.

GlucoRaman
(Compact Glucose Sensing Using Vibrational Imaging)
With diabetes as a major disease issue for many people all around the world, the regular monitoring of the blood glucose level remains the only way to avoid severe secondary health complication through controlled insulin administration. However, present way to measure glucose level in diabetic patients is quite invasive techniques like the fingerstick testing. Therefore, we plan here the development of new and fully non-invasive blood glucose monitoring techniques that would improve significantly the life quality of diabetic subjects and help early detection and prevention of diabetes for the healthy ones.

Cybercare
(Integrated Sensing Architectures and Tools for Health Care)
This research project addresses high-risk, high-reward research of integrated sensing and computing architectures, as well as of models, methods and tools for their design and operation. Such architectures provide the bridge between bio-systems and information processing systems. Breakthroughs in data acquisition, processing and decision making support will enable new smart-health applications. This project also aims at the development of wearable multi-sensing platform for ion-sensing. Sweat is used here as main sample fluid because it represents a promising substitute to blood thanks to the simple artificial reproducibility and to the large accessibility that does not require invasive or painful procedures.

CoMofA2
(Monitoring of Anesthetics – Project prolongation)
Precise measure and control of anesthesia remain challenging and could results in faulty drug administration. Proper anesthesia requires the achievement of a certain target plasma concentration of drugs, typically injected by Target Controlled Infusion (TCI) systems, with prediction errors in control models reaches 20-30% due to the patients' diversity. Good improvement can come by frequent measure of the anesthetics in the patient' blood as we have already demonstrated in a previous project on this research subject. Therefore, we target here the realization of a pen-based system for an easy-to-use, cheap-enough, and point-of-care monitoring of anesthetics (mainly propofol) in human fluids.
Projets de recherche antérieurs
Breast cancer-on-a-chip with integrated sensors for drug screening
Le but du présent projet est de concevoir un cancer du sein sur puce (Cancer-on-a-chip) avec des capteurs électrochimiques intégrés pour la circulation des miARN et la détection des exosomes pour tester l'efficacité des agents chimiothérapeutiques. Ici, les sphéroïdes BC seront cultivés en 3D dans un bioréacteur microfluidique à base de PDMS qui est connecté à de multiples capteurs électrochimiques pour la surveillance en ligne de la sécrétion de biomarqueurs. Les résultats obtenus par des capteurs EC seront évalués par des méthodes supplémentaires telles que qRT-PCR et ELISA et serviront de base à la détection de l'exosome et du miRNA circulant à partir de milieux de culture cellulaire, car ce sera la première étude dans la littérature. Dans l'ensemble, ce projet vise à ouvrir de nouvelles approches pour le dépistage chimiothérapeutique et à aider la prévention de la population mondiale souffrant du cancer du sein.

UE COST Action MemoCiS
L'invention de la «résistance de transfert" ou "transistor" tel qu'il est connu aujourd'hui, est considérée comme la plus grande invention du 20ème siècle, car il constitue la base de tous les systèmes électroniques. La prochaine révolution technologique viendra à travers les circuits et les systèmes d'auto-organisation et l'auto-programmation, qui sont similaires aux cerveaux biologiques en ce sens qu'ils peuvent apprendre à effectuer des tâches. Cette action COST vise à réunir des chercheurs de différentes origines pour travailler à l'unisson afin de surmonter les obstacles multidisciplinaires dans le domaine de memristors. La création de la base matérielle pour les futurs systèmes d'auto-programmation auto-organisation va vraiment ouvrir des nouveau domaines d'application et de nouvelles industries, par exemple robots humanoïdes pour se occuper des personnes âgées, des véhicules de self-driven etc.

SNF project CoMofA
Chaque année, 30000 personnes subissent une anesthésie et restent éveillés, toujours ressentir de la douleur tout en ne étant pas capable de se déplacer, l'administration en raison de médicaments défectueux. Anesthésie appropriée exige la réalisation d'une certaine concentration plasmatique cible de médicaments, généralement injecté par perfusion contrôlée cible (TCI) de systèmes, avec des erreurs de prédiction dans les modèles de contrôle atteint 20-30% en raison de la diversité des patients. Par conséquent, une surveillance continue des agents anesthésiques circulant dans les fluides corporels serait contribuer à une meilleure individualisation de la gestion des patients. Nous proposons de créer un système avec un contrôle semi-boucle fermée pour la livraison d'anesthésie basé sur le suivi des anesthésiques dans les fluides humains.

Pierre Fabre: Feasibility Study for Nicotine detection on skin sweat
La société PIERRE FABRE MEDICAMENT, IRPF mène un programme de développement de produits concernant la détection de la nicotine dans la transpiration humaine. D'autre part, l'Ecole Polytechnique Fédérale de Lausanne, EPFL développe actuellement des capteurs électrochimiques pour la surveillance des biomarqueurs tels que les médicaments, métabolites à l'intérieur de la transpiration humaine. Par conséquent, l'EPFL et Pierre Fabre aimeraient fusionner les idées et les technologies pour l'étude du développement de capteurs électrochimiques pour la détection de la nicotine dans la transpiration.

CTI/project: Integrated ion-sensor platform for remote monitoring of water networks
La société Microsens, société du Parc Scientifique de l'EPFL, a plus de 20 ans d'expérience sur les dispositifs de surveillance de la qualité de l'eau. D'autre part, l'Ecole Polytechnique Fédérale de Lausanne, EPFL développe actuellement des capteurs électrochimiques pour la surveillance des ions. Par conséquent, l'EPFL et Microsens souhaitent fusionner les idées et les technologies pour la recherche de nano-capteurs innovants pour un contrôle continu de la qualité de l'eau. Les capteurs électrochimiques sont choisis parce qu'ils peuvent être facilement intégrés à l'électronique pour assurer une surveillance automatisée sur le terrain, y compris la transmission sans fil grâce à une approche que nous avons déjà démontrée avec succès pour les applications médicales.

SNF project on Reprogrammation de Tie-2 Exprimant monocytes (TEM) dans le cancer du sein
Le but scientifique clé de cette nouvelle proposition de projet est de comprendre le comportement fonctionnel du TEM dans le cancer du sein afin de concevoir des traitements optimaux capables d'inverser TEM dans les cellules favorisant les réponses immunitaires anti-tumorales de protection. À cette fin, nous allons profiter de notre approche de détection de nanofils en utilisant des réseaux de nanofils multiplexés détection d'un panel de marqueurs de sécrétion reflétant TEM hemangiogenic, lymphangiogénique, immunosuppresseur, tumoricide et les activités anti-tumorales. Nous prévoyons également d'utiliser des réseaux de nanofils de capturer TEM paysage directement sur le tissu tumoral. Cette approche représente la première tentative de capturer le microenvironnement de la tumeur en laissant intacts les tissus de la tumeur pour la caractérisation complémentaire par microscopie confocale.

Food-Allergy-Chip: système pour les allergies alimentaires
Les tests d'allergie alimentaire sont effectués par des tests cutanés, y compris le test de piqûre et le test de rayures, cependant, ces tests sont dangereux en raison de l'anaphylaxie par des anticorps sériques. Par conséquent, une méthode sûre, simple et rapide pour détecter une réaction allergique est nécessaire pour l'utilisation clinique et dans l'industrie alimentaire. Une étude récente sur des souris a montré que les bactéries communes appelées Clostridia aider à prévenir la sensibilisation aux allergènes alimentaires chez la souris. Alors que l'IL-22 est connu pour être une molécule de signalisation clé pour diminuer la perméabilité de la doublure intestinale pour empêcher les allergènes d'entrer dans votre circulation sanguine. Par conséquent, le but de ce projet est d'étudier l'allergie alimentaire et l'effet du microbiome intestinal contre les allergènes alimentaires par un Food-Allergy-Chip où les biocapteurs électrochimiques surveillera les bio-marqueurs allergiques alimentaires, y compris l'interleukine 22 (IL-22).

Projet UE-ITN sur le cancer de la prostate
Le réseau de formation Marie Curie appelée ProSense vise à former une nouvelle génération de jeunes scientifiques dans les techniques et les méthodes interdisciplinaires nécessaires pour répondre au mieux dans le développement d'outils de diagnostic pour le cancer de la prostate. Un programme complet d'échange d'étudiants interdisciplinaires et intersectorielles, de la formation et des événements permettra au projet ProSense de promouvoir l'interaction, l'échange de connaissances et la collaboration dans le domaine pluridisciplinaire de la conception de biocapteurs dans le but de développer des dispositifs améliorés pour l'application à le cancer de la prostate pour la diagnostic, le pronostic et les traitement du patients.

Pierre Fabre: Etude de faisabilité pour les médicaments contre la schizophrénie
L'entreprise PIERRE FABRE MEDICAMENT, IRPF mène actuellement un programme de développement de nouveaux produits avec également une petite molécule organique avec propriété en tant qu'agent anticancéreux, propriété exclusive de PIERRE FABRE MEDICAMENT. D'autre part, l'EPLF développe actuellement des dispositifs qui intègrent également des capteurs électrochimiques pour la surveillance continue de substances exogènes telles que des médicaments, y compris des composés pour le traitement de la schizophrénie. Par conséquent, les deux parties ont rejoint les efforts pour étudier la possibilité d'appliquer la technologie en cours de développement dans l'EPFL aux produits de PIERRE FABRE.

NTF IronIC
Le projet vise à développer un nouveau système pour la surveillance continue des patients critiques dans les Unités de Soins Intensifs (USI). Les patients dans les unités de soins intensifs sont généralement sous le risque de mort par le Syndrome de Réponse Inflammatoire Systémique (SRIS), une réponse systémique générique. Si elle n'est pas traitée dans les 48 premières heures en réanimation, il évolue habituellement au Syndrome de Défaillance Multi-Viscérale (SDMV) et, ensuite, à la mort du patient. Malheureusement, les paramètres physiologiques couramment surveillés ne permettent pas le diagnostic précoce et la prévision de la détérioration vers une défaillance multi-viscérale. Par conséquent, ce projet vise au développement de nouveaux outils de diagnostic certainement capables de surveillance continue de certains métabolites critiques dans le liquide interstitiel pourrait réduire de manière significative la mortalité de ces patients.

EPFL CNU project BactoChip
L'épithélium intestinal constitue une barrière sélective qui protège l'organisme humain à partir de l'invasion de pathogènes et d'autres facteurs extérieurs non désirés mais, en même temps, permet une absorption efficace des nutriments provenant de l'alimentation. Afin de laisser macronutriments présents dans les aliments devant être transférées à travers la barrière intestinale, les macromolécules ingérées doivent être brisés dans leurs blocs de construction. Des recherches récentes ont montré que les bactéries commensales de participer à une importante étendre au métabolisme des nutriments par la production d'enzymes digestifs ainsi que par influencer le transport intestinal de nutriments. Nous visons maintenant à développer une nouvelle plate-forme Lab-on-a-Chip (l'BactoChip) qui intègre un biofilm d'une souche de E. coli commensales pour imiter la partie distale de l'intestin qui est fortement peuplée par des bactéries.

Système de surveillance des médicaments en thérapie personnalisée (prolongation)
Le but de ce projet est de répondre aux nouvelles questions qui ont émergé au cours de la première étape de la recherche (voir ci-dessous dans la section "Projets de recherche antérieurs"). À cette fin, nous ciblons maintenant le développement de nouvelle système multi-capteur, y compris les approches linéaires et non-linéaires pour améliorer la spécificité du capteurs au niveau du système, la conception et la mise en Ouvre d'une unité de commande externe pour améliorer l'efficacité du système, transmission de puissance à distance pour le tests finaux in-vivo avec des souris qui se déplaces librement; la mesure de médicaments in-vivo, et la conception, le clonage et l'expression des protéines mutants de certaines isoformes du cytochrome P450 pour l'améliorer de capteur basée sur l'interaction enzymes-substrats.

Projet multidisciplinaire sur les monocytes Tie-2 exprimant
Ce projet propose une nouvelle méthode de détection basé sur l'effet « memristor » enregistré sur nanofil de silicium pour détecter une nouvelle classe de marqueurs du cancer. Les nano-fils sont fabriqués par une technique lithographique innovant qui permet la gravure précise et sélective à l'échelle nanométrique. Les fils sont obtenus en trois étapes principales. Au départ, une ligne de résine photosensible définissant la position du fil. Dans une deuxième étape, la gravure ionique réactive est effectuée sur le silicium profonde pour obtenir une tranchée crantée. Dans l'étape finale, la tranchée est réduite à un nanofil suspendu après oxydation en liquide. Les fils obtenus sont fonctionnalisés avec des anticorps afin de détecter les marqueurs du cancer sur des échantillons secs.

IronIC
Le but de ce projet est d'étudier un nouvel système avec de capteurs pour la détection de diffèrent métabolites, hautement intégrés, totalement implantable, et en temps réel pour le métabolisme humain. Les molécules métaboliques détectées sont le lactate, le glucose, l'ATP, l'acide arachidonique, de la bilirubine, et d'autres. Pour atteindre cet objectif, le projet développe une technologie innovante en intégrant de systèmes SW / HW / RF / micro / nano / bio en trois dispositifs: (i) un tableau des capteurs totalement implantable pour l'acquisition de données, (ii) un plâtre portatif pour la télécommande de puissance et l'acquisition de données, (iii) une connexion Bluetooth à un natel intelligent.

Système de surveillance des médicaments en thérapie personnalisée
Un système capable de mesurée des médicaments et de bio-marqueurs dans le sang, ou dans les tissues sous-cutanées avec surveillance en continue est ete développée et constitue une percée majeure dans la médecine moléculaire pour personnaliser le traitement de maladies complexes. L'objectif du présent projet est ete de procéder à une approche multidisciplinaire pour faire progresser sensiblement l'état de l'art des dispositifs implantables. Le projet a nécessité d'une forte convergence entre-bio-médical micro-nano technologies avec la motivation à fournir un nouvel outil pour la surveillance directe du métabolisme des médicaments du patient dans les traitements pharmacologiques personnalisés.

NutriChip
Le projet «NutriChip" a combinée les sciences biologiques, la nanotechnologie, la micro-technologie et les aspects d'intégration de systèmes appliqués par une équipe multidisciplinaire pour développer un outil d'analyse efficace pour avoir un aperçu global sur la contribution des produits laitiers à la nutrition et la santé humaine. Les récepteurs de surface des cellules appelés TLR2 et TLR4 ont été associés à une régulation négative chez les patients en surpoids et obèses. TLR4 est aussi un récepteur pour les graisses alimentaires. Ainsi, une interface matérielle a été développé afin de détecter les récepteurs TLR dans des cellules CaCo2 en combinant un capteur CMOS avec des algorithmes spéciales pour obtenir la super-résolution des images.

iNeedle
A visé à la réalisation d'une aiguille d'acupuncture intelligente pour mesurer la température, le pH, la vitesse de rotation dans les tissus animaux. Une étude de faisabilité a été également menée afin d'évaluer la possibilité d'intégrer des capteurs moléculaires dans cette aiguille intelligente pour mesurer les métabolites libérés dans la matrice extracellulaire par le traitement d'acupuncture. Par conséquent, ce projet vise à fournir un nouvel outil pour obtenir des données systématiques et scientifique des mécanismes physiques et moléculaires agissant derrière la thérapie de l'acupuncture.

Pour voir plus de détails sur la recherche, s'il vous plaît, aller vers la page: http://si2.epfl.ch/ ~ scarrara /


Les collaborations nationales et internationales
En cours
Diego Ghezzi (EPFL)
Andromachi Tsirou (CERN)
Takashi Hayashita (Sophia University, Tokyo)
Christophe de la Taille (École Polytechnique de Paris)
Timothy Constandinou (Imperial Collage, London)
Jun Ohta (Nara Institue of Science and Technology)
Pantelis Georgiou (Imperial Collage, London)
Danilo Demarchi (Politecnico di Torino)
Thierry Buclin (CHUV, University of Lausanne)
Catherine Dehollain (EPFL, Lausanne)

Anciennes
Ali Khademhosseini (Harvard, Boston)
Ralph Etienne-Cummings (Johns Hopkins University, Baltimore)
Anthony Guiseppi-Elie (Clemson University/South Carolina)
Massimigliano Di Ventra (University of Califormia, San Diego)
Marie-Agnès Doucey (Ludwig Institute for Cancer Research)
Christine Nardini (Karolinska Institute, Sweden)
Giacomo Indiveri (University of Zurich, ETHZ)
Philippe Renaud (EPFL, Lausanne)
Mohamad Sawan (École Polytechnique de Montréal, Canada)
Elisabetta Chicca (Universty of Bielefeld/DE)
Ursula von Mandach (Zurich University)
Linda Thöny-Mayer (EMPA/San Gallen)
Pedro Estrela (University of Bath/UK)
Qiuting Huang (ETHZ, Zurich)
Fabio Grassi (IRB/Bellinzona)
Paolo Silacci (ALP/Posieux)
Guy Vergères (ALP/Bern)
Pascal Colpo (EU JRC/Ispra)
Yusuf Leblebici (EPFL, Lausanne)
Martin Gijs (EPFL, Lausanne)
Enseignement & Phd
Enseignement
Electrical and Electronics Engineering
Programmes doctoraux
Doctoral Program in Electrical Engineering
Doctoral Program in Microsystems and Microelectronics
Doctorants
Barbruni Gian Luca
,
Jedari Golparvar Ata
,
Kapic Amar
,
Ny Hanitra Mandresy Ivan
,
A dirigé les thèses EPFL de
Aliakbarinodehi Nima
,
Baj-Rossi Camilla
,
Boero Cristina
,
Cavallini Andrea
,
Criscuolo Francesca
,
Ghaye Julien Michel
,
Ghoreishizadeh Seyedeh Sara
,
Köklü Gözen
,
Olivo Jacopo
,
Puppo Francesca
,
Stradolini Francesca
,
Taurino Irene
,
Tzouvadaki Ioulia
,
Autres étudiants
PhD Students in remote / Guest PhD Students
José David González Martínez (2020-2023); Maria Antonietta Casulli (2019-2022); Nattakarn Wuthibenjaphonchai (2018-2021); Simone Aiassa (2017-2020); Mahshid Alsadat Padash (2019) Abuduwaili Tuoheti (2018) Sattar Akbari Nakhjavani (2018) Ana De Sousa Valinhas (2017) Sarah Tonello (2017) | Xiaoling Lu (2016) Marius Schirmer (2016) Jacopo Secco (2015) Gabriella Sanzò (2014) Narayanan Srinivasan (2014) | Ali Zaher (2014) Ismael Rattalino (2013) Evripides Kyriakides (2012) Alice Dimonte (2011) Giovanna De Vecchio (2010)