David Atienza Alonso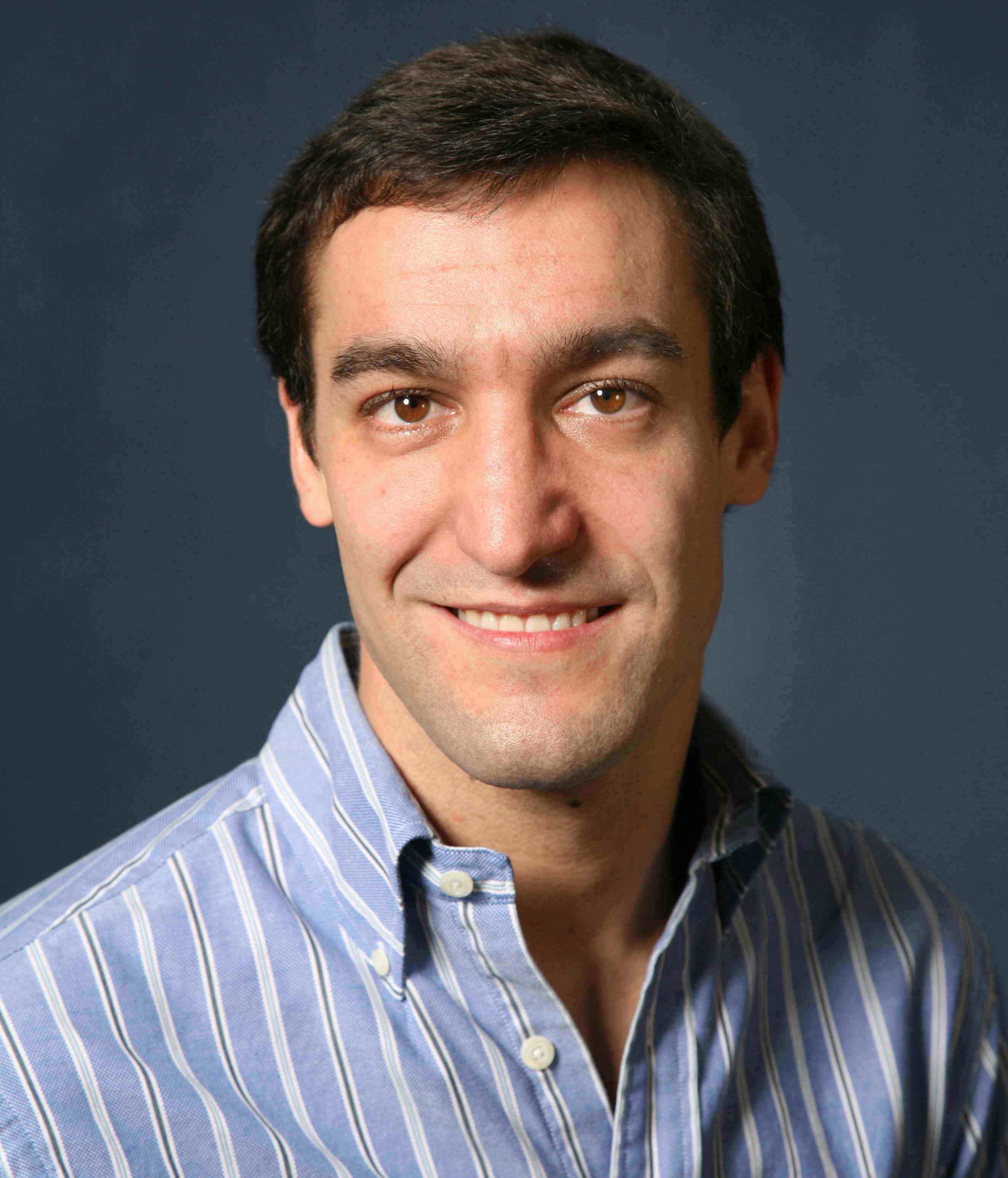 Fields of expertise
Internet of Things (IoT) and edge computing design, embedded systems design, 2D/3D thermal modeling and management for multi-processor system-on-chip (MPSoc), electronic design automation (EDA), wireless body sensor networks (WBSN), memory optimizations, low-power hardware and software co-design, embedded machine learning.
Biography
David Atienza Alonso is a professor of Electrical and Computer Engineering, and director of the Embedded Systems Laboratory (ESL) at EPFL, Switzerland. He received his MSc and PhD degrees in computer science and engineering from UCM, Spain, and IMEC, Belgium, in 2001 and 2005, respectively. His research interests include system-level design methodologies for multi-processor system-on-chip (MPSoC) servers and edge AI architectures.
Dr. Atienza has co-authored more than 350 papers, one book, and 12 patents in these previous areas. He has also received several recognitions and award, among them, the ICCAD 10-Year Retrospective Most Influential Paper Award in 2020, Design Automation Conference (DAC) Under-40 Innovators Award in 2018, the IEEE TCCPS Mid-Career Award in 2018, an ERC Consolidator Grant in 2016, the IEEE CEDA Early Career Award in 2013, the ACM SIGDA Outstanding New Faculty Award in 2012, and a Faculty Award from Sun Labs at Oracle in 2011. He has also earned two best paper awards at the VLSI-SoC 2009 and CST-HPCS 2012 conference, and five best paper award nominations at the DAC 2013, DATE 2013, WEHA-HPCS 2010, ICCAD 2006, and DAC 2004 conferences. He serves or has served as associate editor of IEEE Trans. on Computers (TC), IEEE Design & Test of Computers (D&T), IEEE Trans. on CAD (T-CAD), IEEE Transactions on Sustainable Computing (T-SUSC), and Elsevier Integration. He was the Technical Program Chair of DATE 2015 and General Chair of DATE 2017. He served as President of IEEE CEDA in the period 2018-2019 and was GOLD member of the Board of Governors of IEEE CASS from 2010 to 2012. He is a Distinguished Member of ACM and an IEEE Fellow.
ADMINISTRATIVE ASSISTANT
Homeira Salimi
Publications
Selected publications
Ali Pahlevan, Xiaoyu Qu, Marina Zapater, David Atienza
IEEE Transactions on Computer-Aided Design of Integrated Circuits and Systems, Vol. 37, No. 8, pp. 1667-1680, IEEE Press, August 2018.
Integrating Heuristic and Machine-Learning Methods for Efficient Virtual Machine Allocation in Data Centers
Loris Duch, Soumya Basu, Rubén Braojos, Giovanni Ansaloni, Laura Pozzi, David Atienza
IEEE Transactions on Circuits and Systems: Part I (TCAS-I), Vol. 64, Issue: 9, pp. 2448-2461, IEEE Press, September 2017.
HEAL-WEAR: an Ultra-Low Power Heterogeneous System for Bio-Signal Analysis
Karim Kanoun, Cem Tekin, David Atienza, Mihaela van der Schaar
IEEE Transactions on Computers, Vol. 65, Issue: 12, pp. 3591-3605, IEEE Computer Society, December 2016.
Big-Data Streaming Applications Scheduling Based on Staged Multi-Armed Bandits
Arvind Sridhar, Alessandro Vincenzi, David Atienza, Thomas Brunschwiler
IEEE Transactions on Computers, Vol. 63, Issue: 10, pp. 2576-2589, IEEE Computer Society, October 2014.
3D-ICE: a Compact Thermal Model for Early-Stage Design of Liquid-Cooled ICs
Hossein Mamaghanian, Nadia Khaled, David Atienza, Pierre Vandergheynst
IEEE Transactions on Biomedical Engineering, Vol. 58, No. 12, pp. 120-129, IEEE Press, September 2011.
Compressed Sensing for Real-Time Energy-Efficient ECG Compression on Wireless Body Sensor Nodes
Francisco Rincon, Joaquin Recas, Nadia Khaled, David Atienza
IEEE Transactions on Information Technology in BioMedicine, Vol. 16, Nr. 11, pp. 1-9, IEEE Press, November 2011.
Development and Evaluation of Multi-Lead Wavelet-Based ECG Delineation Algorithms for Embedded Wireless Sensor Nodes
Other publications
Complete Publications List
Teaching & PhD
Teaching
Electrical and Electronics Engineering
PhD Programs
Doctoral Program in Electrical Engineering Doctoral Program in Microsystems and Microelectronics
PhD Students
Amirshahi Alireza
,
Baghersalimi Saleh
,
Denkinger Benoît Walter
,
Forooghifar Farnaz
,
Huang Darong
,
Karami Hojjat
,
Klein Joshua Alexander Harrison
,
Machetti Simone
,
Masinelli Giulio
,
Medina Morillas Rafael
,
Najibi Halima
,
Orlandic Lara
,
Pale Una
,
Penas Fernandez Ignacio
,
Ponzina Flavio
,
Rios Marco Antonio
,
Simon William Andrew
,
Taji Hossein
,
Yu Pengbo
,
Zanetti Renato
,
Zanoli Silvio
,
Past EPFL PhD Students
Aly Mohamed Mostafa Sabry
,
Basu Soumya Subhra
,
Beretta Ivan
,
Braojos Lopez Ruben
,
Constantin Jeremy Hugues-Felix
,
De Giovanni Elisabetta
,
Dell'Agnola Fabio Isidoro Tiberio
,
Dogan Ahmed Yasir
,
Duch Loris Gérard
,
Iranfar Arman
,
Kanoun Karim
,
Mahankali Sridhar Arvind Raj
,
Mamaghanian Hossein
,
Pahlevan Ali
,
Qureshi Yasir Mahmood
,
Raghav Shivani
,
Sopic Dionisije
,
Surrel Grégoire Casimir Joseph
,
Courses
The student will get to know the architecture of microprogrammed embedded systems, including the microprocessor architecture, memory hierarchy and different input/output peripherals, using as case study the Nintendo DS portable platform.
---
In this course, we delve into the design of embedded systems running Linux on an FPGA. We learn how to divide (co-design) complex tasks between SW and HW, tightly integrating both sides. We also learn how to debug a complex embedded system co-design using the integrated logical analyzers in FPGAs.
---
This course focuses on mobile application programming for the Android ecosystem. The students learn to develop distributed Apps on mobile platforms, interfacing with multiple heterogeneous devices and the cloud. Students receive a tablet and a smartwatch, and can use their smartphones if desired.
---
This course provides an overview of the relevant technologies and approaches for the design and optimization of Internet-of-Things (IoT) systems. It covers architectures of edge computing platforms, wireless communication options, cloud computing backend and different machine learning applications.
---