David Atienza Alonso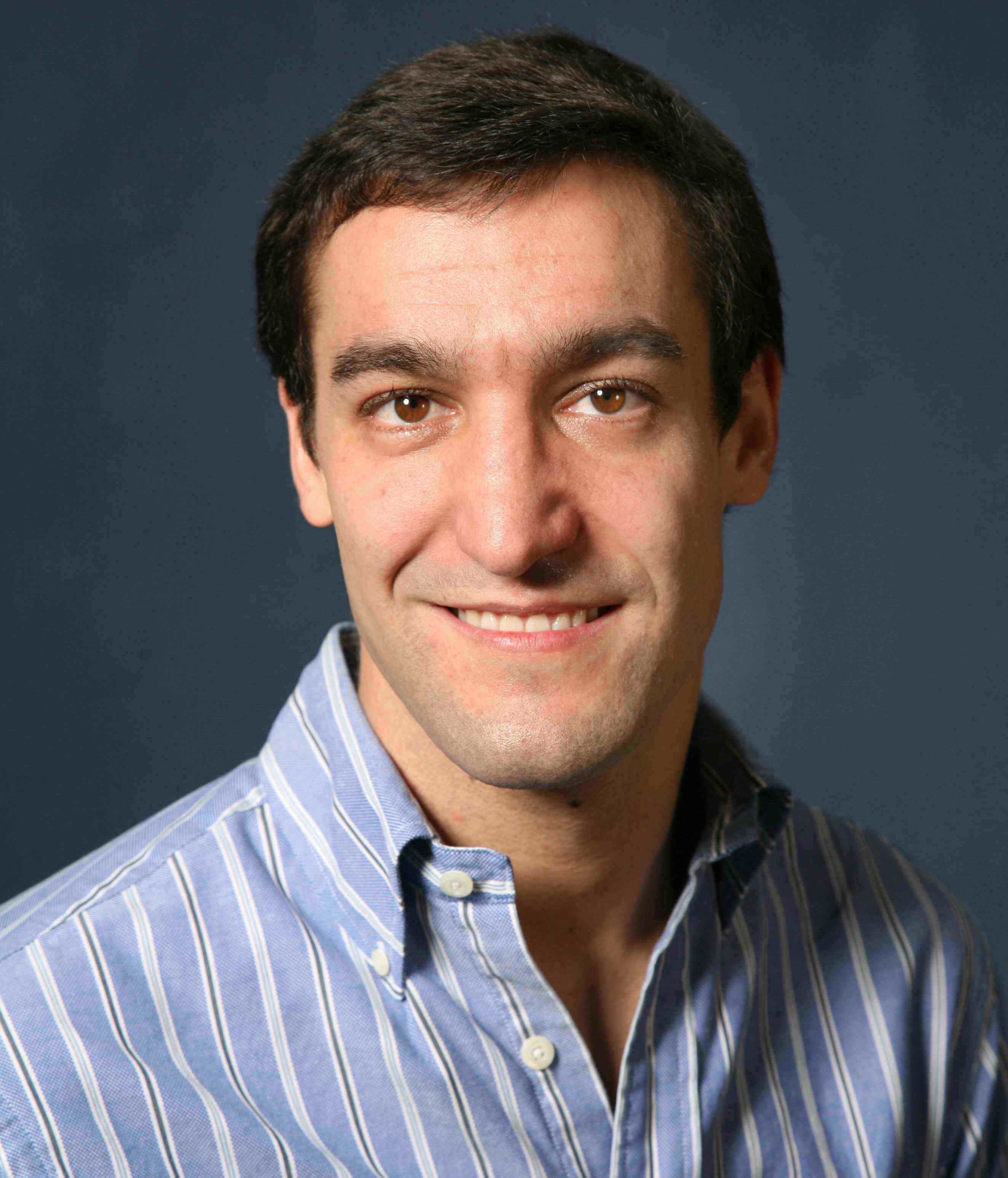 Fields of expertise
Internet of Things (IoT) and edge computing design, embedded systems design, 2D/3D thermal modeling and management for multi-processor system-on-chip (MPSoc), electronic design automation (EDA), wireless body sensor networks (WBSN), memory optimizations, low-power hardware and software co-design, embedded machine learning.
Biography
David Atienza Alonso is a professor of Electrical and Computer Engineering, Head of the Embedded Systems Laboratory (ESL) and Scientific Director of the EcoCloud Sustainable Computing Center at EPFL, Switzerland. He received his MSc and Ph.D. degrees in computer science and engineering from UCM, Spain, and IMEC, Belgium, in 2001 and 2005, respectively. His research interests include system-level design methodologies for high-performance multi-processor system-on-chip (MPSoC) and low-power Internet-of-Things (IoT) systems, including new 2-D/3-D thermal-aware design for MPSoCs and many-core servers, ultra-low power edge AI architectures for wireless body sensor nodes and smart embedded systems, HW/SW reconfigurable systems, dynamic memory optimizations, and network-on-chip design.

Dr. Atienza has co-authored more than 400 papers, three books, and 14 licensed patents in these previous areas. He has also received several recognitions and awards, among them, the ICCAD 10-Year Retrospective Most Influential Paper Award in 2020, Design Automation Conference (DAC) Under-40 Innovators Award in 2018, the IEEE TCCPS Mid-Career Award in 2018, an ERC Consolidator Grant in 2016, the IEEE CEDA Early Career Award in 2013, the ACM SIGDA Outstanding New Faculty Award in 2012, and a Faculty Award from Sun Labs at Oracle in 2011. He has also earned several best paper awards at top conferences in the areas of electronic design automation (EDA), embedded and cyber-physical systems, and medical devices. He serves or has served as Editor-in-Chief of IEEE Trans. on CAD (T-CAD), and as associate editor of IEEE Trans. on Computers (TC), IEEE Transactions on Emerging Topics in Computing (TETC), ACM Computing Surveys (CSUR), IEEE Design & Test of Computers (D&T), IEEE T-CAD, IEEE Transactions on Sustainable Computing (T-SUSC), ACM Journal on Emerging Technologies in Computing Systems (JETC), ACM Transactions on Embedded Computing Systems (TECS), and Elsevier Integration. He was the Technical Program Chair of DATE 2015 and General Chair of DATE 2017. He served as President of IEEE CEDA in the period 2018-2019, and is currently the Chair of the European Design Automation Association (EDAA). He is a Fellow of IEEE and of ACM.
ADMINISTRATIVE ASSISTANT
Homeira Salimi
Publications
Selected publications
Ali Pahlevan, Xiaoyu Qu, Marina Zapater, David Atienza
IEEE Transactions on Computer-Aided Design of Integrated Circuits and Systems, Vol. 37, No. 8, pp. 1667-1680, IEEE Press, August 2018.
Integrating Heuristic and Machine-Learning Methods for Efficient Virtual Machine Allocation in Data Centers
Loris Duch, Soumya Basu, Rubén Braojos, Giovanni Ansaloni, Laura Pozzi, David Atienza
IEEE Transactions on Circuits and Systems: Part I (TCAS-I), Vol. 64, Issue: 9, pp. 2448-2461, IEEE Press, September 2017.
HEAL-WEAR: an Ultra-Low Power Heterogeneous System for Bio-Signal Analysis
Karim Kanoun, Cem Tekin, David Atienza, Mihaela van der Schaar
IEEE Transactions on Computers, Vol. 65, Issue: 12, pp. 3591-3605, IEEE Computer Society, December 2016.
Big-Data Streaming Applications Scheduling Based on Staged Multi-Armed Bandits
Arvind Sridhar, Alessandro Vincenzi, David Atienza, Thomas Brunschwiler
IEEE Transactions on Computers, Vol. 63, Issue: 10, pp. 2576-2589, IEEE Computer Society, October 2014.
3D-ICE: a Compact Thermal Model for Early-Stage Design of Liquid-Cooled ICs
Hossein Mamaghanian, Nadia Khaled, David Atienza, Pierre Vandergheynst
IEEE Transactions on Biomedical Engineering, Vol. 58, No. 12, pp. 120-129, IEEE Press, September 2011.
Compressed Sensing for Real-Time Energy-Efficient ECG Compression on Wireless Body Sensor Nodes
Francisco Rincon, Joaquin Recas, Nadia Khaled, David Atienza
IEEE Transactions on Information Technology in BioMedicine, Vol. 16, Nr. 11, pp. 1-9, IEEE Press, November 2011.
Development and Evaluation of Multi-Lead Wavelet-Based ECG Delineation Algorithms for Embedded Wireless Sensor Nodes
Other publications
Complete Publications List
The complete list of publications can be accessed at the ESL's publications webpage (http://esl.epfl.ch/page-33746.html) or my Google Scholar Page (http://scholar.google.com/citations?hl=en&user=H1JXhMIAAAAJ).
Teaching & PhD
Teaching
Electrical and Electronics Engineering
PhD Students
Abdollahinejad Golnoosh
,
Albini Stefano
,
Amirshahi Alireza
,
Baghersalimi Saleh
,
Choné Clément Renaud Jean
,
Eggermann Grégoire Axel
,
Huang Darong
,
Karami Hojjat
,
Kechris Christodoulos
,
Klein Joshua Alexander Harrison
,
Liu Qunyou
,
Machetti Simone
,
Masinelli Giulio
,
Medina Morillas Rafael
,
Orlandic Lara
,
Rios Marco Antonio
,
Rodríguez Álvarez Rubén
,
Samakovlis Dimitrios
,
Sapriza Araujo Juan Pablo
,
Shahbazinia Amirhossein
,
Taji Hossein
,
Yu Mingfei
,
Yu Pengbo
,
Zanoli Silvio
,
Past EPFL PhD Students
Aly Mohamed Mostafa Sabry
,
Basu Soumya Subhra
,
Beretta Ivan
,
Braojos Lopez Ruben
,
Constantin Jeremy Hugues-Felix
,
De Giovanni Elisabetta
,
Dell'Agnola Fabio Isidoro Tiberio
,
Denkinger Benoît Walter
,
Dogan Ahmed Yasir
,
Duch Loris Gérard
,
Forooghifar Farnaz
,
Iranfar Arman
,
Kanoun Karim
,
Mahankali Sridhar Arvind Raj
,
Mamaghanian Hossein
,
Najibi Halima
,
Pahlevan Ali
,
Pale Una
,
Ponzina Flavio
,
Qureshi Yasir Mahmood
,
Raghav Shivani
,
Simon William Andrew
,
Sopic Dionisije
,
Surrel Grégoire Casimir Joseph
,
Zanetti Renato
,